Text-based surveys are a great way for hospices and other healthcare providers to improve response rates and gather immediate feedback from the grieving populations they serve.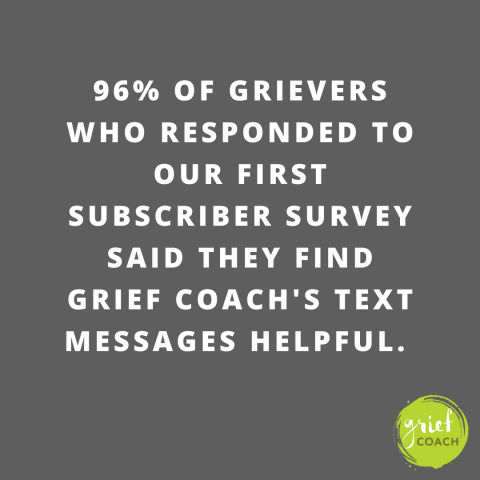 Seattle, United States – September 17, 2021 / / —
Hospices delivering bereavement care via text message can now use a new text-based survey tool from Seattle-based company, Grief Coach, to quickly and easily gather feedback from the bereaved family members in their care. With escalating death rates and an increasing need to extend bereavement care out into their communities, hospices across the US are already using Grief Coach's text messaging platform as a way to meet the demand for expert grief support without sacrificing quality. Patients' family members receive texts for a full 13-months, customized based on cause of death, age, relationship and more.
With the launch of their new survey tool earlier this month, Grief Coach now makes it easy for hospice partners to get immediate feedback from their patients' grieving family members. Hospices and other organizations who provide bereavement care want to know that they are meeting the needs of their patients' family members, but many report declining response rates to traditional paper surveys. As COVID continues to put a strain on healthcare providers and their employees, hospices are increasingly keen to find efficient ways to deliver care and to measure the impact of that care as well.
Grief Coach rolled out their new mobile survey product in early September, with a large hospice partner in Ohio. They were delighted to see a 50% response rate in the first 24 hours alone, and a staggering 96% satisfaction rating from family members who said the text support they'd been receiving from their hospice was helping them with their grieving process. One respondent said "It's nice to receive texts with my son's name in the message. All the personalizations are nice." Another noted that "the messages are heartfelt and obviously from a team of people who have coached through these feelings."
Grief Coach CEO, Emma Payne, says that "when people are supported in their grief their risk of negative health outcomes such as depression, substance use, anxiety and illness is reduced. So it makes sense that hospices who care about their bereaved families are looking for effective, thoughtful ways to deliver care and make sure the care is helpful."
The idea for delivering text-based surveys was a logical next step for a company already delivering bereavement care this way. The simplicity and accessibility of text messaging makes grief support available to populations who might be unable to afford or access therapy or support groups in their communities.
Vanessa Callison-Burch, Grief Coach's Product Manager, had this to say:
"As Grief Coach's product manager I was curious and excited to learn about people's experiences with our text-based grief support. I know how much care and thought goes into crafting each text message we send and was eager to learn more about whether our subscribers find the texts valuable, and if we're helping them to feel better supported in their grief. The strong data and positive responses received were really wonderful to see."
Existing Grief Coach customers interested in learning more about the upgrade can do so directly on the website at https://grief.coach/hospices. New customers can also use the site to learn more about text-based bereavement care.
Contact Info:
Name: Emma Payne
Email: Send Email
Organization: Grief Coach
Address: 1204 Minor Avenue, Seattle, WA 98101, United States
Website: https://grief.coach
Release ID: 89045893
COMTEX_393492679/2773/2021-09-17T02:32:11