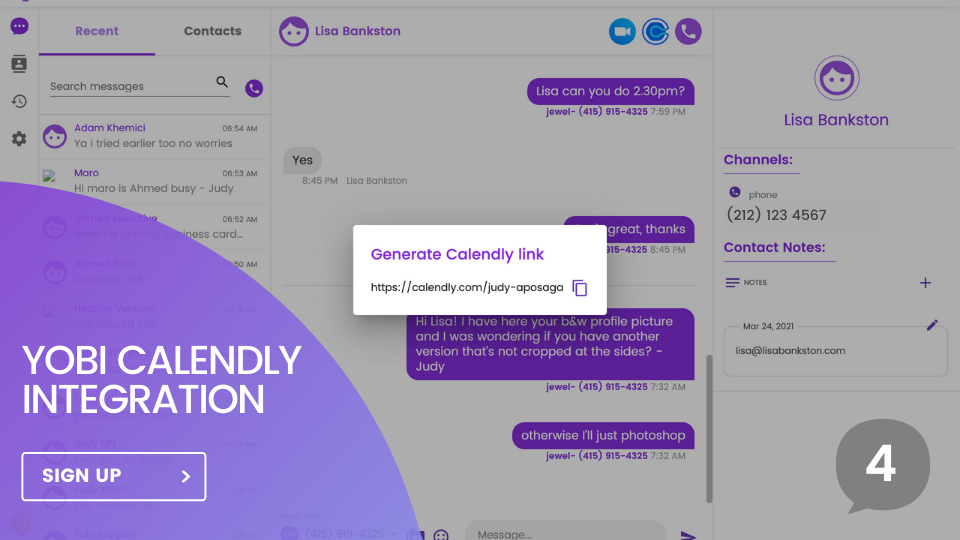 Innovative communications app, Yobi, announces the integration of Calendly into the platform to allow users to connect and share their meeting links with ease
Yobi, a business phone app popularly known as the "conversations app for everyday rockstars," has taken a giant step towards creating a model app for other communications platforms with the release of a new integration with Calendly. The new feature will allow users to connect and share their Calendly meeting links to their contacts using one app, ultimately enhancing the experience and improving productivity.
"We have been talking to businesses about how they use social media to bring in new customers and manage their brands. We asked. We listened. And we empathize with their pain points. With Yobi, our goal is to streamline your customer conversations so you can spend more time making your business awesome," said Ahmed Reza, founder and CEO of Yobi.
Technological advancements have enhanced communication, with several apps and internet-based solutions helping people to exchange information irrespective of their location across the globe. According to a recent report published by Statista, over 2.77 billion mobile phone users will access over-the-top messaging apps to communicate in 2020. Unfortunately, many of the available apps do not address the concerns of users in terms of versatility and user-friendliness. However, the Yobi team is looking to change this narrative as substantiated with the Calendly integration.
The Yobi Calendly integration is particularly suitable for all categories of users, including entrepreneurs, business executives, professionals, consultants, and anyone values their time. In addition to the integration, the Yobi business phone offers a second business phone number to separate conversations with customers and share the number with team members. The app supports different communication channels, including calls, texts, and DMs from social media platforms as well as Shopify stores.
Other features and benefits of Yobi include connection to Zoom and Hubspot to enable syncing conversations and leads.
For more information about Yobi and how to leverage the revolutionary conversation app, visit their website https://yobi.app/. Yobi can also be found across social media, including Facebook and YouTube.
About Yobi
Yobi is an innovative app created by Ahmed Reza, a serial entrepreneur and tech enthusiast, who also founded Call Sumo and TrepHub. Ahmed's ultimate goal is to offer reliable and cutting-edge technologies to enhance marketing and communication for small, medium, and large businesses.
Media Contact
Company Name: Yobi
Contact Person: Judy Aposaga
Email: Send Email
Address:75 E Santa Clara St, #600
City: San Jose
State: CA 95113
Country: United States
Website: https://yobi.app/