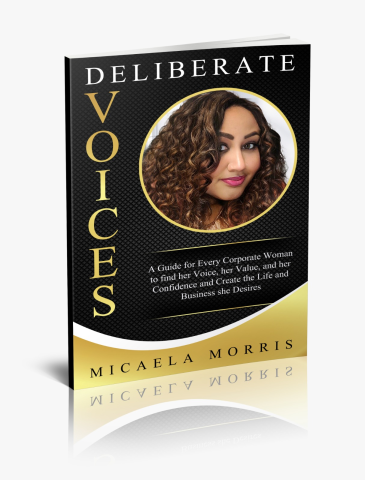 When purpose, passion, and the discovery of your voice collide what do you get? You get total alignment. That is what Micaela Morris native of Elizabeth City NC, now Virginia resident, says you get when working with her. Micaela Morris is a Purpose Alignment Consultant, whose latest work has leapt to the top of Amazon rankings. The book is called "Deliberate Voices: A Guide for Every Corporate Woman to find her Voice, her Value, and her Confidence and Create the Life and Business She Desires".
"Deliberate Voices" became an Amazon International Best Seller and author in 3 categories on 11/11. The categories are: #1 Best Seller in Business and Money Short Reads; #2 Best Seller in Business Consulting; and #4 Best Seller in Women & Business.
In this path-breaking work, Micaela answers the most difficult questions one can ask oneself – how do you show up in the world? Are you ready to venture out and explore the world and walk in confidence, or stay isolated and muted, and are you able to stand out rather than blend in?
"Deliberate Voices" presents a step-by-step way to start speaking with one's voice – a deliberate voice of being unashamed in life. That's the way to uncover power and worth, and highlight one's values. This method also makes one understand one's importance and stand up with confidence in the world.
"Let's work together! Whether it's one-on-one mentoring, group sessions, an event, a career workshop – I will show you strategies to uncover your purpose, figure out what's hampering you or your business, and help you take the next step and level of your strategy and your thinking," says Micaela.
Micaela runs a consultancy and mentoring service, where she assists a wide range of audience with her proven strategies. She conducts seminars, conferences and events for colleges and students as well as high schools to share her messages. She also helps business teams improve their communication and interaction skills, and boost employee morale through healthy conversations in the workplace.
Media Contact
Company Name: Micaela Morris LLC
Contact Person: Media Relations
Email: Send Email
Country: United States
Website: www.micaelatmorris.com