People are gradually switching to wooden phone cases giving up the plastic ones for good reasons. The wooden one is durable and less susceptible to breakage as opposed to the plastic phone. Plus, plastic, being a non-biodegradable product, poses serious threats to nature if not treated and is a potential health hazard. There are other numerous reasons concerning the price, design, etc. that create a difference in the preference between a plastic and a wooden phone case.
(PRUnderground) May 18th, 2021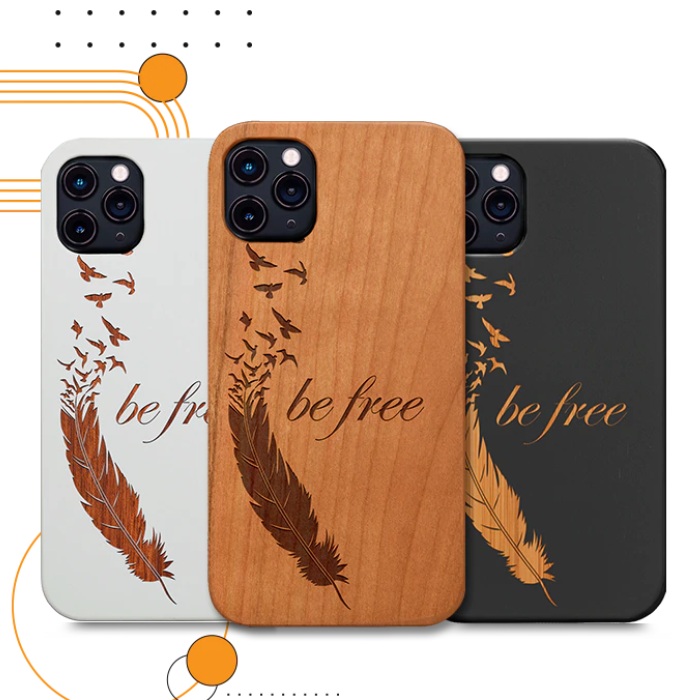 Phone cases have come a long way from their simple functional beginning. With the upgradation of the modern technologies, the phone cases are also updated according to different user requirements. Modern manufacturers use several types of materials for making phone cases. Because of this, people are finding more options and reasons why they should invest in high quality phone cases. One reason is because they can be used for different purposes. These days, phone cases have become items that are not just used as protection, but also fashion statements.
Previously phone cases were used just to provide good protections to the phones. These days, phone cases are being designed and sold as fashion items and those have become the most relevant style statement for a large number of people. In this age, people have started using phone cases as accessories. People are looking for the phone cases that would match with their attires as people want their phones to match their outfit or at least look good when being worn. Some people use their phone cases according to their moods too, though not sounds familiar but several examples out there.
There are a lot of options for phone cases for the customers that are made of various materials like plastic, rubber, silicon, fiberglass, wood and so on. Among all these phone cases made of different components, wooden cellular cases have become the most fascinating products as the customers' think it is an amazing idea to make phone cases from raw woods. As each and every person truly emphasizes going green so a large number of people want to try a wood phone case at least for once. Besides, there are also the existence of such customers who express their wonder about using wooden phone cases rather than opting for plastic or any other cheaper ones. We will try to satisfy those queries too. So stay tuned.
As we all know plastic should be avoided in all aspects whether it might be a plastic bag or a phone case. Though, some kind of reusable plastic bags are still allowed for carrying things, but in case of phone covers there should be a complete prohibition protocol. Using plastic phone cases can be harmful for the human body. Any type of phone, however it could consist of so many super-cool technologies, it could become heated from time to time during charging or working on it. Those heated radiation that emerges from the phone can react with the plastic phone case and can cause harm to skin. Moreover, an overheated phone within a plastic cover can explode anytime that might create a massive accident too.
Secondly, wooden cases are more acceptable than plastic ones because those are durable enough and long-lasting too. Sometimes there might be chances of breaking the plastic phone cases if it falls from a certain height or if you are using a rubber one, it could tear off or become loose due to heat or using for a long time etc. But wooden phone cases are susceptible from breaking and there are no chances of splitting too. Wooden phone cases are more sturdy than plastic ones. They are heat proof and absorb extra heat from the phones. Like plastic phone cases, wooden phone cases never make your phone hot. So, you can avoid the chances of any accident even if your phone falls from any higher place.
Thirdly, people became more attracted to wooden phone cases because they are affordable for all. As plastic itself needs to be manufactured to make any kind product from it. Therefore, the manufacturing cost of a plastic phone case gets costlier than wooden phone cases. Wood can be extracted in a completely natural way, so the manufacturers do not need to spend more on raw materials, that is why they can create masterpieces from natural woods on a low budget and sell them in the market at reasonable prices.
Fourthly, wooden phone cases are more unique in design which attracts the most buyers. Moreover, phone cases that are made of raw woods contain a really vintage look and make people feel more close to nature.
Fifthly, wooden phone cases can be customized or better to say can be personalized according to the buyer's choice and requirements. Though customized wooden phone cases are a bit costlier, they are worth buying if you overview the manufacturers' dedications to provide you with the best product of your choice. Plastic phone cases contain cheap and funky designs on their flaunting portions whereas wooden ones are classic in design and the manufacturers also remain careful to preserve their uniqueness. Every wooden phone case is one of a kind and are appreciable from every aspect. Using a sophisticated designed wooden phone case reflects your personality too.
There are many more reasons why phone cases are better than plastic ones. In fact, there are probably even more reasons to buy phone cases for your iPhone than why are plastic cases better than wooden ones. The thing is, it all just comes down to personal preference.
You will find that phone cases out there that you like the look of. Among many wooden phone case manufacturers, there is a company that makes the most uniquely designed and personalized wooden phone cases; Otto Case company. They make the most protective phone cases ever that are completely made of wood. Their wooden phone cases are engraved with excellent designs on the back portions. Every individual phone case is tested with a 26″ feet drop test formula which ensures cent percent breakage protection to your hard-earned smartphone. It is assured that the wooden phone cases by the stated company have met all the mentioned characteristics of perfect wooden phone cover. So, if you want to grab one of them, just visit Otto Case company's online store; ottocases.com and pick up one of your favourite designs or you can rather ask them to customize one for you as per your preference.
About OTTO CASE
OTTO CASE carries a wide range of high quality, beautifully designed wooden smartphone cases and smartphone accessories. OTTO CASE is an independently owned and operated business offering the best wooden cell phone cases in the world. Our cases are 26 ft drop tested to ensure they will stand up to daily use. They come in a wide range of wood species and are available in over 800 unique designs and counting.
Our goal is to deliver all three parts of great service- high quality, quick turnaround and low prices and we have made it our mission to provide high quality unique wooden smartphone cases and accessories that are as unique and individual as our customers and that enable them to express their own sense of being. We bring a new beautiful natural twist to smartphone cases and accessories.
OTTO CASE values our customers and works hard to ensure their complete satisfaction. Before, during and after every sale, we will be there to answer any questions and to provide them with the best experience possible.
The post Otto Case offers wooden phone cases first appeared on PRUnderground.
Original Press Release.