Miami, United States – The front cover of Totalprestige Magazine, a print and digital magazine designed especially for business people, features Katie Zamarra, Founder of Venue Communications and Marketing which specializes in creative communications for community lifestyle industries and place-making. Venue was founded in 2003 and continues to provide Media/Influencer Relations, Product Positioning & Opportunity Evaluation, Event Marketing, and many other services. The experience Katie accumulated in her hospitality marketing career has made her passionate about the communications field. She was inspired to start Venue as she realized the importance of media relations in order to stay successful. During the post-pandemic period, she helps her clients understand market trends and creates communications plans to realize their full economic potential.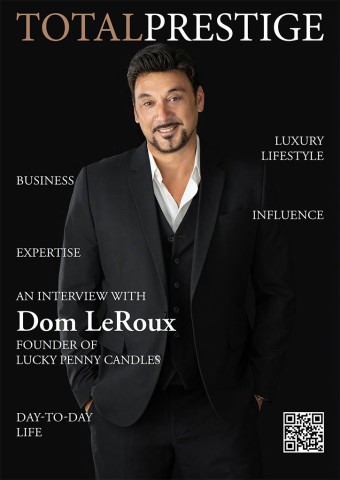 Previous issue of Totalprestige Magazine features Dom LeRoux on cover. Dom LeRoux, Founder of Lucky Penny Candles, sat down with us to discuss the importance of candles within the larger cultural space, the need for sustainable practices, and how melding the art and science of marketing and messaging has allowed Dom to build the firm from the ground up into the success it is today. Discussing corporate marketing strategy and the broader impact of Lucky Penny Candles' messaging, Dom tells us about the company's relationship with LinkedIn guru Shay Rowbottom and how her insights helped accelerate the company's growth.
Dom recently launched a new Canadian company named Lucky Chandelles offering custom candles also centered on gratitude and kindness.
To read all of the above, and much more, please visit Totalprestige Magazine
About Totalprestige Magazine
Totalprestige Magazine is the official magazine of Totalprestige℠. The Totalprestige Magazine website was launched in 2006 to be a platform for its members upon which they could get to know and become familiar with one another. As the official magazine of Totalprestige℠, Totalprestige Magazine is a subscriber-based magazine that mainly features members and their related businesses. The print version of the magazine was first published in May 2010.
Media Contact
Company Name: RMP Media Group LLC
Contact Person: Marc Ziegler
Email: Send Email
Address:66 W. Flagler St. 9th Floor #4414
City: Miami
State: FL 33130
Country: United States
Website: https://www.totalprestigemagazine.com/