Lorton Group, the leading manufacturer of healthcare textile solutions in Illinois, has announced a couple of additions to its product lines. The innovative products are available in various product categories such as the Patient Lift Privacy Systems, Traditional Curtain Systems, Non-Ceiling Mounted Privacy Systems, and Shower Curtain Systems.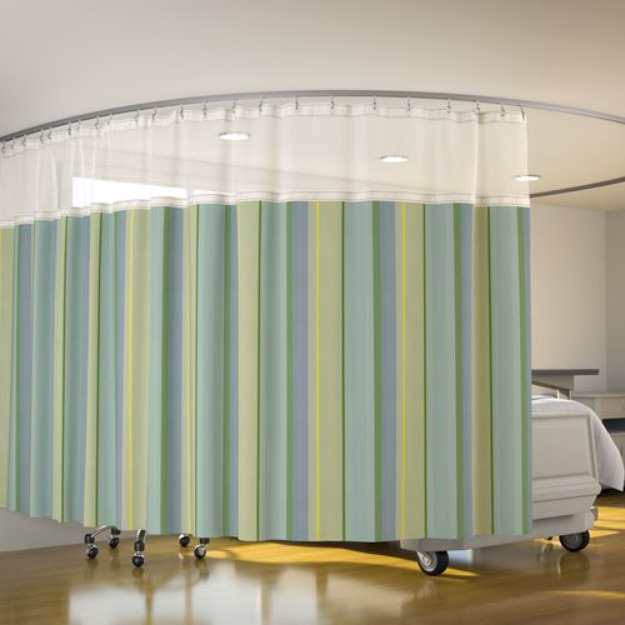 The products available under the Patient-Lift Privacy Curtain Solutions line feature the PRVC cubicle curtains, trolley system, flat-sided oval tracks, gate system, and the swing arm system to accommodate linear patient-lift.
A separate traditional curtain line features the classic wall-mounted curtain options. The designs available in traditional styles include grommeted cubicle curtains, Snap-On cubicle curtains, PRVC cubicle curtains, conventional ceiling-mounted cubicle curtain tracks, and mandatory accessories for curtain installation.
The Non-Ceiling Mounted Cubicle Curtain Systems product line features modern Door Surround curtains that replace the standard ceiling-mounted curtains and Bed Surrounds curtains, which also do not use ceiling tracks. The Bed Surrounds can be installed in the U or L configuration depending upon the room's structure, patient privacy requirements, and bed orientations.
The Patient-Lift Shower Curtain Solutions product line includes two products; the gate/swing arm shower curtain rod to accommodate XYZ or linear patient-lift and the PRVC shower curtains.
The curtain fabric for every product line can also be customized for health care providers to create the desired ambiance. The Lorton Group's designer curtain fabrics are made of 100 percent FR polyester and feature beautiful cool-toned geometric designs in earthy colors to compliment the surroundings. Clients can also choose Tone-on-Tone cubicle curtain fabric, composed of 100 percent FR polyester and has a solid color for the entire curtain with a lighter shade of the same color embedded all over the curtain in the small square pattern. All Lorton Group curtains feature an antimicrobial treatment and meet the NFPA 701 flame spread regulations for vertical flammability.
"Lorton Group is committed to providing the best solutions for hospital patient privacy. We are bringing innovations to how traditional hospital curtains are made and used. The modern design of our products, coupled with the smart use of components, solves many concerns associated with traditional cubicle curtain designs while providing the necessary assistance for effective deployment of our products," stated a Lorton representative. She also highlighted the reliability of Lorton's innovative products by saying:
"We design our products with the understanding that any medical curtain would be used extensively by many users. They serve as a landing zone for fluids and stains. To be effective, the medical curtain must be resistant to stains and other contagious fluids. Lorton Group medical curtains have a sturdy and durable fabric, which is allergen-resistant, free of heavy metals, and have an antibacterial finish to avoid becoming bacterial breeding grounds."
Readers browse through all the products manufactured by Lorton Group on the company's official website: https://lortongroup.com/. The website also has reference videos and images to give visitors a better idea of the products and installation options.
About Lorton Group
The Lorton Group was established in 2010. The company specializes in the manufacturing and distribution of textile products like traditional hospital cubicle curtains, shower curtains, as well as patient-lift curtain systems, and non-ceiling mounted cubicle curtain systems. The brand also provides services and goods to public and private hospitals, military-operated facilities, VA hospitals, nursing homes, university campuses, and medical offices, as well as to other contractors and distributors.
Lorton Group
Sterling Heights, MI, USA
Phone: (844) 352-5089
newsroom: news.38digitalmarket.com
Release ID: 279910