Central District, Israel, 17th Jan 2022, ZEXPRWIRE, Play-to-earn gaming has taken the crypto world by storm, and it's easy to see why. With this unique gaming model, which is geared to adults, participants are rewarded with cryptocurrency or NFTs just for playing games they would probably play for free.
The most popular play-to-earn game today is Axie Infinity, which allows users to play the game, and by using blockchain technology, reward its players for taking part.
In the play to earn scene, there is one Token that emerged, the name of this token is $FEN, which is connected to the FIRST EVER NFT SOCCER TEAM project.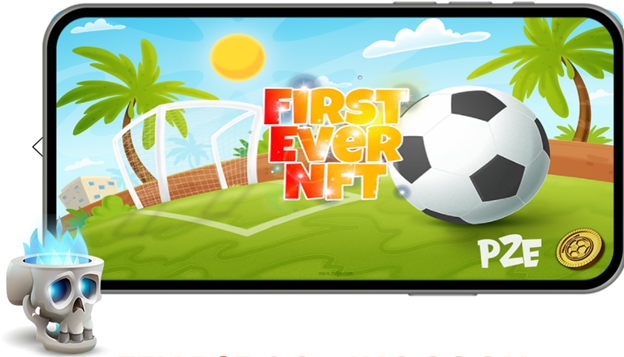 $FEN Token was created as the token for the community of First-Ever NFT SOCCER TEAM Collection.
As a part of a system that the developers of the project implemented, every holder will receive a different amount of Free Drop Tokens, Ranging from 1 to 1000 tokens per drop, per rarity of the NFT Crypto Player.
With that, the token will be pegged to the play-to-earn game that has been developed especially for the main NFT project.
Once you have bought one of the nft's characters, you can play with it in the game. The Caracter will be only yours, and when you are winning a game, by competing with others, you will get airdrops and giveaways as tokens and NFT's, directly to your wallet.
you can add your players straight away to the mobile game, play 1v1 or 2v2 and even trade your own NFTS!
The game has a visually-stunning 3D graphics game and with that it has something very interesting, that its members will get benefits just by holding an NFT; Every Time your Crypto player scores a goal in the real world, You will receive $FEN TOKENS based on the rarity of the player!
$FEN token is already audited by Tech-Audit, which gives the token, and the project legitimacy in the crypto world.
$Fen Token built on the Binance smart chain and is traded on a decentralized exchange, Pancake Swap (DEX), and in the near future, will be traded on several centralized exchanges (CEX).
The tokenomics of the project is very simple and easy to understand;
First of all, the supply of the Token is 1,000,000,000.
30% of the total supply will be burned. The other 70% will be in circulation.
5% Auto Liquidity
Every trade made through First-Ever NFT will contribute 5% towards automatically generating liquidity.
1% Donation Fund To Low-income players
First-ever NFT will invest back into the community by investing in low-income players and helping them reach their goals.
2% P2E Game Development
First-Ever NFT Play2Earn Game will launch its first demo to the public exclusively to MVRS holders on Q2 2022. The full game is scheduled to launch in Q3 2022.
1% FirsteverNFT Art & Dev Team
In order for First-Ever NFT to get the proper exposure, it needs to create a thriving community. This fee is used exclusively for development and marketing purposes.
1% FEN Swap Development
Swap Technology development Every trade made through First-Ever NFT Swap in the future will use BNB/FEN tokens as fees.
1% NFT Market Development
Our NFT department includes our very own marketplace and a team of artists. This feature will help all FirstEverNFT Hodlers to earn more profits from the project.
We can conclude; this game was made to be played!
social platforms:
Website: https://www.fen.firstevernft.org/
Telegram: https://t.me/firstevernft
Twitter: https://twitter.com/firstevernft
Discord: https://discord.com/invite/4stH7CDB2c
Instagram: https://www.instagram.com/accounts/login/
Media Contacts
Address: Central District, Israel
Email: [email protected]
Disclaimer:
The research contained in this report should not be construed as a solicitation to trade. All opinions, news, research, analyses,
prices, or other information are provided as general market commentary, a market overview, and not meant as investment advice
or to be perceived as an invitation to invest. The forward-looking statements are based on current views and assumptions which
involve known as well as unknown risks, uncertainties that are affecting actual results or performance or events that may differ
materially from those presented herein. Any decision should be made on an informed basis and by your own volition.
The post $FEN TOKEN, the next big thing of Play-To-Earn Gaming and NFT's appeared first on Zex PR Wire.