Collingdale PA – Dental Crowns/Bridges update announced by Dr Connie Aftab (Collingdale Dental Associates) for those seeking treatment options for cracked, broken, or fractured teeth.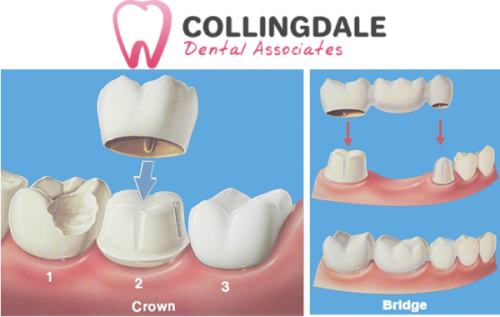 Collingdale, United States – January 18, 2022 —
Collingdale Dental Associates of Collingdale, PA announced the update of their expert cosmetic dentist services for the placement of dental crowns, dental bridges, and other oral health services.
They are conveniently located 224 Clifton Ave, Collingdale, PA 19023 and welcome patients from Springfield, Ardmore, Broomall and other surrounding areas. More details can be found at https://www.collingdaledentalassociates.com/dental-services/general-dentistry/dental-crowns/
A dental crown (also called a tooth cap) restores a tooth's shape, size, and strength. It fully encases the visible portion of your tooth. Once it is permanently bonded in place, only a dentist or specialist can remove it.
With proper care and good oral hygiene, the life of a tooth crown can range from 5 to 15 years.
If a natural tooth-colored porcelain crown is chosen recent media coverage explain more here https://www.globenewswire.com/news-release/2021/06/25/2252985/0/en/Collingdale-PA-Dental-Crowns-Bridges-Expert-Cosmetic-Dentistry-Updated.html
A tooth cap/crown may be prescribed by your dentist to restore and protect a tooth that is worn, decayed, cracked, or broken, protect and support a tooth after a very large filling or root canal treatment, cover a dental implant, hold a dental bridge or other prosthetic device in place or improve your smile by covering a misshapen or severely discolored tooth.
There are three types of dental bridges available to suit various dental cases, the traditional bridge being the most common.
Traditional dental bridges consist of the artificial tooth, or teeth, attached to two dental crowns, one on either side. The crowns will cover the natural teeth, or dental implants, adjacent to the open space.
Cantilever dental bridges are comprised of the artificial tooth, or teeth, with two crowns on just one side of the gap. This type of bridge is ideal for a patient with teeth on only one side of a space where teeth are missing.
Collingdale Dental Associates is led by Dr. Kanwal "Dr. Connie" Aftab. Dr. Connie has built a reputation as one of the top dentists in Collingdale, with over a decade of experience working in the Philadelphia area as well as a standing membership with relevant bodies including the American Dental Association, the Pennsylvania Dental Association, and the Academy of General Dentistry.
See recent media coverage here https://finance.yahoo.com/news/collingdale-pa-dental-crowns-bridges-024600032.html
One patient review on Google reads 'went to Collingdale dental for a cleaning and to get a dental plan .. They was so nice and caring, didn't have to wait long to get seen either .. Also if you don't have any insurance they got affordable prices to help out cash customers .. went to a few places in my dental journey including temple student dentists .. got to say these guys are the best'
Contact Info:
Name: Dr Kanwal Aftab
Email: Send Email
Organization: Collingdale Dental Associates
Address: 224 Clifton Ave, Collingdale, PA 19023, United States
Phone: +1-610-583-3454
Website: https://www.collingdaledentalassociates.com/
Release ID: 89060556
COMTEX_400755452/2773/2022-01-18T21:30:14