The inspirational collection of writing will be available in paperback, ebook, and audiobook, and it offers powerful messages that will transform the reader's life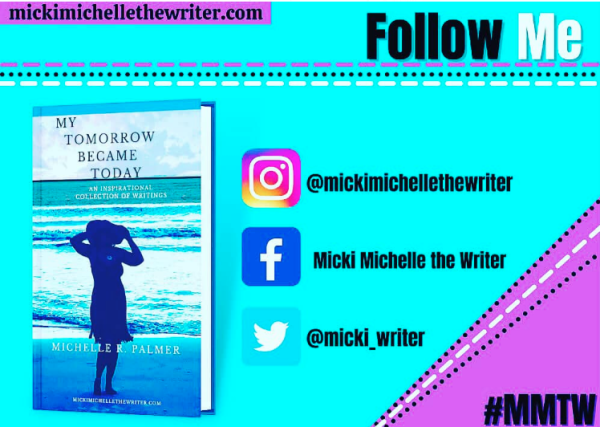 Author, Michelle R. Palmer, announces the upcoming launch of her new book titled "My Tomorrow Became Today." The novel is an Inspirational Collection of Writings with a message for people who're going through hard times and need encouragement.
The book will be launching on November 1, 2021, and will be available in paperback, ebook, and audiobook. Fans and readers can get their copy on Amazon, audible audiobooks, Apple iTunes, and the author's official website. The audiobook has been published through ACX.
"I will walk my path with more wisdom and frequently stop to pick up flowers along the way. Sometimes these flowers will have thorns, while other times, they will have blooms. Either way, I'll pick them up with hope and grace," said author Michelle R. Palmer.
My Tomorrow Became Today is a book that inspires and encourages readers to take charge of their mental energy. So many people like to worry about what tomorrow will be like, instead of focusing on today. People who worry about the future can't help it because we live in a society where many things aren't sure. But overthinking the future can lead to stress and make health issues worse.
Michelle R. Palmer has written this book to help people have faith in themselves and cultivate the habit of hopefulness and faithfulness. The book is full of powerful messages and sentences that will sink deep into the reader's mind. It helps the reader understand that they will surely excel in the end through endurance and perseverance no matter their challenges.
My Tomorrow Became Today is the first book by author Michelle R. Palmer. The Florida native and beach lover is a survivor who has passed through many challenges in her life. She wants to use this book to teach others that worry may not solve any problem, and some of the things that bother us will eventually sort themselves out. She wants to encourage people to look inwards and get inspiration to live a better and more fulfilling lifestyle free of worry but full of hope and opportunity.
To purchase the book, please visit Amazon and Audible.
For more information on the author Michelle R. Palmer, please check her website http://www.mickimichellethewriter.com/.
About Michelle R. Palmer
Michelle R. Palmer is an upcoming author whose desire is to inspire and educate readers on living a fulfilling life. The Floridian, mother, and grandmother achieved her undergraduate degrees from the University of Florida and graduate degree from the University of Phoenix. She has worked in IT, healthcare, and telecom as a technical writer and project management. She's an excellent writer that readers are going to find easy to relate with.
Media Contact
Contact Person: Michelle R. Palmer
Email: Send Email
Country: United States
Website: www.MickiMichelleTheWriter.com