Brooklyn, NY – Denis Davydov, a top-rated Brooklyn accident lawyer, continues to add on to his winning record and reputation with yet another positive client testimonial.
Client Kerluke S. says: "This law firm was my choice when I needed a car accident lawyer. Denis and his team took on my case in a very professional manner. They were both knowledgeable and sympathetic. I felt like Denis and his team personally took care of me and they kept me up to date on every step of the process. The settlement was great and I am really happy that I chose to let him handle my lawsuit. I even recommended this lawyer to my acquaintances and family. If you are looking for legal support I strongly recommend a meeting with this law firm."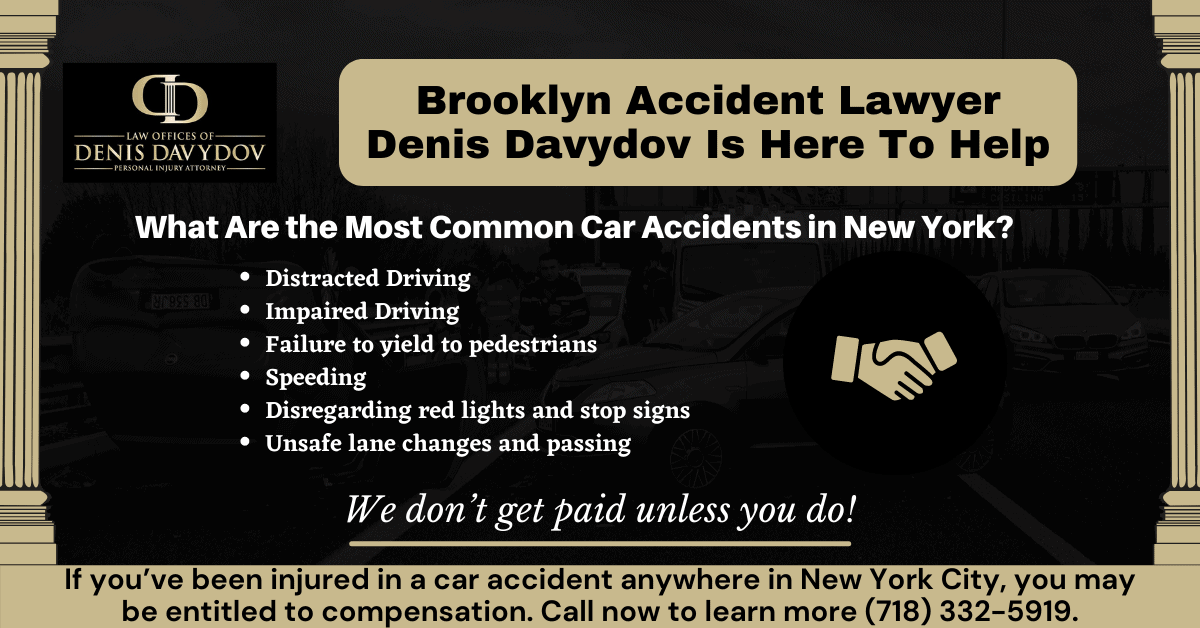 Situated in Brooklyn, NY, and with a professional service area in Sheepshead Bay, Brighton Beach, Midwood, and beyond, the Brooklyn accident lawyer has been successful in assisting the law firm's clients through the experiences and challenges of their lawsuits. Car accident cases are some of the most complex cases a personal injury attorney handles, but Denis Davydov and his law office staff at Law Offices of Denis Davydov | Personal Injury Attorney work hard to ensure that their car accident clients are well represented and fairly recompensed.
Regarding car accident cases, Denis Davydov said: "New York City consistently shows up on the list of the 25 most accident-prone cities in the nation. As experienced New York City personal injury lawyers, we have seen our fair share of car accident consequences, injuring drivers, passengers, pedestrians, and bicyclists. Some common causes of car accidents include distracted drivers, impaired driving, failure to yield at pedestrians, and speeding. If you've been in a car accident, no matter the reason, hiring a top-notch personal injury attorney can help ensure you are failure compensated for your injuries. Consultations are always free, and we are here to help."
Car accident cases are known for their complex character and may require a large amount of attentiveness and competence to demonstrate negligence and responsibility under New York State law.
Denis Davydov goes on to explain: "In New York, we are a no-fault state. That means that a car accident victim's first source of compensation will be their own insurance, regardless of fault. After an accident, you or your car accident attorney will file a claim with your insurance company. Unfortunately, these companies, as large, for-profit entities, don't like to pay claims. This is where an experience of a great car accident lawyer can come in. Instead of accepting a low ball offer, a lawyer can fight for your rights."
Denis Davydov and the team at Law Offices of Denis Davydov | Personal Injury Attorney, work hard to make sure each and every detail of a car accident case is thoroughly assessed. This process may include reviews of medical and police records, a review of other cases involving either party, researching similar legal cases in New York, and more.
Law Offices of Denis Davydov | Personal Injury Attorney and Denis Davydov try to work for their clients in a way that exceeds the manner of a typical Brooklyn accident lawyer. Likewise, the law office prides itself on its commitment to its clients, a thoughtful and caring approach to client representation, and fighting for their client's rights both in and out of the court.
To learn more about the Law Offices of Denis Davydov | Personal Injury Attorney and Denis Davydov, visit their website https://davydovlaw.com/what-are-the-most-common-causes-of-car-accidents-in-new-york/
###
For more information about Law Offices Of Denis Davydov | Personal Injury Attorney, contact the company here:
Law Offices Of Denis Davydov | Personal Injury Attorney
Denis Davydov
(718) 332 5919
[email protected]
1610 Sheepshead Bay Rd,
Brooklyn, NY 11235, United States