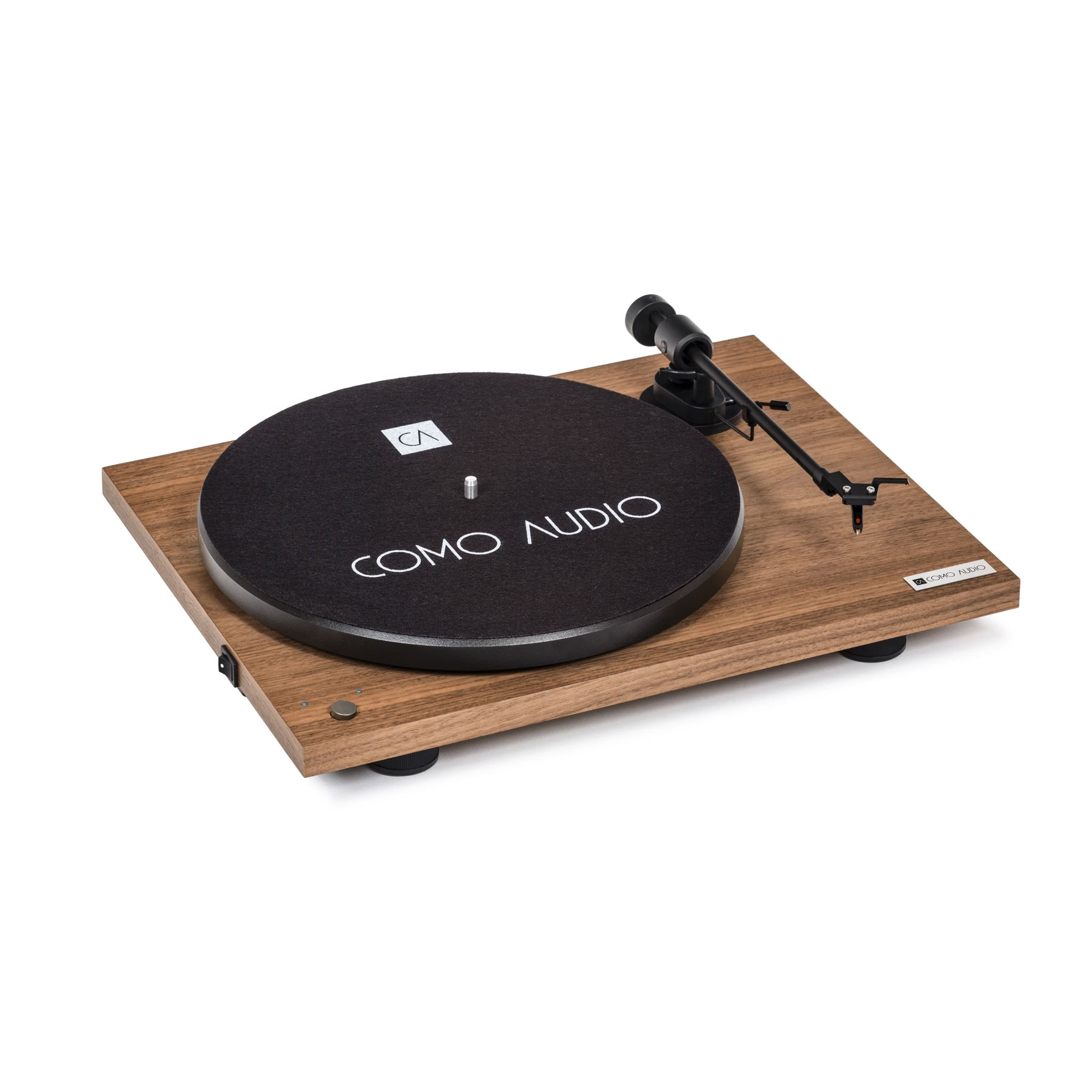 ""Vinyl is making a comeback and sales are soaring," says Tom DeVesto, Designer and CEO of Como Audio. "It's time to get out those record collections and listen to your favorite artists. There is nothing equal to the sound of a vinyl recording. Pair that with our studio-quality music systems and you will get the best listening experience the way that the artist intended. ""
All over the world, music lovers are discovering (or re-discovering) the satisfaction of operating a turntable, dropping a needle and playing albums providing the greatest bandwidth for enjoying music as it was intended to be heard. The Como Audio Bluetooth Turntable by Tom DeVesto makes it easy to stream vinyl records wirelessly to any of the Como Audio great sounding music systems.
The Como Audio Turntable has multi-room capability allowing for records to be played in one room and streamed all around the house to any of Como Audio smart speakers. The Turntable also offers the option to connect with an audio cable using the integrated moving magnet phono pre-amp output to any Como Audio or other music system's Auxiliary input.
The Como Audio turntable is precision belt-driven with a real wood veneer or multi-layer high gloss piano plinth with a medium density fiberboard (MDF) substrate and an anodized aluminum speed button, all designed to perfectly complement existing Como Audio music system finishes. It can be conveniently connected wirelessly via Bluetooth or with an audio cable using the integrated moving magnet phono pre-amp output to any Como Audio or other music system's Auxiliary input.
A heavy 300mm diameter metal platter provides smooth rotation with decreased resonance. The 8.6" tone arm is fitted and specifically optimized for an Ortofon magnetic cartridge. The low-noise AC synchronous motor and ultra-precision frequency DC-driven AC generator provides speed stability without adding vibration. The time-tested belt driven design offers motor decoupling, and the speed is selectable at 33 or 45 RPM. A black felt mat, removeable dust cover, and 15V/0.8A, 110V 60Hz or 230-240V 50Hz external power supply are included along with a two-year warranty, not including the stylus.
The Como Audio Turntable measures 16.3" (415mm) W x 4.65" (118mm) H x 12.6" (320mm) D (including dust cover) and weighs 11.68 lbs./5.3 kg. It comes in Walnut, Hickory, Piano Gloss Black, and Piano Gloss White finishes to match products in the Como Audio collection.
Tom DeVesto has been designing and introducing quality consumer electronics brands for more than 40 years. He recently founded Como Audio in 2016, where he is founder and CEO, and prior to that was responsible for launching companies and innovative brands at Advent, Kloss Video, Cambridge SoundWorks, and Tivoli Audio, LLC. In founding Como Audio, Tom DeVesto' s goal was simple: to make it easy to access all the music content available through one device that would deliver multi-room, true high-fidelity, Wi-Fi sound in beautifully designed units.
Pair any Como Audio music system with a matching turntable for a stunning visual and audible experience. The Como Audio Turntable retails for $399 and is available at www.comoaudio.com.
Media Contact:
Liz Ammirato
845-621-2005
[email protected]
Media Contact
Company Name: CATHY CALLEGARI PUBLIC RELATIONS INC
Contact Person: Cathy Callegari
Email: Send Email
Phone: 845-621-2005
Address:159 Madison Avenue, Apt. 5J
City: New York
State: NY
Country: United States
Website: www.callprinc.com