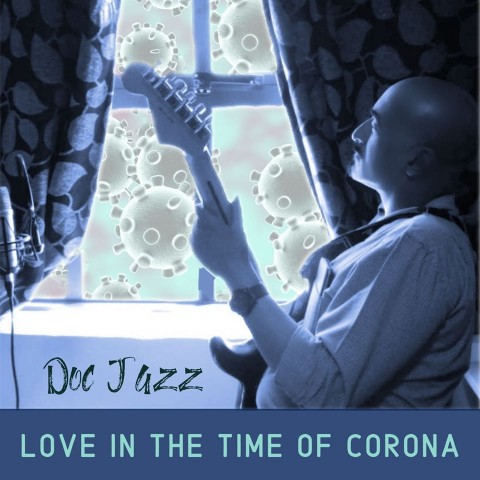 Inspired by Gabriel Garcia Marquez's famous novel 'Love in the Time of Cholera', the talented singer-songwriter Doc Jazz has released his latest album "Love in the time of Corona". He was nicknamed "Doctor Jazz" by his peers during his medical studies, because of his musical activities. Currently a dedicated surgeon, Doc Jazz continues to follow his musical passion on the side, garnering an increasing fanbase with his unique take on music.
His latest album is inspired by the current situations when the world is put on a halt due to the COVID-19 outbreak, describing the different expressions of love in these crucial times. In each of the 12 songs of the album, the artist manages to capture deep human emotions, that many people will be able to relate to. The song 'Leaving it up to Fate' is in broadcast rotation on Radio Love Live airing from Manhattan, New York. It expresses the emotions of the artist over his mother falling victim to Alzheimer's disease.
"With this album, I want to tell people to focus on love as it is more important than anything else. The songs on the album deal with the various forms, aspects, and expressions of love. Most of these are summarized in the song 'It Takes Love', which elevates love to its most elevated, spiritual form", states Doc Jazz.
The song "Love Brain" is about the craziness of being in love, while "You Got Me" and "Devil's in the Detail" has a cynical undertone towards the more superficial forms of love. "How Does it Feel" deals with the painful side of love. Every song fits into the theme of love, and some also fit in with the theme of living in lockdown.
Doc Jazz does most of the vocals and instruments on the album by himself, but in this smoothly produced collection of funky and soulful songs, he has hired no less than 14 acclaimed session musicians and vocalists to spice things up in some of the tracks. Some notable names among these are Toy Matthews and Elan Noelle (backing vocals), Maria Grigoryeva (violins), and Keith 'Plex' Barnhart (additional synthesizers).
Born and raised in the Netherlands and of Palestinian origin, Doc Jazz moved to the UAE about a decade ago, where he practices his profession. He started releasing his self-produced songs around the turn of the millennium and over the years, he has produced over a hundred songs, in a variety of styles that carry jazzy elements, funk, and rock. Occasionally, his music also features elements from Palestinian folklore and other Arabic music. His songs have been featured on mass media in the Netherlands, Palestine, and other parts of the Middle East.
Despite having an intense job as a surgeon, Doc Jazz manages to follow his love for music. He also loves performing but finds it difficult to take out time for that, so he is happy being a studio musician and songwriter.
Talking about his creative process, the artist further adds, "I never plan to write a song: when it comes to me, it just suddenly is there and flows out of me very quickly. That's why it always comes from a genuine thought or feeling".
More information about Doc Jazz can be found on his official website.
His latest album is available on Spotify, Apple Music, Soundcloud, and YouTube.
Media Contact
Company Name: Doc Jazz Music
Contact Person: Doc Jazz
Email: Send Email
Country: United Arab Emirates
Website: www.docjazz.com