If you haven't heard of Organic LED (OLED) technology, you don't know what you're missing. The new technology could one day replace LCDs and plasmas, and for good reason – monitors are incredibly thin, the picture is amazing and colour is remarkably vivid.
Digital Journal — Bringing in the first organic LED TV to the Canadian market, Sony wants to set a precedent: Be first, and offer the best. The company has announced the launch of the first Light-Emitting Diode (OLED) television in Canada. OLED is comprised of small pieces of organic material that glow when an electrical current is applied (called electrophosphorescence). When used to create displays, OLED can produce self-luminous screens, meaning they do not require a source of light like LCD or DLP televisions. The XEL-1 is an 11-inch screen based on electroluminescent organic materials. The unit is incredibly energy-efficient and skinnier than a Paris runway model. The XEL-1 was also recently announced in the U.S. (it was announced at the Consumer Electronics Show) and Japan. So why is this TV a big deal? Well, the most stunning aspect is its thinness; the XEL-1 is a mere three millimetres (0.12 inches) at its thinnest point. The monitor also displays marvellous deep blacks and contrast ratios higher than one-million-to-one. Sony has also incorporated a "super top emission" technology that "allows for a high transmission of light coming from the organic materials that produces extremely bright pictures," as Sony describes.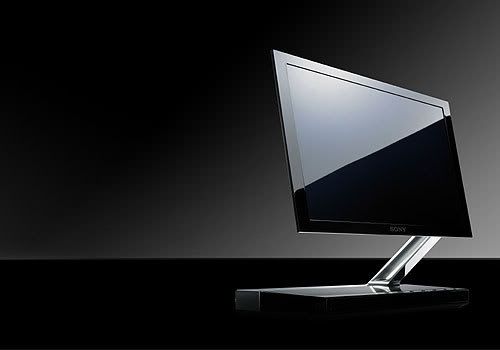 Sony's XEL-1, an 11-inch Organic LED TV
Sony's OLED technology was
first showcased by Digital Journal TV
at a Sony trade show in November 2007 when the company displayed a pre-production model of an OLED TV inside a glass case. Then, the unit was still relatively top-secret and Sony did not allow DigitalJournal.com to photograph it, but some details were revealed. The XEL-1 goes on sale on Sony's website beginning Feb. 29 in Canada. The 11-inch model has an MSRP of $2,499. Expensive? You bet. "With any new product, it's about economies of scale," Sony product training manager, Michael Neujahr, told DigitalJournal.com. "It's still expensive to produce." Neujahr said he could not guess when larger models would be available. He said the largest OLED Sony has displayed publicly was a 27-inch prototype at CES. "This is the very beginning of [OLED] from the commercialization of a TV set," said Neujahr. "It's been available in the past in other smaller products, but there is no doubt we will work to make it the next TV format as well." Sony's goal with the launch of this OLED TV is to expand its TV business, and the XEL-1 will be added to Sony's Bravia line of LCD monitors. The "organic panel" technology used in the screen was developed entirely by Sony, according to a press release issued by the company. For those who have never heard of OLED, don't fret -- it's still in an R&D phase, as manufacturers are working out the kinks in production and scaling to large-size TVs, as it's far more complex than current monitors and TVs. "OLED display panels use extremely low power levels due to the light-emitting structure that eliminates the need for a separate light source. As a result, OLED panels can be up to 40 per cent more efficient per panel-inch compared to conventional flat panel technologies", said Patrick Lapointe, marketing manager for television products at Sony Canada, in a news release. The XEL-1's picture is, without exaggeration, pristine and unprecedented in any LCD or Plasma screen currently available on store shelves. The first time you see an OLED TV in person, it will floor you; colours are bright and the picture is razor sharp.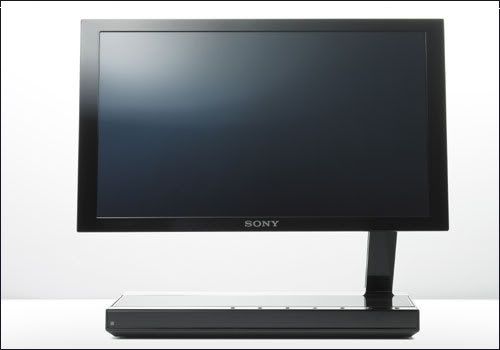 Sony's XEL-1, an 11-inch Organic LED TV
To prevent image blur associated with fast-moving scenes in movies or sporting events, Sony has trimmed down the response time. The XEL-1 also consumes a great deal less power than anything we are currently used to, as Sony says it will go as low as 35 watts. The sleek, lightweight model has an aluminum sidearm that makes it look like the TV is floating and the look is beautiful, with black and silver colouring along the back of the panel. Sony began researching OLED technology in 1994 and began mass-producing small-sized OLED panels in 2004 in mobile products, the company says. OLED is often regarded as the upcoming standard for televisions, ushering in a laundry list of improvements over LCD or plasma screen technology. Low-resolution OLED screens can even be printed on plastic, thus making it the low-cost choice for MP3 players, cellphones and PDAs. Sony began production for the XEL-1 in 2007 and the Canadian launch marks the beginning of the company's move in an organic direction. The unit is still very expensive, but today's tech market moves quickly and as the technology goes more mainstream, expect prices to drop. So when will the technology go mainstream? "That is a crystal ball game," said Neujahr. "Can't tell you yet."