Incarcerated Authors and Artists in Washinton State's largest women's prison use their gifts to inspire during the Holiday season with a new book and ebook.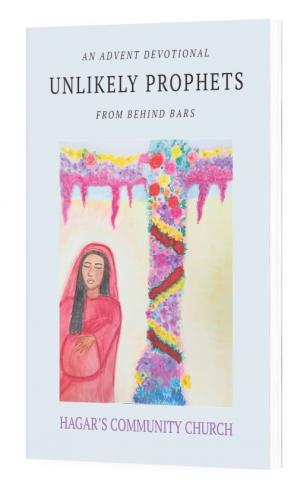 Lakewood, United States – October 26, 2021 —
GIG HARBOR, WA – This November, a group of prisoners collaborated to release a devotional that gives a new perspective on Advent. The book is Unlikely Prophets: An Advent Devotional From Behind Bars. The authors and artists belong to Hagar's Community Church, a Christian faith community that meets for worship behind the bars of Washington Corrections Center for Women, the largest women's prison in Washington. They get their name from Hagar, a biblical character in the book of Genesis who, though ostracized, encounters and even names God, saying "You are the God who sees me" (Genesis 16:13).
In our culture today, people in prison are often unseen and ignored. But that's beginning to change for this congregation as they learn to see themselves differently in light of scripture. Members of Hagar's Community Church "find it healing to know God is the One who sees them–and that they are blessed," says Riley Pickett, pastor of the incarcerated congregation. "I wanted to do an Advent devotional that featured the art from women inside and outside the prison."
In the Christian calendar, Advent is the season that starts four Sundays before Christmas. During Advent, Christians prepare for the coming of Jesus. They're often guided by spiritual disciplines such as prayer, fasting, repentance, and reading scripture from the Old and New Testament. It's a fitting season to listen to voices that challenge common perspectives.
"Throughout history, prophets have peeled away the veneer of the ordinary and pointed toward a more beautiful vision of creation inspired by God," says Crawford Brubaker, one of the contributors to Unlikely Prophets. "The story of Advent in scripture is teeming with unlikely prophets and prophecies that paint pictures of a new and subversive reality we are called to both hope for and work towards."
As our world is coming out of a pandemic, and as our nation is grappling with racial and political divisions, Brubaker asserts that people in prison can be an inspiration to anyone who hopes for a brighter future. "The members of Hagar's Community Church know something about waiting and imagining a different way."
The incarcerated members of Hagar's Community Church are not able to tithe in traditional ways. In 2020, they came up with the idea of using their collective talents to make devotionals as a way of financially sustaining their faith community and positively impacting others.
Rev. Dexter Kearny pre-ordered the book in September. While he's waiting for the book to print in November, he downloaded the digital copy that came with the purchase. It's clear the devotional is already having its intended impact. "The people of Hagar's Community Church provide keen insight and deep wisdom through their art, poetry, and prayers in Unlikely Prophets. I am so excited for my church to engage the love and joy as well as the justice and truth shining through each and every day's devotion," says Rev. Kearny.
Unlikely Prophets is not Hagar Community Church's first devotional. In November 2020, the church began creating Fury and Grace, a devotional for Lent, a season that spans the forty days preceding Easter. They sold 800 copies of the book and raised almost $4,000 for their community. In March of 2021, they began working on Unlikely Prophets. Inspired by Isaiah, Mary, and Jesus, the members of Hagar's Community Church began crafting paintings, poetry, and prayers from their cells in hopes of inspiring and leading others through the sacred season of Advent.
The devotional contains a short chapter for every day in Advent. Each day, readers encounter scripture, questions, reflections, art, and poetry. The book also features spiritual practices and guidance for leading prayer services and Advent candle lighting.
This holiday season, devotionals like this one will teach churches and individuals how to celebrate Advent in a new way: eagerly anticipating and working toward the justice and peace we long for. What voices will be shaping your holiday?
Order copies of Unlikely Prophets at cyclicalpublishing.com/unlikely-prophets-book. Proceeds from every sale go to support Hagar's Community Church. To learn more about Hagar's Community Church and to become an ongoing supporter, visit hagarscommunitychurch.com.
Contact Info:
Name: Brendan McClenahan
Email: Send Email
Organization: Hagars Community Church
Address: 15508 Portland Ave SW, Lakewood, WA 98498, United States
Website: https://cyclicalpublishing.com/unlikely-prophets-book/
Release ID: 89050397
COMTEX_395814469/2773/2021-10-26T01:01:07