With Father's Day only a few weeks away, the clock is ticking to find the perfect gift. Goldstein Swank & Gordon Jewelers is eager to help families discover an incredible gift for dad.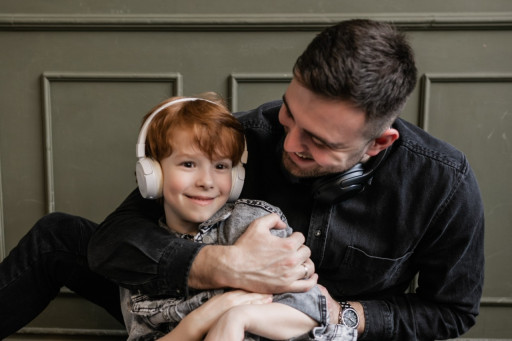 GSG Jewelers Father's Day Gift Ideas
A father is hugging his son in his arms and smiling at him. His son is wearing white headphones and smiling while staring off in the distance. An olive green background is behind them.
MARLBOROUGH, Mass. – June 9, 2021 – (Newswire.com)

Choosing a gift that flawlessly captures the hard work and support that a father provides can often be challenging. Take the guesswork out by visiting GSG Jewelers in Malborough, Massachusetts, and browse a wide selection of gift options that will make this Father's Day one for the books.
Many fathers appreciate punctuality, considering it a duty to leave and arrive on time. If that sounds familiar, the perfect gift for dad might be a new designer watch that stands out from the others in his collection.
GSG Jewelers offers many high-end models to choose from, so ultimately the choice comes down to style. Browse top-of-the-line watchmakers such as Breitling, TAG Heuer, and Seiko Luxe. Each brand offers a diverse collection of quality timepieces that are both memorable and elite.
Timeless and sophisticated in design, this stainless steel Chronomat Watch offers versatility with its modern-retro details that blend well with fathers who appreciate a streamlined style. This will act as a staple piece for his wardrobe as it accentuates attire for any occasion.
Men's chain necklaces are available with finely crafted links in today's top styles for fathers who prefer to draw attention elsewhere. GSG recommends the Miami Cuban link, a recurring favorite featuring a heavier chain design. If he enjoys a flashier style, shop thick gold rings, including options studded with diamonds.
Gifts for every kind of father abound at GSG Jewelers. Shop online or in-store to find a luxury gift that will mean the world to dad this Father's Day.
About GSG Jewelers
Specializing in fine jewelry, Goldstein Swank & Gordon (GSG) has served Central Massachusetts with all of its jewelry and repair needs since 1899. GSG Jewelers offers a vast selection of luxury jewelry brands like CrownRing, Gabriel & Co. and Verragio. In addition to top-tier bridal jewelry, they also offer certified loose diamonds, fashion jewelry, and premium timepieces. GSG Jewelers has been owned and operated by the Hannoush family for over 20 years, all while keeping customer care as the top priority. Visit their Marlborough jewelry store today or call (508) 624-9994 for more information on their products and services.
Press Release Service
by
Newswire.com
Original Source:

Surprise Dad for Father's Day With a Luxury Gift From GSG Jewelers