SIMS 4 USA offers a SIM card packed with desirable features that will make a tourist stay in the USA just like their own country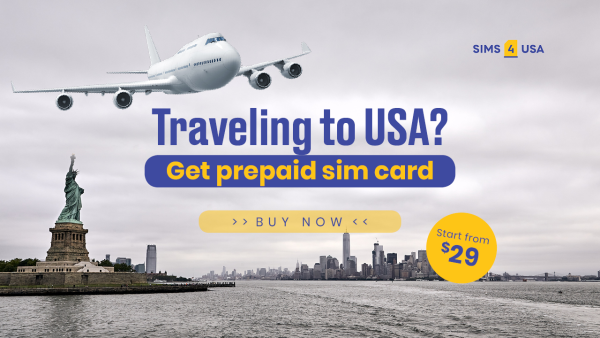 Traveling to another country, be it for leisure, business, or education, has become a common phenomenon, and the USA is probably the desired destination for many tourists today. However, many tourists are now cautious about international packages with booming international call charges. They choose a local sim card that can give them an easy time regarding their phone bills in the country.
Recognizing this need, Sims 4 USA, the US brand known for delivering the best USA sim card for tourists visiting the USA has come with some amazing offers that will allow people to bring their own phones while keeping their phone number intact.
Their current offering includes a free mobile hotspot and wifi calling and varying packages to enjoy unlimited nationwide talk and text, unlimited high-speed data at up to 5G speed, and unlimited international talk and text to over 75 countries worldwide.
The company is currently offering four plans with 30 days validity which are available at $29, $33, $50, and $50. While most of the features remain similar over their different plans, bonus international credit differs with each package, along with the unlimited data plan.
According to company officials, most high-end and new smartphones are most likely to connect in 3G H+ at least while iPhone 6 and onwards models will connect in 4G LTE. Their roaming feature will also support neighboring countries such as Canada and Mexico. The sim will be delivered in around 2-3 business days based on the user's location.
One of the spokespeople for the company was quoted as saying, "You can now have your SIM Card sent to your home or business before you leave, or have it waiting for you at a specific address in the United States. When you arrive in the United States, simply insert the SIM card into your phone, and it will activate automatically. SIMS 4 USA is the solution for you, whether you are traveling for business or pleasure or simply looking for the finest phone plan. We offer a variety of programs to meet your requirements and budget. Whether you want unlimited speak and text or just voice and text, we've got you covered."
To learn more about Sims 4 USA visit: https://www.sims4usa.com
About Sims 4 USA
Sims 4 USA is one of the top sim card providers for USA tourists, which aims to give them the benefit of local
telecommunication services and superfast internet to make their stay happier and cost-friendly.
Watch The Video Introducing SIMS 4 USA: https://www.youtube.com/watch?v=IV1j7pdmyf0
Media Contact
Company Name: Sims 4 USA
Contact Person: Mr Dayan
Email: Send Email
Phone: +1-802-870-6770
City: Brooklyn
State: New York
Country: United States
Website: www.sims4usa.com