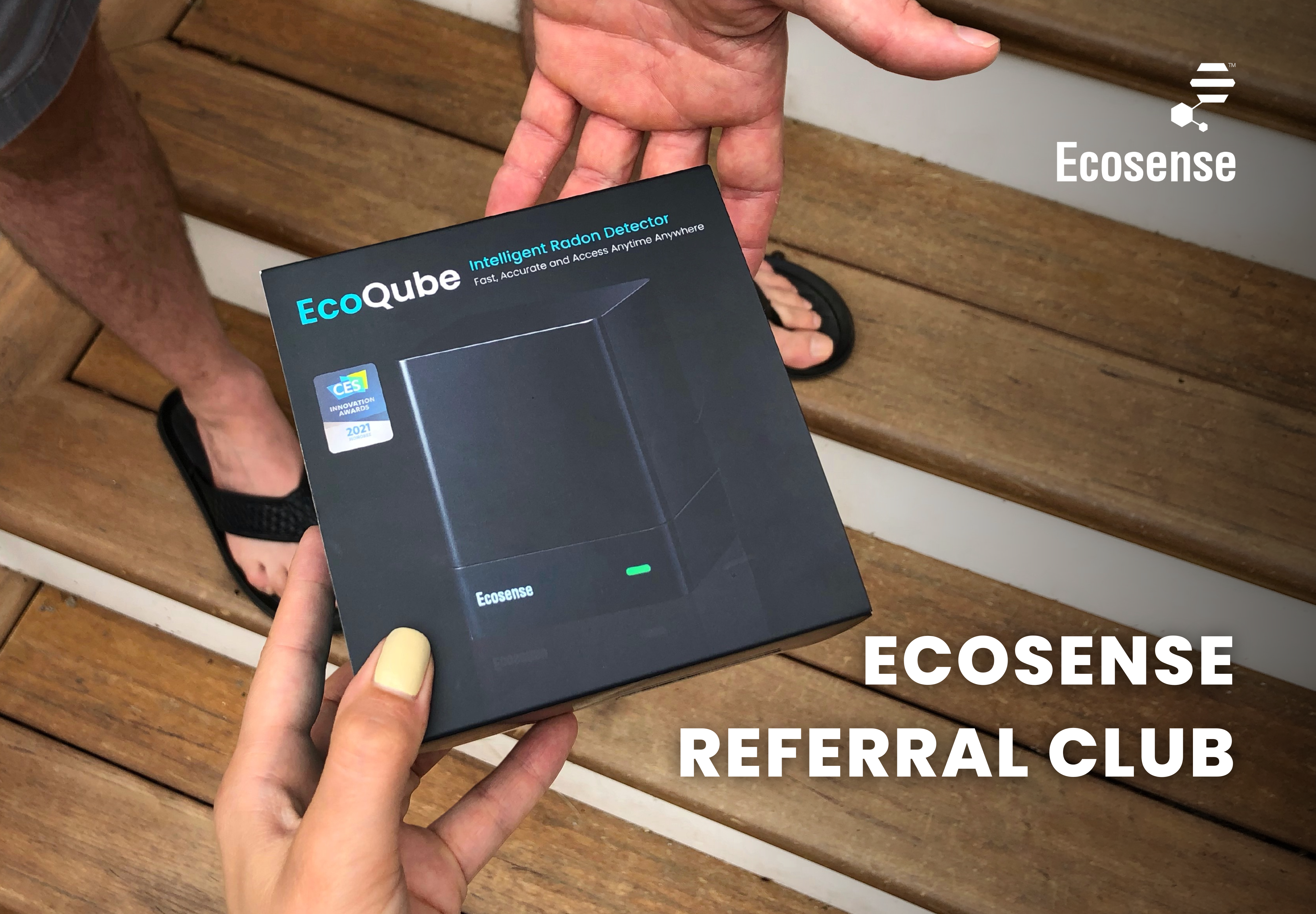 "[E]veryone from businesses to entrepreneurial-minded individuals to social media influencers are looking to increase revenue streams, and our dropshipping referral program is not only designed to provide that added revenue but also increase awareness about deadly radioactive radon gas found everywhere."
Ecosense® Referral Club Program is a Passive Income Stream for Entrepreneurial Minded Professionals, Businesses, and Individuals Designed to Save Lives
San Jose, CA – July 26, 2022 – Ecosense is thrilled to announce the launch of the Ecosense® Referral Club. This novel referral program, which requires no inventory, allows e-commerce retailers, radon professionals, and even social media enthusiasts and influencers to create a revenue stream while simultaneously promoting radon awareness. Radon gas, also known as "The Silent Killer," is responsible for over 21,000 lung cancer deaths in the United States every year, according to the EPA. Even more alarming is the fact that it is the number one cause of lung cancer among non-smokers.
"In the current economic environment, everyone from businesses to entrepreneurial-minded individuals to social media influencers are looking to increase revenue streams, and our dropshipping referral program is not only designed to provide that added revenue but also increase awareness about deadly radioactive radon gas found everywhere," stated Insoo Park, CEO of Ecosense. "To permeate society's mainstream consciousness, we must mobilize individuals to spread radon awareness. What better way to do that than with an incentivized referral program?"
"Insoo and Ecosense are on a mission to empower consumers to lead a safe and healthy lifestyle free from the life-threatening dangers posed by radon gas by delivering detection results accurately and quickly, as well as promoting the importance of long-term radon monitoring," remarked Ksenia Kolyeva, Marketing Manager for Ecosense. "This referral program takes that passion and mission to the next level by inviting participants to simply sign up for a referral link and unique promo code, which they then add to their existing website or social media account. Ecosense will handle the rest – from order processing to shipping. At the end of the month, the affiliate will receive their commission."
"It is time for radon awareness to be in the public mainstream consciousness," stated Dallas Jones, the newly appointed Vice President of Ecosense. "Real change only comes through public participation and involvement. Our generous commission and passive income stream for participants is designed to generate that awareness and educate homeowners and other building occupants about the life-threatening dangers of radon exposure."
Click here to learn more and sign up for this unique passive income stream.
The company has also begun aggressively advocating for reducing the EPA's Radon Mitigation Threshold Level from 4.0 pCi/L to 2.7 pCi/L, which is in conformity with the World Health Organization and is within the spirit of President Biden's Cancer Moonshot initiative.
About Ecosense®
Based in the heart of Silicon Valley, Ecosense is a leader in and trusted provider of both professional and consumer radon detection and monitoring solutions that are easy to use, accurate, and fast. The company's smart real-time radon detectors utilize a patented detection technology with high accuracy, delivering results in minutes, not days. The EcoQube was named to TIME's List of the 100 Best Inventions of 2021 and previously was recognized as a CES 2021 Innovation Awards Honoree in the health and wellness category. Ecosense's patented ion chamber technology performance has received independent validation from the University of Michigan (Dept. of Nuclear Engineering and Radiological Science) and the Kansas State University Radon Chamber. Both studies concluded that Ecosense's patented technology performed comparably to premium research-grade detectors.
For more information, visit www.ecosense.io
Media Contact
Company Name: Ecosense
Contact Person: Otter Public Relations
Email: Send Email
Phone: 407-394-5881
Address:100 E Pine St Suite 110
City: Orlando
State: FL
Country: United States
Website: www.OtterPR.com