Starting from the first half of May, for the next 1 month Poinswap's private sale is going to take place to bootstrap the project.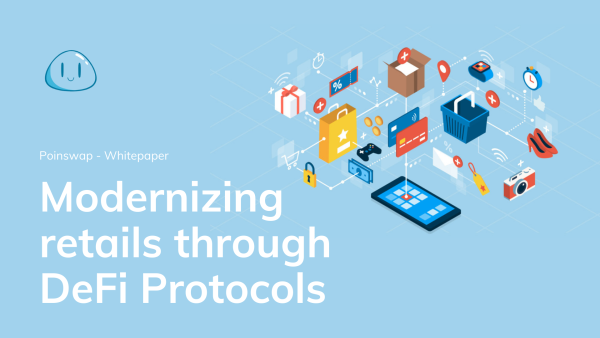 Just when people never heard enough about GameFi, Poinswap, a decentralized exchange built on the Avalanche blockchain, is preparing for the next big thing. Poinswap is a tech enabler for institutions and retailers to join the blockchain revolution by tokenizing point rewards and whitelisting subnets for retail partners on the Avalanche Blockchain. The private sale is about to open from early May to June 2022 for 1 month.
Poinswap described RetailFi as an ecosystem similar to GameFi, but for retailers. RetailFi will become the bridge for retailers to participate and collaborate with the crypto community with #shoptoearn. RetailFi allows conventional retailers to expand their business to the blockchain by tokenizing point rewards into tokens. Blockchain makes it possible for retailers to build an open-source platform with a community-driven economy. This feature enables retailers to engage with their community better than ever. Communities are also able to buy NFTs as if buying physical products.
The current retail platform doesn't have an open-source system or a community-driven economy. All transactions and rewards in the current platforms can't be monetized or swapped to another platform. With RetailFi, users will be rewarded with crypto, NFT, or traditional discount vouchers. Poinswap will build the RetailFi ecosystem with 3 main elements, including platforms, products, and rewards.
To build RetailFi ecosystem, there are 4 main features developed by Poinswap, such as retail launchpad, retail liquidity as services, community funds, and subnets whitelisting. Retail launchpad is a platform designed to help retail partners to launch their product to the crypto community, while liquidity as services is a feature dedicated to provide liquidity for retailers. The most interesting feature will be community funds, which is the percentage of the transaction fees that will go into a community vault run by DAO before the community decides which project to fund in the retail launchpad. Last feature, the Poinswap core product, is a system to whitelist subnets for retail partners to build their own permissionless or permission blockchain on Avalanche subnets.
The platform itself is still on development, there are whitepaper available on the website to provide more information for future investor. Poinswap is bootstrapping and will open the private sale in the first half of May 2022, anyone is welcome to join the private sale. Visit their private sale page and subscribe to participate as early investors.
About Poinswap
Poinswap is a user-friendly and curated decentralized exchange built on the Avalanche network. Poinswap will help institutions, in this particular case the retailers to have their own blockchain in Avalanche subnets. Avalanche makes it possible for companies to launch their own permission or permissionless blockchain.
To learn more and get started visit:
Website: https://poinswap.com
Other places on the internet: https://linktr.ee/poinswap
Watch Explainer Video On Poinswap RetailFi: https://www.youtube.com/watch?v=08hXU_J1d-8
Media Contact
Company Name: Poinswap
Contact Person: Calvin
Email: Send Email
City: Jakarta
State: West Jakarta
Country: Indonesia
Website: poinswap.com