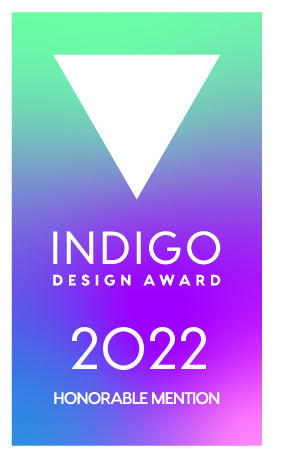 Tric's award-winning design was created for Indigo Steakhouse and Lounge to attract business during the pandemic
NEW YORK, New York – May 9, 2022 – Alex Tric, a New York City-based artist, has been recognized with an Indigo Design Award for an advertisement he created for Indigo Steakhouse and Lounge.
The Indigo Design Award is a competitive design competition recognizing exceptional design projects marked by uncommon artistry and those that leverage new compositions and layouts. The award considers submissions in graphic design, digital design — UX and UI design, mobile design, branding and design for social change.
Tric's award-winning design was created for Indigo Steakhouse and Lounge in Patchogue, New York. Tric created the flier in the summer of 2020 to advertise the restaurant's late-night food and entertainment options to boost business during the pandemic. Indigo Steakhouse has closed in recent months, but Tric's bold design was instrumental in advertising the restaurant's music and food options to customers across Long Island.
"I'm thrilled to have been named an Indigo Design Award winner," said Tric. "To be selected as an award winner by such a prestigious group of judges and out of such an incredible worldwide talent pool is an immense honor. I'm grateful for the trust the Indigo Steakhouse and Lounge team put in me to create a compelling ad for them during an unprecedented time for us all."
Tric's path to a career as an artist is a bit unconventional. He started out as a DJ who grew a successful business performing in clubs and bars across the tri-state area. When it came to promoting his gigs, he took charge of most of his own advertising, creating eye-catching fliers to attract audiences. Tric soon discovered that he preferred the visual arts side of his business and decided to turn his attention to art.
Other aspects of creating art were also appealing to him. While performing as a DJ, he often found himself the center of attention, up on a pedestal for all to see. Keeping up this very public persona eventually became overwhelming. He found that he much preferred the quiet recesses of his home or an art studio where he could lock himself away from the public eye and create his art, only going public with it when and where he wanted to.
"Throughout my career as a DJ, I was obsessed with my public persona, getting sucked into social media and always looking for the perfect photo op and building my follower counts," said Tric. "I think many teens and young adults fall victim to these traps, feeling like they need to create their public persona on social media channels, whether they are authentic or not, and base their success and self-worth on how many followers they have. But the truth is, and what I've discovered for myself, is none of that really matters, and it's been freeing to embrace that truth. The work I've done in private has been substantially more fulfilling than any of the work I did in the public eye."
To learn more about Alex Tric and his art, visit alextric.art and follow him on Instagram.
Media Contact
Company Name: Alex Tric
Contact Person: Renee LaMay
Email: Send Email
Phone: (631) 487-6817
Country: United States
Website: alextric.art