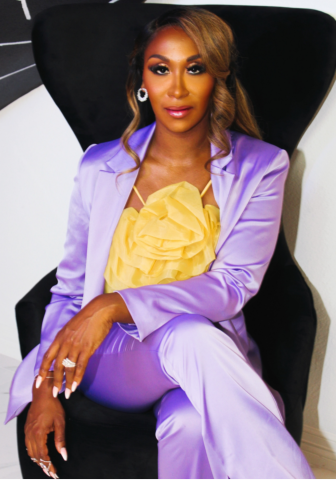 Dynamic motivational speaker and gifted writer, Nicole Mays-Jackson is elated to announce the launch of her new inspirational book, The Power of a Thriving Mindset: Lessons in Life, Leadership & Faith.
Nicole's inaugural literary work, The Power of a Thriving Mindset, explores her journey becoming the youngest woman of color to own and operate a full service adoption, foster care and HCS private agency and the adversities she overcame.
Through her story and her Three Step Power Process, her hope is to inspire and empower strength, resilience and an impenetrable sense of self-worth and mental fortitude, and to positively shift aspiring fempreneurs' thought process to encourage renewed inspiration across leadership, faith and life.
A dynamic, consummate and passionate businesswoman across the field of social services for more than a decade, Nicole Mays-Jackson is reengineering the systemic structure of how fostering, adoption, therapeutic services and the social services profession operates.
As the youngest woman of color to own and successfully manage a business providing home and community-based services, foster care and adoption services, Nicole is a pioneer in her field; blazing a trail of regenerated, impactful and sustainable practices across the social services landscape.
Nicole is the founder and CEO of 1 Care Premier Services and 1 Care Premier Medical Supply and is a proud two-time alum from Grambling State University, having earned her bachelors and masters in social work from the prestigious HBCU.
To her credibility, Nicole also boasts nearly 10 certifications within her industry and has over a decade of experience in both the public and private sectors. As a selfless and staunch advocate for women in business, Nicole engages with a myriad of female entrepreneurs through mentorship, helping to foster their confidence, encourage their personal and professional growth, and advise them on essential business tactics to promote advancement and stability within their businesses.
Driven by her belief in the power of "paying it forward," she is committed to the upliftment of women and to helping them to achieve their goals, siting her own struggles experienced in her journey as the catalyst to make entrepreneurship more accessible and attainable for others.
She attributes her well-deserved stature and massive success to her relationship with God. A self-described woman of faith and prayer, she also encourages the women she mentors to never forget their spiritual foundation. She is a wife, a mother, a philanthropist and a titanic powerhouse within the field of social services and she's far from finished.
Nicole's new book has elicited rave reviews from its readers. "This was such a powerful story! It literally brought me to tears. Mrs. Mays-Jackson was so open and unapologetically authentic. This was such a refreshing and motivating read. I couldn't put it down!" declared a reader on Amazon.
Media Contact
Company Name: NMJ Management
Contact Person: Nicole Mays-Jackson
Email: Send Email
Country: United States
Website: https://www.nicolemaysjackson.com/