Vancouver, Canada – April 1, 2022 —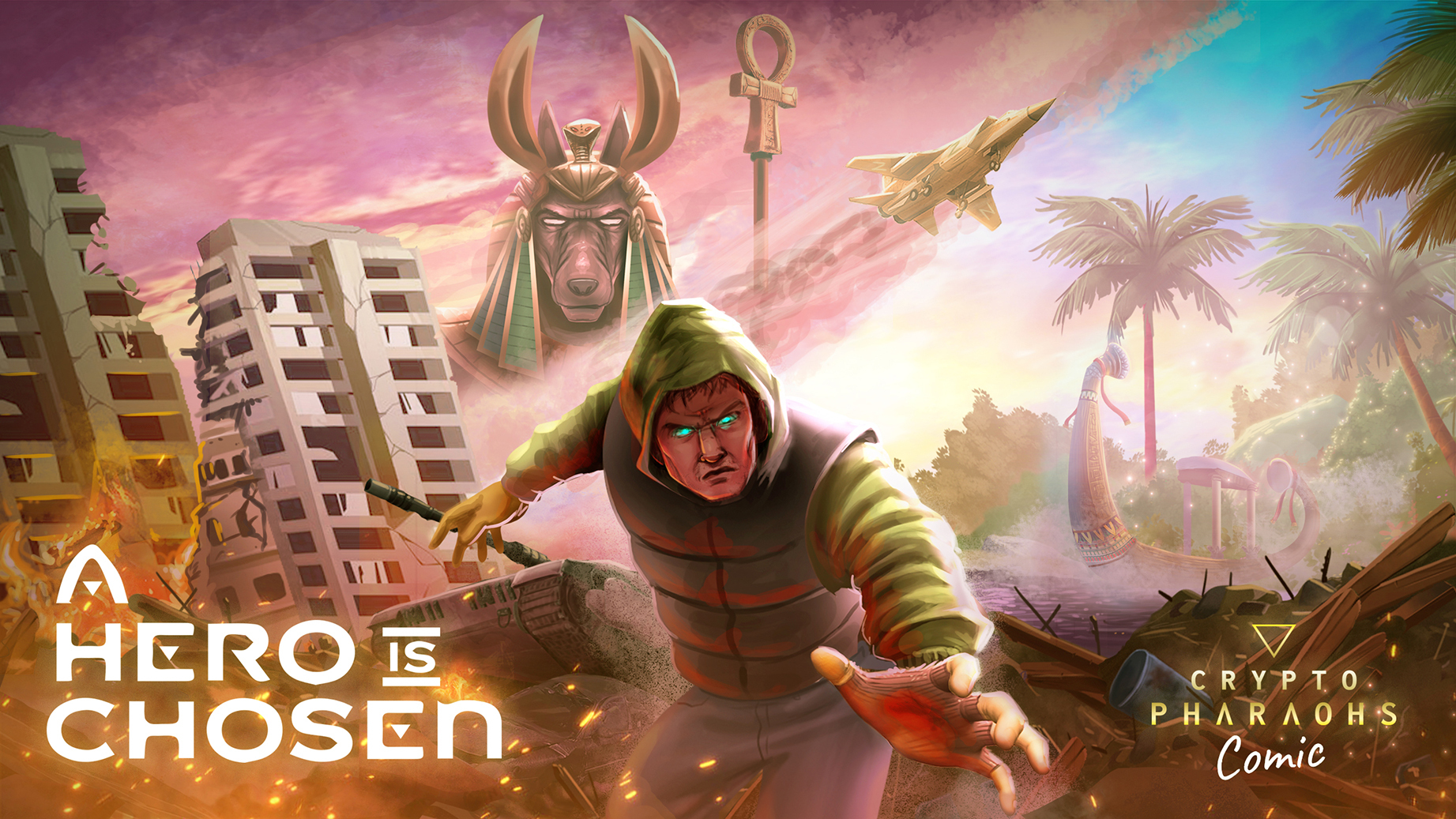 Next Decentrum Technologies Inc ("Next Decentrum") released today 'A Hero Is Chosen' a comic strip set in Ukraine, which will be made available for collectors as an NFT with 100% of the proceeds dedicated to aiding refugees of the war in Ukraine.
'A Hero Is Chosen' is the first installment of The Chosen Seven series, part of the Crypto Pharaohs collection of NFTs, and will be airdropped to existing owners as part of the benefits and utilities of the project.
Russia's invasion of Ukraine has created one of the biggest refugee crises of modern times. A month into the war, more than 3.7 million Ukrainians have fled to neighbouring countries – the sixth-largest refugee outflow over the past 60-plus years, according to a Pew Research Center analysis of United Nations data.
"It's very frustrating to witness a world event unfold with devastating consequences on everyday people and not be able to do anything about it." Said Hussein Hallak, Founder & CEO of Next Decentrum. "At Next Decentrum we are working closely with artists and museums to use the power of art and technology to help people around the world and dedicating the proceeds of our creative work to help Ulkranians fighting for their life and stripped of their livelihood is the least we can do"
'A Hero Is Chosen' follows the story of Russ McMillan who leaves the comfort and safety of his home and family on a dangerous mission to help the Ukrainian people fight the Russian invasion. However, with no military or first-aid training, Russ feels completely useless and unprepared for the horrors of war. But something drives him to remain, and his chance at making a difference arrives when a bomb hits a building, trapping a young family inside. Now Russ is forced to choose whether to back down or whether to risk his own life to save the family and prove he is worthy.
Crypto Pharaohs is a collection of 7006 majestic collectables. Each Crypto Pharaoh is cryptographically unique, programmatically brought to life, endowed with a rare combination of sacred backgrounds, majestic costumes, power neckpieces, healing accessories, magical staffs, immortal tattoos and much more.
Next Decentrum has committed 10% of Crypto Pharaohs' revenue to support the 17 Sustainable Development Goals which will be allocated through a community vote.
The Crypto Pharaoh's community has several Ukrainian community members and a Supreme Council of community members that discusses initiatives and drives community engagement.
The comic brings together great storytelling and stunning visuals and will be released on Momentable.ai, Next Decentrum's proprietary NFT platform built on the Flow Blockchain.
To get 'A Hero Is Chosen' as an NFT, collectors must visit CryptoPharaohs.World and sign up. All proceeds of 'A Hero Is Chosen' will go to aid refugees of the war in Ukraine.
About Us: ABOUT NEXT DECENTRUM TECHNOLOGIES INC.Next Decentrum is on a mission to democratize access to art and culture through Momentable, their curated, safe, and easy-to-use NFT platform for leading museums, galleries, and artists.Momentable is the premier platform for museums and collection curators to leverage their physical assets in the metaverse.This allows them to capitalize on their existing collections and user base to create new revenue streams and funding opportunities with very little overhead.The Momentable platform is live and Next Decentrum is working with prominent museums to release collections of iconic artworks and artifacts and make them more accessible to collectors around the world.For more information visit NextDecentrum.com
Contact Info:
Name: Hussein Hallak
Email: Send Email
Organization: Next Decentrum Technologies Inc.
Address: Suite 1400 – 128 West Pender Street, Vancouver, BC V6B 1R8, Canada
Phone: +1(604) 719-5125
Website: https://nextdecentrum.com/
Release ID: 89072443
COMTEX_405087100/2773/2022-04-01T08:05:08