The first-of-a-kind Remote Online Notarization video course with a live instructor.
Technology and society have a major impact on the practice of law and notaries, paving the way for advanced solutions and new opportunities. In recent years Remote Online Notarization became a rapidly evolving practice in the United States. As of 2022, documents notarized online are being recognized and legally accepted by local, state and federal agencies everywhere across the nation, and the number of RON certified notaries and clients seeking their services is increasing by the day.
In the light of this new development in the notarial world Ronary, in partnership with VerifID Services Corp., developed its own government-accredited Remote Online Notarization education training course for the commissioned Florida notaries. And what makes it truly unique is its first-of-a-kind video format with a live instructor!
On 9 March 2022, was announced the launch of a special product – Ronary Florida Notary Course
What is RON
RON stands for Remote Online Notarization. It allows authorized notaries public to notarize electronic documents for clients located anywhere in the United States using two-way audio-video communication technology. RON is the online equivalent of an in-person, paper-based notarization where every part of the process is done remotely through a live video session over the Internet. The entire session, including identity verification and the notarization of documents, is recorded in real time and saved for future reference. Documents are signed and stamped digitally and then stored online. The notary's journal of remote online notarizations is also 100% digital.
All notaries who wish to become RON must select an education provider accepted by the state and complete a training course in order to get approved as an online notary in Florida. RON authorization runs concurrently with your traditional Notary Public commission and will expire on the same day.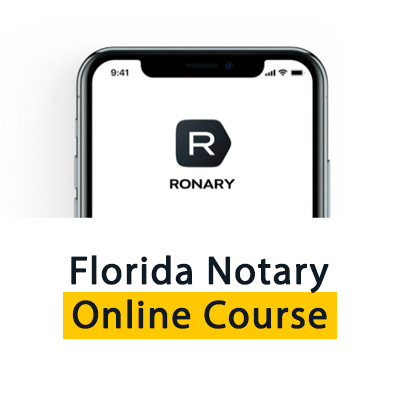 Why is RON so high in demand
Beginning in 2011 and to this date, 40 states have already passed remote online notarization bills allowing commissioned notaries to perform their duties and offer real-time services remotely across all of the United States, with 7 more states putting temporary RON authorizations in place. Florida RON regulations were officially signed into power in July 2019.
So what makes RON currently so high in demand? First of all, Florida is a state with the largest notary population in the country, nearing 500,000 notaries public. That constitutes a very competitive job market, therefore offering an exclusive Remote Online Notarization service helps established businesses and individual entrepreneurs to develop professionally. The preferences of the clients must also be accounted for. Studies have shown that 5 in 9 Americans choose the simple, secure, and legal online notarization alternative over the traditional notary practice, which means RON certified notaries could double their client reach within the state and increase it exponentially as they start providing their services nationwide.
And lastly, Remote Online Notarizations have unsurprisingly been increasing in popularity due to the global COVID-19 pandemic and the need of social distancing. This period of time has proved that RON is a critical tool for both independent notaries and businesses industries, and in the future will become a commonplace necessity. With RON notaries will be better equipped to perform customized signing experiences on a daily basis in a quick and efficient manner.
Video Link: https://www.youtube.com/embed/sRAyj81P6xs
What does Ronary stand for
Ronary is designed as an all-in-one solution for notaries who want to take ownership of their notarial practice and achieve the ultimate success. The CEO and founder of Ronary Irina Kovalli explains that as a notary herself, she was looking for the most qualified product available on the market that will meet all of the notary needs and requirements. And after a long and thorough research it was decided to come up with their own product, by notaries for notaries.
With the Ronary Course one can obtain a vital notary skill in just 2 hours. The course offers a versatile learning format, so whether anyone wants to watch it as a video lecture with a live instructor, read the text and take notes, or just listen to it as a podcast – The choice of oneself!
The Ronary curriculum is fully up-to-date and compliant with Florida state regulations, it provides relevant government links and resources, and better yet – you get to retain unlimited access to all that helpful information with your Ronary account. Upon completion of the course, Ronary provides you with a Certificate of Completion recognized by the Department of State.
Everything is created for the notary's convenience. And that is the core value Ronary has to offer.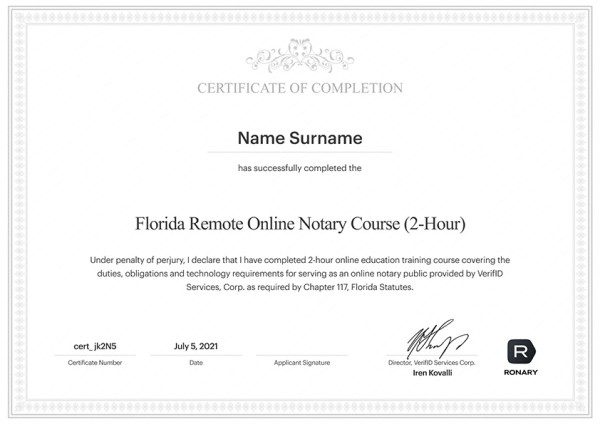 How is the course structured
The Ronary Course consists of 11 modules that one can go through one-by-one at your own pace and the platform will save the progress in your Ronary account. The educational program of the Ronary Course covers the duties, obligations, procedures, and technological requirements for serving as Online Notary Public in the state of Florida. During the course will be received a valuable refresher to traditional notarization procedures in compliance with Florida laws and statutes. Provided separately is the glossary of terms and definitions in regards to both remote and traditional notarial practices as well the answers to the most frequently asked questions about RON.
At the end of the theoretical part of the Ronary Course, notaries will be required to take a short multiple-choice quiz based on the material covered. The quiz will have unlimited attempts and upon its completion notaries receive an official RON Certificate required for all notaries willing to file for RON authorization with the Department of State.
What benefits do Ronary certified notaries get?
The Ronary Course will suit the needs of independent notaries public, real estate, insurance, title agents or other industries alike. Ronary also offers a mobile version of the course which means there is no need for attending notary classes or sitting behind a desktop. All is need is the phone or a tablet to take the course anywhere, anytime!
Moreover, if one's like to use professional time more efficiently, help business develop, and grow clientele exponentially, then the Ronary Course is made for that! With RON certification notaries can expedite the notarization process from several hours to just 10 minutes, saving themselves and the client an immense amount of time and, subsequently, money. Some additional benefits of Florida Notary Course Online:
Simplified scheduling process and more appointments per day;

Reduced amount of paperwork and improved operating budgets;

Ability to notarize for clients anywhere in the US without the need to travel;

Place ahead of the competition by providing an alternative choice of service;

Deterred fraud risk with 3-step identity proofing and live session recordings;

Advanced security with tamper-evident technology, audit trail, and digital storage.
The Ronary Course offers an exclusive bonus to its notary students – the Ronary App. It is the #1 mobile RON service provider created with cutting-edge technology and equipped with a user-friendly and comprehensive notary toolkit. This alone makes Ronary the only education notary program in the country to provide a ready-to-use RON platform upon the course completion.
Ronary. Means more than just a RON course.
Media Contact
Company Name: VerifID Services Corp.
Contact Person: Iren Kovalli
Email: Send Email
Phone: +1 (872) 766-2791
Country: United States
Website: https://ronary.com/