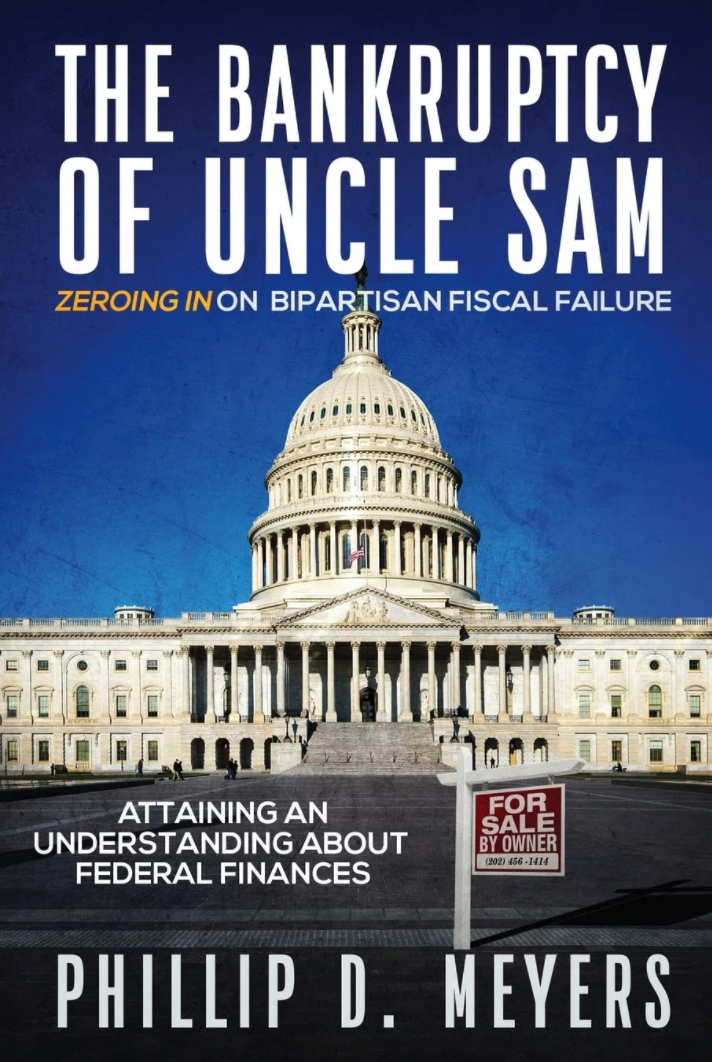 "The Bankruptcy of Uncle Sam: Zeroing in on Bipartisan Fiscal Failure" by Phillip D. Meyers has been released worldwide. This 402-page work of nonfiction digs deep into the disastrous state of American federal finances, as well as the policies and congressional irresponsibility that have allowed the problems to spiral out of control. Providing analysis across a broad spectrum of contributing factors, Meyers exposes the looming threat of federal spending deficits, where this money is going, and the lack of accountability on both sides of aisle.
The Bankruptcy of Uncle Sam: Zeroing in on Bipartisan Fiscal Failure (ISBN: 9798985673388) can be purchased through retailers worldwide, including barnesandnoble.com and Amazon. The paperback retails for $17.99. Wholesale orders are available through Ingram.
From the back cover:
A dangerous game is played when politicians rely on providing their constituents with economic windfalls disguised as spending to purchase votes. Stimulating the Nation's economy by weakening the financial foundation of the democracy defies prudent economic policy.
Federal spending deficits for the fiscal years 2019, 2020, and 2021 exceed $6.9 trillion. Congress has already approved spending beyond revenue collections of $3.1 trillion for the fiscal year ending in 2022 with the likelihood of adding another $2 trillion for the unfunded infrastructure plan. There's no need to wonder what will happen when the proverbial "can" filled with unkept promises, excess spending, and fiscal irresponsibility can no longer be kicked to future generations of Americans. This book reveals the truth – the can cannot be kicked much further because the seams are split from overfilling the now-immobile vessel with almost $30 trillion of treasury IOUs.
Readers will understand how Congress has disappointed most citizens by adopting reckless fiscal policies. A journey through the pages provides meaningful knowledge and historical insight relating to:
• The spending deficit, federal debt, and the precarious financial position of the Nation
• Understanding where 100% of federal revenue is derived from
• Federal spending outlays and budget totals for key federal agencies
The book presents relevant facts needed to evaluate the fair share movement, debt to GDP measurements, Congressional action and inaction, federal employee compensation and personnel policies, budget oversight, federal payment irregularities and existing unfunded federal program liabilities.
Learning that neither the Congressional or White House Budget Office satisfies the need for federal revenue and spending accountability shows that few people in Washington would pass scrutiny for how taxpayers' dollars are spent. The certainty of the crumbling of our Nation's financial foundation does not require any prophecy from Nostradamus to understand the need to promptly reverse the federal spending excesses before it is too late.
About the author:
Mr. Meyers is a CPA who specialized in taxation, private company financing and litigation support services. During the course of his career, he was co-founder, CEO & Chairman of a large multi-unit/multi-state service organization. After retirement, Mr. Meyers has devoted his time to investing and consulting with any development stage companies and maintains an active role in managing commercial property holdings. His family resides in Paradise Valley, Arizona and San Diego, California.
About Manhattan Book Group:
Manhattan Book Group ("MBG"), located on Broadway in New York City, is a registered trade name of Mindstir Media LLC. MBG is widely known as a premier hybrid book publisher. We have combined the best of traditional publishing with the best of sel-publishing to provide authors with the "best of both worlds" in a sense.
To learn more about MBG, visit https://www.manhattanbookgroup.com/
Media Contact
Company Name: Manhattan Book Group
Contact Person: Jen McNabney
Email: Send Email
Phone: 212-634-7677
Address:447 Broadway 2nd Floor #354
City: New York
State: New York
Country: United States
Website: https://www.manhattanbookgroup.com/