Mirai Clinical has developed a truly innovative aluminum-free natural deodorant that is safe
enough for whole-body use. Thanks to its Japanese Persimmon extract, odors, including
Nonenal odor associated with aging, can finally be eliminated.
(PRUnderground) March 24th, 2022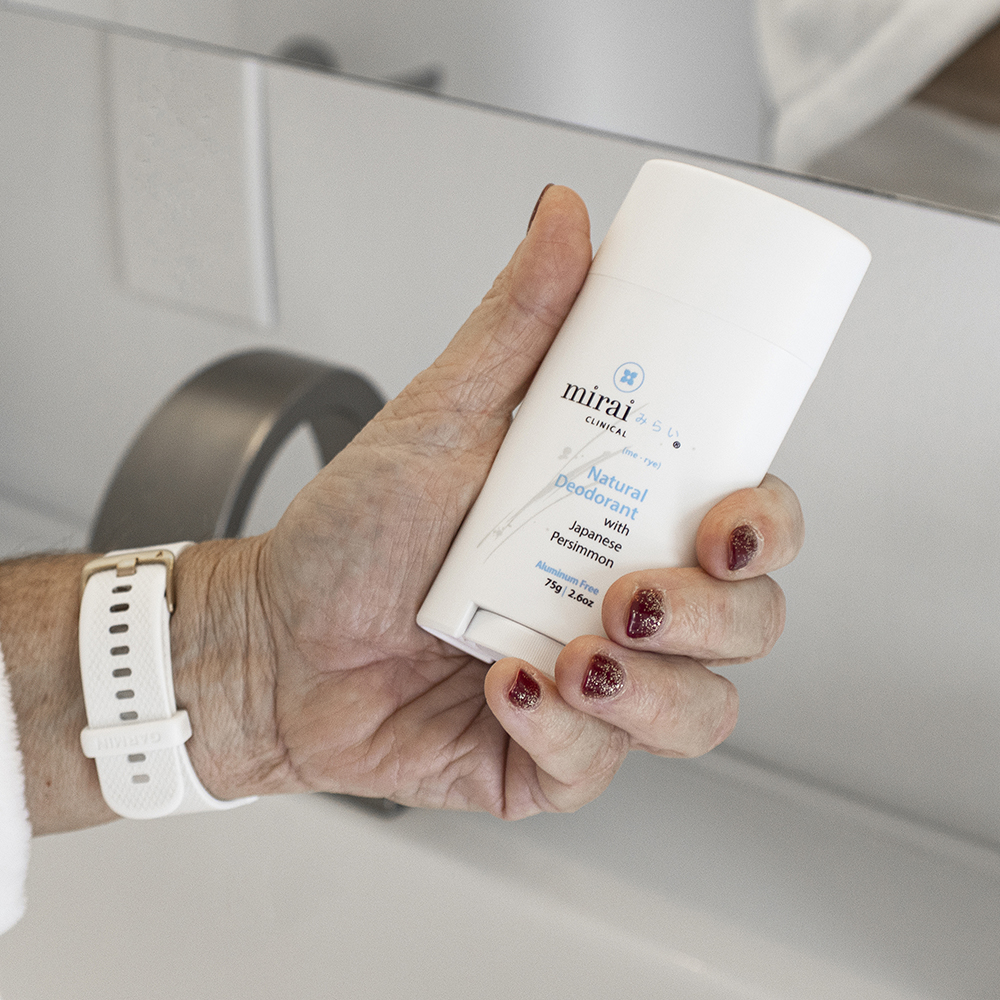 Mirai Clinical has developed an innovative unscented, aluminum-free natural deodorant. Thanks to its Japanese Persimmon extract, Nonenal, the odor associated with aging, can finally be eliminated. The persimmon extract was formulated by their partner laboratory in Japan and has been clinically proven to eliminate Nonenal and other various body odors.
Product application is recommend in these 3 areas, but is also safe enough for whole-body use:
Underarms
Back of neck
Behind the ears
It is the first and only Deodorant in the U.S. formulated with Japanese Persimmon Extract. Regular deodorants are good at reducing underarm moisture and neutralizing odors, but only Mirai Clinical's Deodorant with Persimmon Extract does all that and more by eliminating Nonenal odor. No need to worry about yellow stains or funky smells any longer thanks to nature's own purifying and deodorizing tannin known as Japanese Persimmon.
It was with a desire to help every customer boost their confidence that inspired Mirai Clinical to create this one-of-a-kind deodorant stick. Formulated with the delicate underarm area in mind, where skin can be more susceptible to irritation, their deodorant does not contain aluminum, parabens, baking soda or essential oils, like other deodorants on the marketplace. Mirai Clinical's deodorant is a natural alternative to these because less is more!
"Sweating is a healthy part of a human's biological functions so preventing your body from sweating doesn't make sense to me. Regardless of your armpits, the rest of your body still produces sweat anyway. So, we wanted to offer a natural, safe deodorant that absorbs sweat and eliminates odors. What sets us apart from others is that our Japanese persimmon is clinically proven to eliminate the little-talked about nonenal body odor associated with aging", said CEO Koko Hayashi. Sweat is a valuable indicator of your health and for that, Mirai Clinical also offers a way to test if your sweat is healthy with their Sweat Quality Test Kit, available on their website for $2.97.
As a brand that's committed to inspiring confidence in everyone, Mirai Clinical believes no one should be held back from experiences because of body odor. Their deodorant can be found at miraiclinical.com for $18.97.
Benefits of Mirai Clinical's New Purifying & Deodorizing Deodorant:
Their Persimmon extract is clinically proven to eliminate odors, including Nonenal odor associated with aging. The unscented formula does not contain any masking fragrances and is free from essential and fragrance oils.
Apply anywhere you have odor – think back of the neck and behind the ears in addition to the underarms.
Clean and natural, no aluminum, no baking soda and it's phthalate, talc and benzene free.
About Mirai Clinical
Mirai Clinical introduces Purifying & Deodorizing secrets from Japan that will help you feel fresh & confident at any age. A proud innovator of body, hair and home care products that fuse traditional Japanese ingredients with advanced science to provide a range of personal care products in the United States. For centuries, Japanese Persimmon extract has been used in Japan for its purifying and deodorizing benefits. Mirai Clinical's mission is to develop naturally safe and exceptionally effective products that utilize this extract.
The post Mirai Clinical Launches First Whole-body, Unscented Deodorant for Nonenal Removal first appeared on PRUnderground.
Original Press Release.