The ever increasing invasion of privacy and the lack of control over personal data among smartphone users is a growing concern, and the privacy and data security startup Malloc is thrilled to announce the launch of Antistalker to curtail this global problem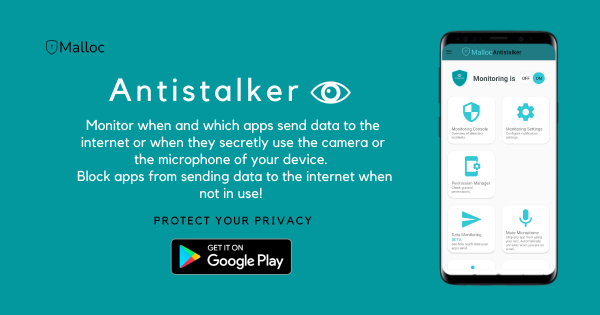 Malloc has developed a mobile privacy app, which prevents mobile apps from sending data to the internet. The app is designed to stop any other app on a user's phone from recording and transmitting data without their knowledge. Such an innovation would not have been better than today, with little or nothing done to ensure data protection.
"Today, spyware is on the rise and they are targeted at forcing mobile applications to give out sensitive data, spy, and stalk on people," stated Dr. Maria Terzi, Co-Founder and CEO of Malloc. "There are increasing concerns that our phones are secretly listening to us in order to exploit our data for marketing reasons. This is why we developed Antistalker. It guarantees uncompromised privacy, while preventing any app from recording or transmitting your data without your knowledge."
With the growth of mobile apps and the utilization of data for targeted marketing, privacy has become a rare luxury. Smartphone users face an overwhelming number of risks, including leakage and theft of behavioral patterns and personal data such as location, credit card details, health information, contacts, pictures and many more. While mobile app developers can be acknowledged for their contribution to making life easier, it isn't ethical to have these apps share personal data maliciously.
Antistalker runs silently in the background of a device and notifies the user when and which apps send data to the internet or when they use the camera or microphone. Designed to tackle the privacy concerns of governments, companies, and individuals, it prides itself on being the only app that allows users to block apps from sending data to the internet.
The free version of the Antistalker app offers features including:
1. Providing instant notifications when camera and microphone are used
2. Showing the duration of the usage of microphone and camera
3. Detecting and naming which apps open the microphone and camera and for how long
4. Highlighting mobile apps that have camera, microphone and internet usage permissions
5. Whitelisting which allows users to add trusted apps to the exception list
6. Real-time protection
7. Flexible notifications where users can customize the notifications they receive.
Users enjoy more advanced features such as data monitoring, anti-theft alarm, root checker, and more in the paid version. The Antistalker app is ad-free and provides an easy-to-use, user-friendly interface.
To download the app, please visit Google Play Store in the following link with an android device:
About Malloc Inc.
Malloc is a tech company with mission to provide data privacy and security solutions to individuals, enterprises, and governments who care about their privacy.
Media Contact
Company Name: Malloc Inc.
Contact Person: Dr. Artemis Kontou
Email: Send Email
Phone: 0035799712952
Country: Cyprus
Website: http://www.mallocprivacy.com/