Companies Focus on Mission-critical Projects to Generate Revenue Streams During COVID-19 Outbreak
Business activities in manufacturing and industrial sectors are being conducted in a staggered manner due to the COVID-19 outbreak. Similarly, the magnetic bearing market is estimated to witness steady growth, in terms of revenue, by the financial year of 2022. Market stakeholders are focusing on mission-critical projects in the bio-medical engineering, semiconductor, and oil & gas industries to keep the economies running during the pandemic.
Companies in the magnetic bearing market are taking data-driven decisions before investing in new technologies and processes. They are entering into mergers & acquisitions (M&As) to gain a competitive edge over other market players. Companies are drawing an analysis to understand their high-risk clients and customers where recovery of debt may be an issue. They are focusing on positive or limited negative impact industries.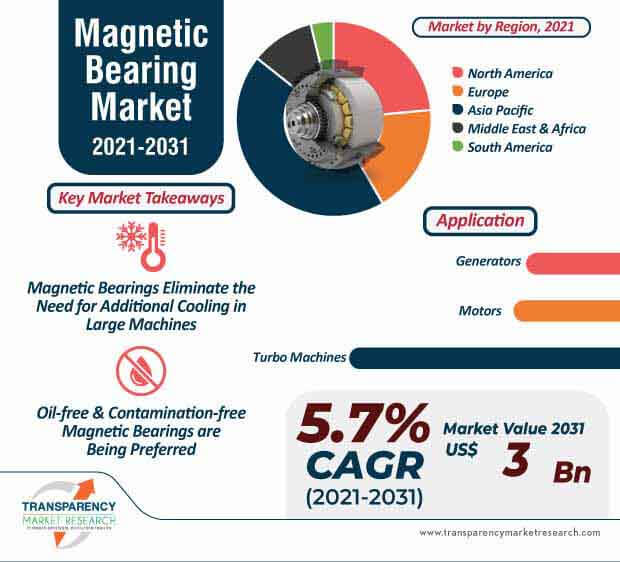 For best Deal Request Discount [email protected]
Magnetic Bearings V/S Air Foil Bearings: Which is Better?
Magnetic bearings and air foil bearings are viable solutions for high-speed applications. However, both types have different strengths and weaknesses. Air foil bearings operate without the need for an external power supply or control system. However, these bearings are also sensitive to damage, if a particulate matter enters the bearings and becomes trapped between the shaft and the foil. Active magnetic bearings help overcome these drawbacks.
Magnetic bearings can tolerate higher forces, allowing their use on large machines without the need of additional cooling. However, active magnetic bearings require sophisticated control electronics and a continual source of power. Nevertheless, Industry 4.0 holds revenue opportunities for manufacturers in the magnetic bearing market, since these systems provide built-in condition monitoring capabilities for the compressor.
Get More Press Releases by TMR: https://www.prnewswire.co.uk/news-releases/poultry-farming-equipment-market-to-witness-steady-revenue-growth-from-deployment-of-automated-systems-in-poultry-houses-market-valuation-to-exceed-us-6-33-bn-by-2031-tmr-study-872243069.html
Leading-edge Magnetic Bearings Cater to Applications Demanding High Speeds and Low Vibration
The global magnetic bearing market is projected to clock a CAGR of 5.7% during the forecast period. AB SKF – a Swedish bearing and seal manufacturing company, is gaining recognition for its magnetic bearings and systems that are ideal for applications demanding high speeds and low vibration. Manufacturers are taking cues from such innovations to develop bearings that eliminate the need of physical contact, lubrication, or bearing changes. Built-in vibration management, low energy consumption, and active management advantages are being preferred in magnetic bearings.
Companies in the magnetic bearing market are increasing R&D to deploy high reliability and energy efficiency in systems with the help of electromagnets that generate forces in radial & axial directions to levitate the shaft, allowing it to rotate contact-free. They are increasing the availability of oil-free and contamination-free magnetic bearings.
Buy now our premium research report @
Use of Magnetic Bearing Centrifugal Chillers as GWP Refrigerants
The magnetic bearing market is projected to surpass US$ 3 Bn by 2031. Johnson Controls International – an American-Irish-domiciled multinational conglomerate, is gaining popularity for its York YZ magnetic bearing centrifugal chiller, which has been recognized at the 2021 China Refrigeration Exhibition at Shanghai New International Expo Center. Market stakeholders are taking cues from such innovations to develop low global warming potential (GWP) refrigerants that provide high efficiency.
Companies in the magnetic bearing market are developing systems that provide instantaneous and unlimited start/stop operate in vacuum and in process gas. There is a growing demand for magnetic bearings that complement automated drive solutions.
About Us:
Transparency Market Research is a global market intelligence company, providing global business information reports and services. Our exclusive blend of quantitative forecasting and trends analysis provides forward-looking insight for thousands of decision makers. Our experienced team of Analysts, Researchers, and Consultants, use proprietary data sources and various tools and techniques to gather, and analyse information. Now avail flexible Research Subscriptions, and access Research multi-format through downloadable databooks, infographics, charts, interactive playbook for data visualization and full reports through MarketNgage, the unified market intelligence engine. Sign Up for a 7 day free trial!
Contact
Rohit Bhisey
Transparency Market Research,
90 State Street, Suite 700,
Albany, NY 12207
Tel: +1-518-618-1030
USA – Canada Toll Free: 866-552-3453
Email: [email protected]
Website: https://www.transparencymarketresearch.com/