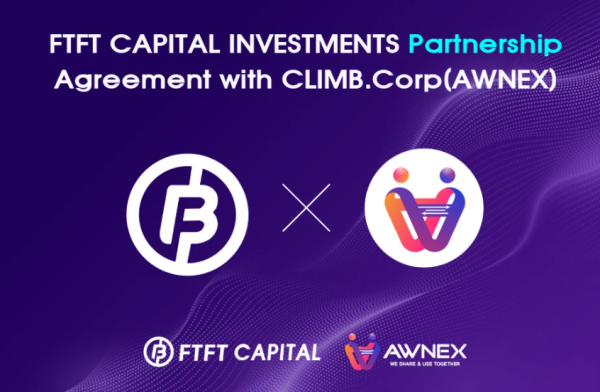 Dubai-based FTFT Capital Investments LLC ("FTFT Capital") and South Korea's AWNEX team signed a partnership agreement to cooperate as global online commerce companies through global alliance construction and new partnerships in line with the opening of WE SHARE services. FTFT Capital is also a new subsidiary of Future FinTech Group Inc. (NASDAQ: FTFT).
The two companies stated on the 16th of September that, following the first meet-up event with their global partners in January, they have signed an MOU to build joint marketing and cooperative relationships for the WE SHARE project, through the second meet-up event Dubai, UAE.
Both companies decided to establish concrete mid- to long-term plans with global partners to develop block-chained business models and market changes, to jointly respond to the growth of the industry, and to overcome hardships during the pandemic.
The main function of the WE SHARE application of the AWNEX team is a 'Blockchain-based digital exchange market.'Based on trust and innovation, it is leaping forward as a leading company in a new type of digital market, not just as online commerce. The keywords of the WE SHARE application are 'Convenience,' 'Creativity,' "Trust' and 'Asset Security.'
Through the application, the company plans to evolve as an independent commerce corporation until 2023, by strengthening the mobile-optimized blockchain-based O2O platform business and to be reborn as a global commerce corporation through partnerships with international partners and global companies.
FTFT CAPITAL and AWNEX Team and its affiliates said that through the WE SHARE project, which they have been preparing for the last couple of years, they are planning to contribute to the revitalization of small and medium-sized businesses and commercial districts, which have been facing hardships due to Covid-19, and to induce cooperation with various governments and related corporations to lead the development of the blockchain industry.
Media Contact
Company Name: FTFT Capital Investments LLC
Contact Person: Mr. Ola Lind, Managing Director
Email: Send Email
Country: United Arab Emirates
Website: ftftx.com