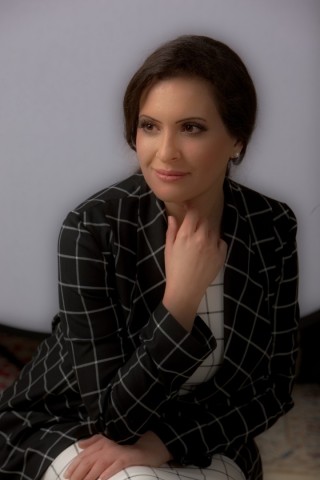 Lamees Alhassar the renowned artist, author and humanitarian has decided to enter the NFT world and set to launch her first NFT Collection in 2022. Taking her creativity to the next level.
Lamees is entering the NFT world with a significant number of her works exceeding 180 oil paintings, and 70 books in different genres including science fiction, paranormal and self-help, in addition to her next artistic work that is still not yet revealed.
There is a great excitement around this news, from her fans, and social media followers to know further details about the launch, which is yet to be announced.
Lamees has decided to enter the NFT (Non-Fugitive Token) world and currently she is working on launching her fist 10k NFTs collection. Inspiringly, she has made a lot of artworks which has aesthetics value. The NFT world will really be a good platform for her to put her creations to the world. The future of Lamees Alhassar in NFT is promising and she's likely to be the next big thing.
Lamees Alhassar sells her artwork internationally through Saatchiart and Singulart and she displays her artwork on her Art Gallery on her website https://www.lameesalhassar.com/artgallery
Lamees is the author of a number of books. Her books are published and available globally on Amazon and Barnes & Noble, her amazon author page is https://amzn.to/3vktrCK
​Despite how committed she is to impacting knowledge; this has not limited her from being an artist and a humanitarian. She is generous and loves people.
She is a change maker and constantly working towards making a positive contribution to the society she lives in and beyond through her writings, artwork and considerable charity work. She has committed herself to this, body and soul, and dedicates a substantial amount of her time and resources to this noble mission.
Art is life and her drawings is life in itself.
Lamees Alhassar was also inspired to write about cancer awareness after the passing of her brother, Ali, who lost his valiant fight against cancer in October 2014. She wrote a book that is distributed for free to cancer patients and their families.
Lamees has great belief in the strength that comes from reading, knowledge, the power of the written word and the power of artwork. She believes in the ability of the individual to make a substantial difference in the world. This is why she writes books that touch upon cancer awareness and the empowerment of people to lead a better life (on a personal, career and societal level), ultimately benefiting the whole world.
Some of her notable books include 'The Power of Gratitude', 'How to build a successful career', 'Planet Xanadu', 'Planet Mandar', 'Planet Nivru' and an array of coloring books for adults and children.
Be inspired by some of her art works as I am and make sure to include her books in your library collection! You are welcome to explore further and interact with Lamees on:
Email: [email protected]
Facebook: www.facebook.com/lameesbooks
Twitter: @lameesalhassar
​Instagram: @lameesalhassar
Telegram: @Lameesalhass
Media Contact
Company Name: Lamees Alhassar
Contact Person: Media Relations
Email: Send Email
Country: United States
Website: https://www.lameesalhassar.com/