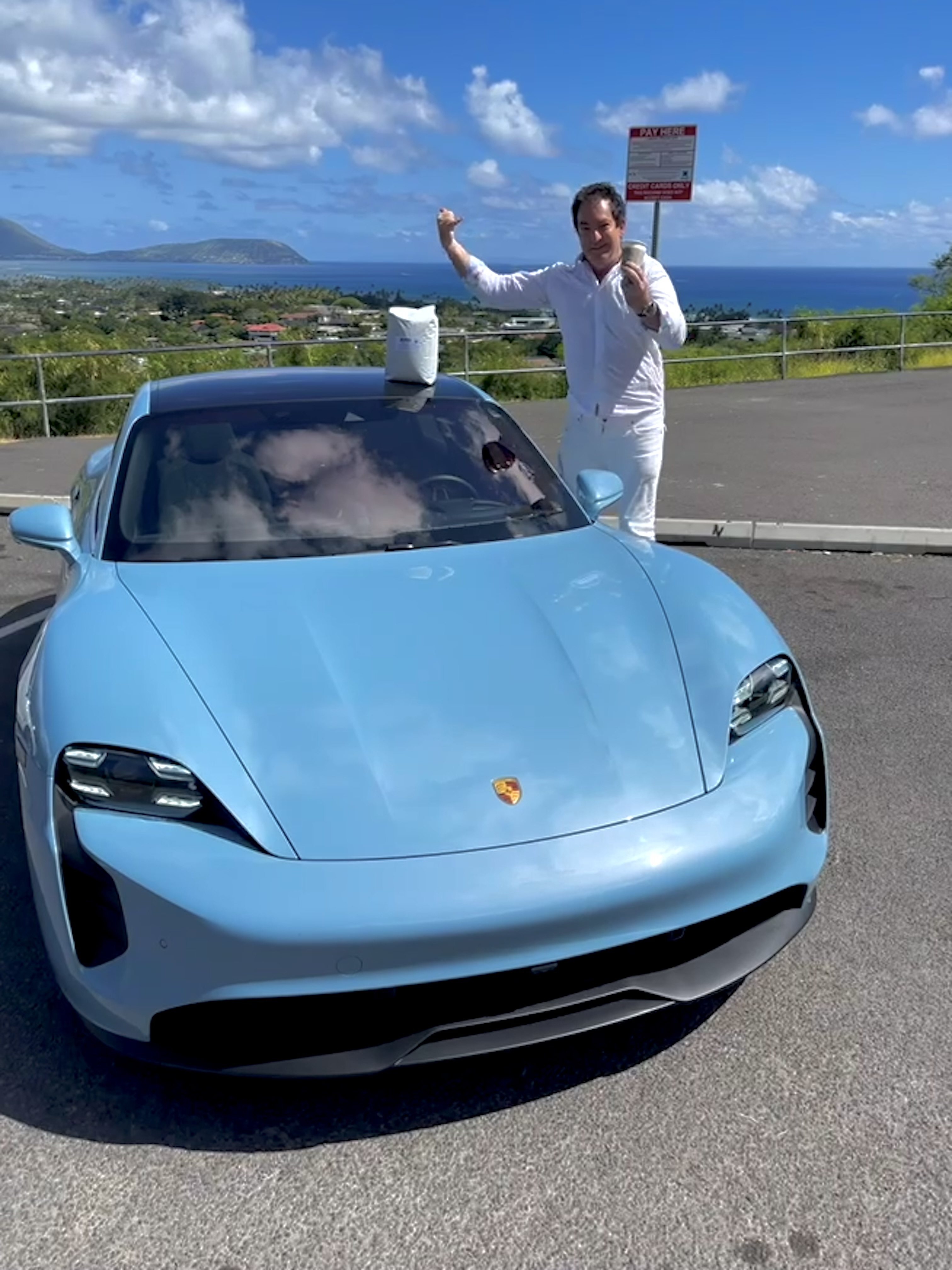 "Twice published author known for being unconventional; Jason Roe, CEO Kundalini Coffee Company, jumps next to his zero emission full electric Porsche Taycan in Hawaii."
Innovation driven Kundalini Coffee Company CEO Jason Roe now driving zero emission. The move brings the internal elements of the business environmental health & in trend emission-free coffee bean roasting policy full circle. Roe says, "Leadership by example policy compelled me to sell the gas car to drive the green message". Kundalini Coffee roasting processes reduce coffee bean carbon emission up to 79%, moreover the company gives more than 5% of its coffee bean sales to environmental charity.
The British Coffee Association reports that over two billion cups of coffee are served daily globally. Kundalini Coffee Company is well-known for innovation, notably targeting environmental health, well-being, and coffee bean roasting emission reduction. To that end, the Kundalini Coffee Company embraces sophisticated, modern, patented innovations so that emissions and carbon are reduced, primarily by removing after-burning from the coffee bean roasting process. For many companies, drum roasting is the most common method for coffee bean roasting, heavily dependent on the use of gas as well as industrial after-burning.
Eliminating after-burning contributes to reducing overall carbon emissions up to 79%, compared with traditional roasting methods. In an era mindful of reducing carbon emissions, for a retailer to embrace and sell coffee drum-roasted using traditional methods seems to conflict with a global carbon reduction focus. Little is known about the coffee roasting process and its significant energy consumption and gas emission volumes. The after-burning process in traditional drub roasting uses five times more gas than is used to roast the coffee initially. Roe says, "Retailers in 2022 are more informed compared to the prior retailing era and can leverage the in-trend green movement by choosing to serve coffee roasted emission-free using our modern roasting methods."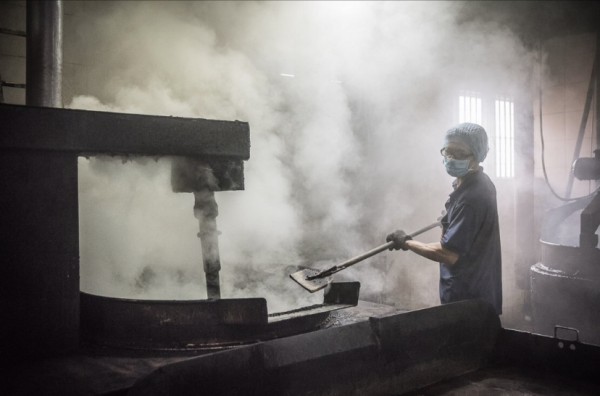 Pictured coffee beans roasting at high temperature, a strategy to create a smokey coffee flavor.
Co-founder and president of Kundalini Coffee Company, Julia Yim, an MS Graduate and alumni of the University of Hawaii Manoa, is proud to return to Hawaii spreading the emission free green message across the Hawaiian Islands. Kundalini Coffee has announced the addition of five locations in Hawaii serving the registered trademark Kundalini Coffee in the past six months. Yim says, "One green-focused location, Four Seasons Resort at Ko Olina, has experienced unprecedented coffee sales growth since introducing Kundalini Coffee, breaking the five-star resort's daily sales record in 2021 that had stood since the pre-COVID days in 2016." As part of its strategy, women-owned Kundalini Coffee also differentiates itself from other coffee companies by contributing a percentage of its coffee bean sales to environmental causes such as charities and animal well fair. Ms. Yim says, "The charity our coffee bean purchases go to, can also be nominated by the retail outlet serving our coffee. In Hawaii, the Four Seasons Ko Olina coffee purchases are supporting HMAR marine rescue."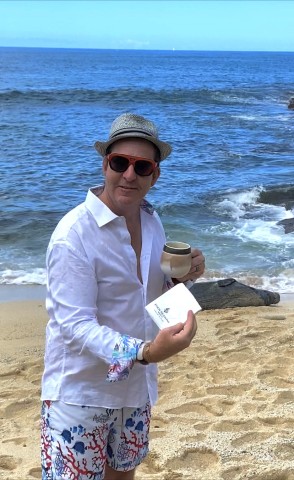 H-MAR takes picture of Kundalini Coffee Company CEO Jason Roe with a refined Seal who frequents Four Seasons Ko Olina.
As part of its strategy, women-owned Kundalini Coffee Company also differentiates itself from other coffee companies by contributing a percentage of its coffee bean sales to environmental charities and animal wellfair. Whatever the charity, when consumers buy Kundalini Coffee, there are contributing their daily coffee dollars to planet-wide causes beyond the coffee industry and the cup. CEO Jason Roe adds, "The Coffee has to be smooth and delicious. Most people buy a cup of coffee to get energy and then get on with their day. When a person experiences a coffee they enjoy, it usually results in buying two or three coffees in the café each day. This is what the Four Seasons experienced, repeat business and growth. If it is not your coffee outlet's experience, I would encourage you to try Organic specialty blend Kundalini Coffee, now roasting and driving emission-free".
Media Contact
Company Name: G C G Press
Contact Person: Sebastian Galt
Email: Send Email
Phone: 8086382096
Country: United States
Website: https://kundalinicoffeecompany.com/