NOTUREE is a platform that has been designed to ensure hassle-free, simple, and intuitive way of performing notary services. Users are linked with state-commissioned notaries in their local vicinity
The NOTUREE mobile app intends to eliminate the need to drive around town looking for a notary, connecting notaries with customers in America: Our vision is to provide a service which will enable users to easily connect with notaries, streamline the entire process, reduce cost and increase convenience, as well as enable more people to benefit from this service.
While there are a plethora of state-commissioned notaries; the notary sphere has not witnessed any disruption or tilt towards sophistication. NOTUREE is a platform that was founded to turn a simple service into a sophisticated niche, by providing an even better way of servicing the masses.
NOTUREE is a notary app that allows notaries to provide notarization services on the go! NOTUREE pleased to provide a place for notaries to provide services to a wide range of fine document signing solutions that will revolutionize how private and commercial notaries, entrepreneurs, business organizations, and corporations interact. These are just some of the services we offer: • Document notarization for individuals who want to preserve the integrity of their documents • Record notarization for small business owners to protect their investments • Corporate notarization for large companies that want to seal deals without any hassle or delay • Mobile notarization that makes traveling simple and stress-free.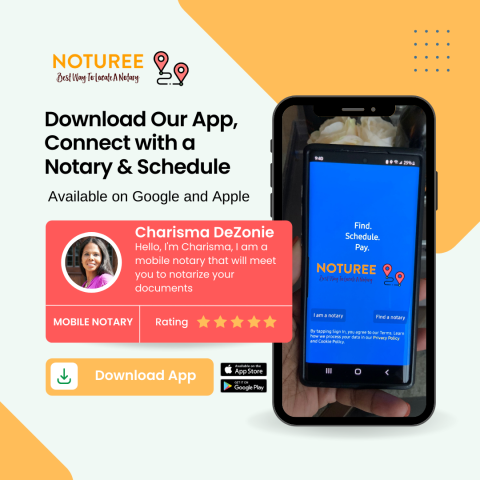 Notaries are responsible for upholding the authenticity of all legal documents signed. They offer validation of signatures on legal documents; letting the public know that the people signing the documents are whom they claim to be. Notaries carry several tools to make sure each signature is legitimate, including a stamp and seals that are specific for each state in which a notary is certified. The notary is an unbiased third party and works as proof of the identity and signature on any legal document.
Charisma DeZonie, Founder and CEO of NOTUREE, is pleased to announce that the company has taken a step further in its bid to engage technological advancement in the practice of notary services in the United States. The company has launched the NOTUREE mobile app, allowing users the convenience to locate, book, and pay for service all from the palm of their hand; scheduling and payment are all done on the app. NOTUREE primarily seeks to eliminate the hassle of google searching, phone calls, driving around in search of a notary public, and exchanging paper money by offering 24/7 access where everything is done via the NOTUREE mobile app.
"NOTUREE aims to bring convenience to the public," explained Charisma DeZonie. "Thus, we have provided an easily accessible platform for anyone to access notaries anytime anywhere, and remove the hassle of traveling and searching for your documents to be signed by a notary. By overcoming this obstacle, we created a simple app that eliminates the hectic search for those individuals who have time constraints but still need a notary right now!"
"Everything will be simplified," continued Charisma. "After signing up, users can now search for any nearby notary in their area and send an immediate request through the scheduling feature in the app itself. The notary can accept the request and confirm the scheduled date, time, and duration of the signing appointment before signing the appointment. If a document is urgent then it is also possible finding a notary that is immediately available as well," she concluded.
The NOTUREE mobile app is open for notaries to join and connect with users. Both notaries and end-users can now download the app on the Google Play Store and Apple Store. After downloading the app, users can sign up using their account details such as phone number or email at first login. For more information, please visit www.noturee.com.
About Charisma DeZonie
Charisma DeZonie is the founder and CEO of NOTUREE, a notary service mobile application connecting notaries and individuals looking for notary services. Charisma left the non-profit/profit industry ten years ago and has been self-employed since. She has a Master's degree in Public Administration.
Connect with Charisma on Instagram, Facebook, and Twitter.
Media Contact
Company Name: NOTUREE
Contact Person: Charisma DeZonie
Email: Send Email
Phone: 332-600-5700
Country: United States
Website: http://www.noturee.com/