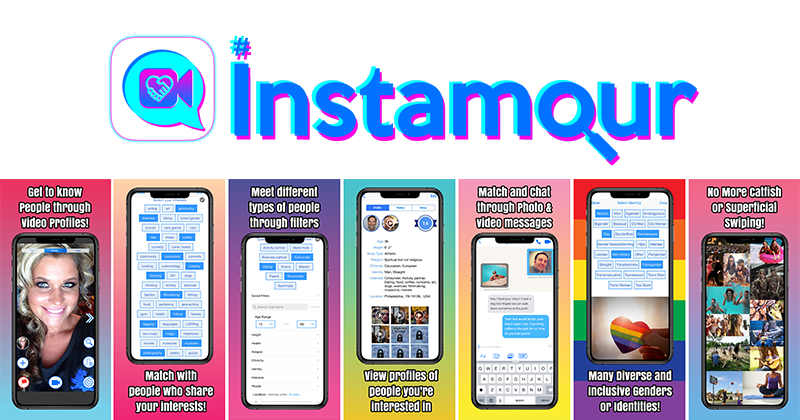 New release of the leading mobile video messaging app sets new standards for safety, privacy, and security of women in the online socializing world.
Instamour – the beloved social video app that was the first to provide a real time video experience has been reborn as a people discovery and dating platform. Six unique features are causing the newly revamped platform to go viral. Users can now earn coins based on their daily activities in the app. Swipe no more on Instamour with six methods of communication in the upgraded chat screen without exchanging numbers. Forget text icebreakers, that's so 90s, on Instamour you now introduce yourself with a short intro video that showcases your personality. Now members have video profiles so you can stop getting catfished with old profile pictures. Finally, filter and search based on interests and activities to match people who like the same things you do. It makes the first meeting so much easier and without as much pressure.
The online relationship industry has exploded, growing from 185 million people worldwide in 2015 to now encompassing almost 300 million people who use social video sites. However, this rapid expansion has carried the cost of increased incidences of people being catfished often. People like the Tinder Swindler are causing singles to go into debt with scams. Females in particular are required to engage in risky behaviors such as divulging personal phone numbers to begin a dynamic conversation, or arrange meeting logistics. Unfortunately, this opens these women to harassment, stalking, and at times worse. With a sexual assault happening every 107 seconds, there are an average of 300,000 sexual assaults every year in the U.S. alone.
"By having created a real time video platform for people to connect face to face, we have essentially removed the first meeting jitters and catfishing from the equation," said Jason Sherman, CEO and Cofounder of Instamour. "Our goal is to have people meet in person after already establishing that they have chemistry through short video conversations to get to know each other. After the ice is broken, meeting in person will feel like a second or third date, not the first. This should drastically reduce the amount of bad first meetings, saving time, money, and stress."
Instamour video discovery helps people avoid dating app swipe fatigue and fake profiles by showcasing their personalities in short video profiles and introducing themselves to other members through short video introductions. After matching, members can communicate through video messages along with sharing photos, recording audio and video messages, and more. The new app has over 30 identities and genders that cater to the LGBTQ community. The new user experience also features several dozen interests and activities that people can choose from in order to match with people who share their hobbies. Members now have options such as friends, roommates, single parents, along with a wide array of different types of people they would like to meet. This takes the pressure off and allows members to find like-minded people to connect with, find fun things to do and see where things lead to.
Since 2013, Instamour has spent countless years working with hundreds of thousands of members from universities, international cities, accelerators, and various industries to get the feedback needed to give the relationship space what it wants. This new version reflects the data that was given by members to finally give people a unique platform to meet new people through shared interests to end catfishing and dating swipe fatigue once and for all.
Instamour Video Discovery is now available and free to use on the iTunes App store
Media Contact
Company Name: Instamour
Contact Person: Jason Sherman
Email: Send Email
Country: United States
Website: https://instamour.com