Houston Implants & Cosmetic Dentists at The Favour Dental offers laser dentistry, wisdom teeth removal, 3D CBCT ( Cone Beam Computed Tomography, Crowns, Invisalign, Braces, Implants, and All-ON-4 or All-ON-X services with exceptional customer services in Houston, TX 77036 area.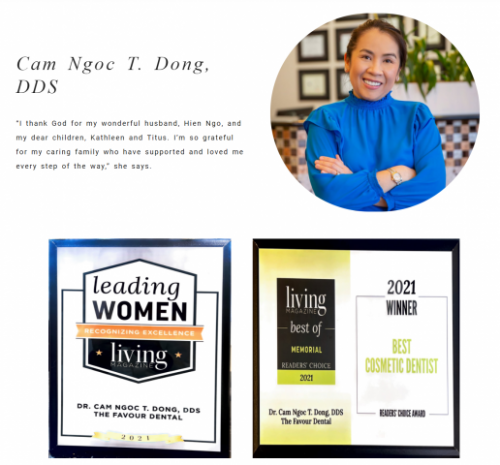 Houston, United States – August 28, 2021 /NewsNetwork/ —
Houston Dental Implants & Cosmetic Specialist: Whether looking for state-of-the-art dental health procedures like laser dentistry or Invisalign or just preventative teeth cleaning, the dental experts at The Favour Dental take pride in providing their customers with the very best staff of talented and experienced dentists. The team of dental hygienists, doctors, and surgeons at The Favour Dental is among the very best in the industry.
For more information visit: https://thefavourdental.com/
One of The Favour Dental's most experienced dentistry professionals is Dr. Cam Ngoc T. Dong, DDS. Equipped with a passion to remain at the forefront of dental health advancements, Dr. Dong is widely renowned for her dental health knowledge and experience in modern dental procedures from dental implants or cosmetics to complicated teeth removal. Coupling her extraordinary experience with her tireless attention to client comfort and patient satisfaction has placed Dr. Dong among the most sought after dentists in the greater Houston area.
It is this determination for excellence and an unquenchable drive to provide her patients with unmatched dental health care that has been Dr. Dong's lifelong motivation. From her childhood in Can Tho, Vietnam to her educational pursuits in both the Ho Chi Minh City University and the University of Texas, she has worked hard to earn multiple doctorate degrees in dentistry. Not satisfied with resting on those degrees, Dr. Dong is passionate about maintaining her ongoing education with the newest dental health technologies and procedures.
Dr. Dong is certified in a large array of advanced dental procedures and technologies such as laser dentistry, bone grafting, all forms of dental implants, treatment of TMJ/TMD, and 3D CBCT analysis. She also specializes in cosmetic dentistry, including Invisalign, as well as orthodontics, prosthodontics, occlusion, and even endodontic surgery. Her desire to stay on top of the newest dental advancements keeps her on the cutting edge of modern technologies and procedures.
Among her growing list of accomplishments is her ranking among the Texas Top Ten Percent in Dentistry as well as listed in the Leading Women list for 2021 by Living Magazine. With all of her accolades and success, Dr. Dong says she is most thankful for "my wonderful husband, Hien Ngo, and my dear children, Kathleen and Titus." She also has high praise for her mentors, especially Dr. Belles. "From basic training to guiding me when I did not know where to go," Dr. Dong says she is very thankful to the teacher and colleague who "significantly influenced my life." As an active member of many dental organizations such as the Academy of GP Orthodontics, the Texas Academy of General Dentistry, the Texas Dental Association, and the American Dental Organization, among many others, Dr. Dong's dedication to the science of dentistry includes passing on what she has learned onto the next generation of dentists.
With her experience, knowledge, and ambition for success, The Favour Dental is proud to have Dr. Cam Ngoc T. Dong among their staff of dedicated dental health professionals. For more information about Dr. Dong or any of the staff members at The Favor Dental as well as all of their available dental health procedures and services, simply visit their website or give them a call at 832-581-3993.
Contact:
The Favour Dental
9979 Beechnut St Ste I, Houston, TX 77036
Phone: (832) 581-3993
Media Marketing Press Release Contact: http://dentistsagency.com/
Contact Info:
Name: CAM NGOC T. DONG
Email: Send Email
Organization: The Favour Dental
Address: 9979 Beechnut St Ste I, Houston, Texas 77036, United States
Phone: +1-832-581-3993
Website: https://thefavourdental.com/
Source: NewsNetwork
Release ID: 89042941
COMTEX_392340859/2773/2021-08-28T04:33:41