According to a new report published by Grand View Research, the future market potential of genomics in newborn screening programs, emerging companies like Counsyl and Natera have launched various genetic tests to maintain their competitive edge in the market.
Genomics Industry Overview
The global genomics market size was valued at USD 20.1 billion in 2020 and is expected to reach USD 62.9 billion by 2028, expecting to expand at a CAGR of 15.35% during forecast period.
The scientific community has tried to address genetic susceptibility and severity to SARS-CoV-2 infection by combining research efforts using existing genetic databases. Multiomic-based approaches and genome-wide association studies (GWAS) have been employed to uncover biological networks and common variants underlying host-pathogen interactions. Similarly, data derived from genomes, such as polygenic risk scores (PRS), ABO blood groups, and HLA haplotypes, can be potentially used to decipher COVID-19 complications, resistance, and susceptibility. Moreover, biobanks that link electronic health records (EHRs) to genomic data can be leveraged to study the impact of genomic factors on the clinical course of patients infected with SARS-CoV-2.
Gather more insights about the market drivers, restrains and growth of the Global Genomics Market
The COVID-19 Host Genetics Initiative launched by researchers from the Finnish Institute for Molecular Medicine (FIMM) aims to inspire the human genetics community to analyze, share, and generate data to interpret determinants of COVID-19 outcomes, severity, and susceptibility. deCODE genetics, a genomics solutions provider in Iceland, has used SARS-CoV-2 genomic analysis to monitor the viral spread.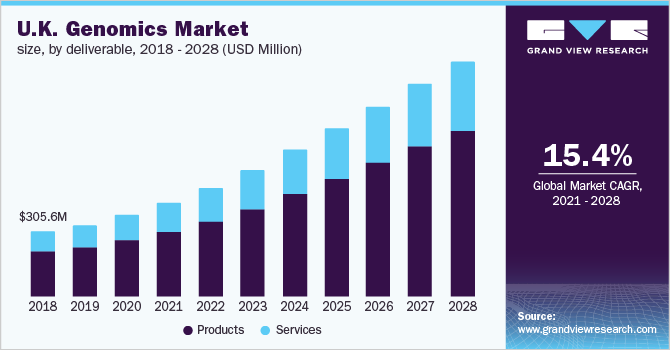 In addition, the company has partnered with the Government of Iceland to conduct genome sequencing of viral hosts. Similarly, the government of Greece funded the COVID-19-GR initiative to genotype 3,500 COVID-19 patients, conduct WGS on the SARS-CoV-2 genome obtained from these patients, and conduct immunogenomic analyses. The complete set of this data along with detailed clinical information is available and can be retrieved from the Greek COVID-19 registry.
In the near future, prenatal genetic screening programs are likely to grow at a significant pace. This is because these programs help expectant mothers identify chromosomal anomalies in their offspring. Moreover, it is anticipated that in the next 10 years, every newborn's genome would be sequenced and stored in the electronic medical record. Gauging the future market potential of genomics in newborn screening programs, emerging companies like Counsyl and Natera have launched various genetic tests to maintain their competitive edge in the market.
Genomics Market Segmentation
Based on the Deliverable Insights, the market is segmented into product ad services
The products segment dominated the market in 2020 with a revenue share of 69.3%. Continuous launch of nucleic acid extraction reagents and kits by key manufacturers is driving the revenue generation in the segment.
This introduction of a new kit helps overcome the scarcity of RNA purification kits that are used in the testing of COVID-19. Similarly, in April 2020, PHASE Scientific announced the global release of the PHASIFY VIRAL RNA Extraction Kit that is used to help in the detection and control of coronavirus. This kit allows purification and concentration of the viral nucleic acid in Viral Transport Media (VTM) samples of patients.
On the other hand, key players are acquiring smaller companies to advance their products in accordance with the latest technologies. For instance, in June 2020, Illumina, Inc. acquired Bluebee to boost genomic analysis. The cloud capability of Bluebee is expected to help in reducing the costs of sharing, storing, and managing genomic data in new products.
Based on the Application and Technology Insights, the market is segmented into functional genomics, pathway analysis, biomarker discovery, epigenetics and others
Functional genomics held the largest revenue share of 32.0% in 2020. Real-time PCR was the dominant revenue generator within functional genomics. Real-time quantitative PCR has played a major role in the absolute quantification of genetic elements in genomic DNA. This technology has been employed to evaluate the use of tissue genomic DNA as a universal external standard for accelerating quantification of any target sequence in the genome of various species.
The use of this technology in combination with reverse transcription PCR enables quantification of low-abundance mRNA, which, in turn, allows researchers to quantify relative gene expression at a particular time. Since this technology is observed to be more sensitive than array technology, when it comes to the detection of small changes in gene expression, its adoption rate is continuously growing. However, it requires more input and is found to be less adaptable in high-throughput studies.
Pathway analysis is expected to register the fastest CAGR from 2021 to 2028. Investigation of how individual targets communicate and respond within the molecular networks has helped elaborate the functioning of biological processes at a cellular level. Hence, pathway analysis has become an integral aspect of drug development and life sciences research. The research community uses pathway analysis to improve fundamental understanding of cellular and molecular biology.
Based on End-use Insights, the market is segmented into pharmaceutical and biotechnology companies, hospitals and clinics, academic and government institutes, clinical research and other end users
Pharmaceutical and biotechnology companies held the largest share of 60.3% in 2020. Genomic technologies are witnessing high demand from pharmaceutical and biotechnology companies owing to the increasing number of genetic research studies. As genomics plays a crucial role in drug discovery and development, several drug developers are employing genomic techniques to ease and improve the process.
For the past few years, direct-to-consumer genomic tests are being offered by companies, resulting in the changing of business models. Personal genomics companies are generating genomics data to offer to pharmaceutical companies. With convenient data analysis and the availability of cheaper data acquisition, several new players have entered the genomics services market to meet the growing demand.
Market is witnessing increased demand for advanced gene-editing tools from biotechnology companies. Biotechnology companies are entering into strategic alliances or licensing partnerships to avail of this technology. For instance, in October 2020, Merck licensed CRISPR technology to Takara Bio USA, Inc. and PanCELLa, Canada. These licenses are aimed to boost the development of new therapies by improving drug discovery.
Similarly, in January 2020, New England Biolabs signed an agreement with ERS Genomics Limited for the commercialization of CRISPR gene editing reagents and tools. Thus, the market is witnessing increased adoption of genomic technologies by pharmaceutical and biotechnology companies.
Based on the Regional Insights, the market is segmented into North America, Europe, Asia Pacific, Latin America, and Middle East & Africa
North America dominated the market with a share of 36.7% in 2020 owing to an increase in the number of research programs, a high number of strategic partnerships, and a rise in regulatory approvals by the U.S. FDA. Changing regulations for reimbursement and usage are anticipated to further propel the adoption of genetic tests in this region.
In January 2020, Color Genomics, Inc., in collaboration with NorthShore University HealthSystem, completed the delivery of clinical genomics in routine care under its U.S. program. The company has also supported Sanford's genomics program, Imagenetics, to improve clinical decision-making.
Asia Pacific is witnessing an increasing adoption of genomic technologies owing to the initiation of various research programs. The GenomeAsia 100K Project is one such project that includes whole-genome sequencing (WGS) to enable genetic discoveries across Asia. The study covered four different countries from Asia.
Moreover, supportive regulatory bodies are contributing to the market growth by increasing the number of approvals. In February 2020, the National Cancer Center (NCC) Japan collaborated with Foundation Medicine, along with Chugai Pharmaceutical, Ltd., to use FoundationOneLiquid in the third stage of Japan's cancer genomic screening consortium. This enhanced the growth of the genomic testing services market in Japan.
Market Share Insights:
December 2020: Agilent Technologies received approval for its GenetiSure Dx Postnatal Assay from Japan's Ministry of Health, Labour, and Welfare (MHLW). This assay is based on microarray analysis. This approval allowed the company to sell this product in the Japanese market.
September 2020: Thermo Fisher Precision Medicine Science Center (PMSC) collaborated with the University of Nebraska Medical Center (UNMC) and AstraZeneca to offer advanced solutions addressing challenges in clinical biomarker discovery.
Key Companies Profile:
Companies are increasingly focusing on the development and launch of new products and collaboration with other entities to increase their market share.
Some prominent players in the global genomics market include:
Thermo Fisher Scientific, Inc.
Agilent Technologies
Beijing Genomics Institute (BGI)
Bio-Rad Laboratories
Danaher Corporation
F. Hoffmann-La Roche Ltd.
GE Healthcare
Illumina, Inc.
Oxford Nanopore Technologies
Pacific Biosciences of California, Inc.
QIAGEN N.V.
Quest diagnostics
Myriad Genetics, Inc.
Eppendorf AG
Eurofins Scientific
Color
23andMe, Inc.
Order a free sample PDF of the GenomicsMarket Intelligence Study, published by Grand View Research.
About Grand View Research
Grand View Research is a full-time market research and consulting company registered in San Francisco, California. The company fully offers market reports, both customized and syndicates, based on intense data analysis. It also offers consulting services to business communities and academic institutions and helps them understand the global and business scenario to a significant extent. The company operates across multitude of domains such as Chemicals, Materials, Food and Beverages, Consumer Goods, Healthcare, and Information Technology to offer consulting services.
Web: https://www.grandviewresearch.com
Media Contact
Company Name: Grand View Research, Inc.
Contact Person: Sherry James, Corporate Sales Specialist – U.S.A.
Email: Send Email
Phone: 1888202951
Address:Grand View Research, Inc. 201 Spear Street 1100 San Francisco, CA 94105, United States
City: San Francisco
State: California
Country: United States
Website: https://www.grandviewresearch.com/industry-analysis/genomics-market