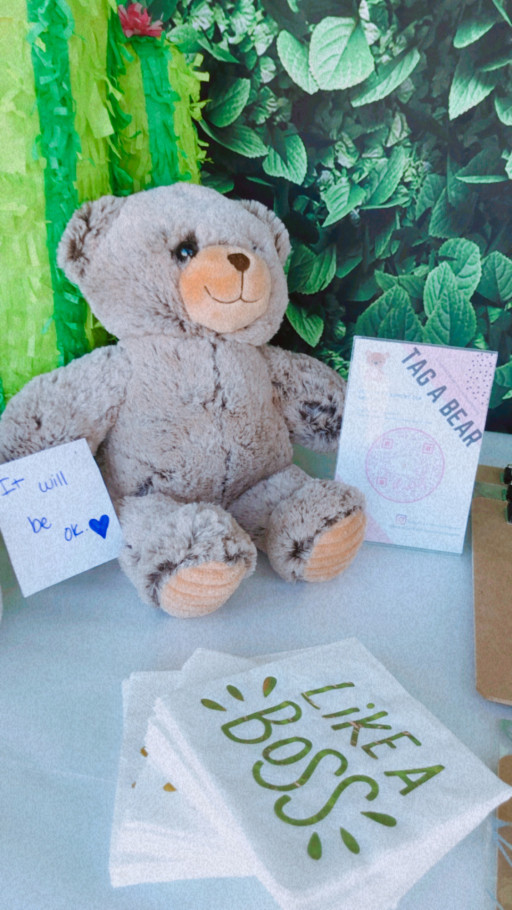 Tag a Bear Event in 2021
Bear tagged with handwritten note saying \"it will be ok\" at Comfort Bears 2021 Tag a Bear event.
PHOENIX – September 28, 2022 – (Newswire.com)

Mimi Hymel, a 20-year-old graduate student at Grand Canyon University, is sharing how her experience as a Hurricane Katrina survivor prompted her to start her own organization, Comfort Bears in a Catastrophe. 
Mimi shared that while essential living items are thought of, it's the comfort items children miss that no organization is thinking of.  
"As a young child in Hurricane Katrina, there were lots of organizations focused on providing the essentials- food, water and shelter. The 3-year-old Mimi couldn't comprehend that food on the table suddenly wasn't there, but I did understand that my teddy bear and childhood best friend couldn't evacuate with me, leading me to feel isolated and alone. This is why I created Comfort Bears in a Catastrophe, to give children comfort items as a top priority." 
This week, as Hurricane Ian hits parts of Puerto Rico and Florida, Comfort Bears in a Catastrophe is stepping in to provide these children with the comfort and hope of a teddy bear. The organization has released the following statement:
"We have an ongoing donation drive now through Oct. 5 to fundraise and send additional stuffed animals and cards to children impacted by Hurricane Ian. We have partners locally in the area who will be working with us to ensure as many children as possible will receive a Comfort Bear." 
Comfort Bears in a Catastrophe was founded in December of 2020. They have given out over 600 Comfort Bears to children impacted by disasters in various states across the U.S. They tag each stuffed animal with a handwritten card of encouragement to further uplift each child in these difficult situations. You can find out more about their organization here: www.comfortbearsinacatastrophe.org 
Contact Information:
Mimi Hymel
Comfort Bears in a Catastrophe CEO
3145261562
Press Release Service
by
Newswire.com
Original Source:

Gen Z Grad Student and Hurricane Katrina Survivor to Send Comfort to Children in Hurricane Ian