Gel Battery Pros And Cons
If your maintenance free battery is leaking acid, maybe you can try replacing it with a Gel Battery to solve your problem. The following are the Gel Battery Pros And Cons of gel batteries for your reference: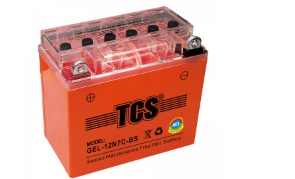 PROS:
1.Maintenance free:
Internal visible colloidal components, can work normally without any maintenance.
2.Avoid acid stratification:
in non-startup areas,Large batteries for energy storage can be used as colloids to avoid acid stratification,There is a certain amount of product cycle life the advantages.
3.Used anywhere:
The internal colloid can protect the electrode plate from damage caused by bumpy driving and vibration.
4.chemical protection:
The internal colloid can prevent the plate from being corroded, and also reduce the battery's generation of poles when starting with a high current.Plate bending between the plate short circuit, chemical protection.
5.Safe and environmentally friendly green power:
The sealed structure of the gel battery and the gel electrolyte, the electrolyte is not prone to acid stratification during use, which avoids a large amount of electrolyte leakage and penetration during the use of traditional lead-acid batteries.
CONS:
1. High internal resistance, poor discharge performance at high current, not suitable for motorcycle start-up.2. The colloid is easy to be hydrolyzed when it is heated during the loading and shipping process, resulting in the phenomenon of acid.3. The cost of colloid is higher.Gel batteries are more expensive than wet cells, which is one of the most significant disadvantages.4. The internal resistance of the gel battery is relatively large, which has a certain influence on the instantaneous high current discharge of the motorcycle battery.FinallyIt is recommended to use colloidal batteries because of the long life and low maintenance costs.If you are still struggling to choose where to buy gel batteries, TCS batteries are the best choice.

Why Chose TCS Battery? 1.Guaranteed startup performance. 2.The purity of electrolytic lead is more than 99.994%. 3.100% Pre-delivery inspection. 4.Pb-Ca grid alloy battery plate. 5.ABS shell.6.AGM clapboard paper. 7.Complete sealed, maintenance free.
Original Source: https://www.songligroup.com/news/gel-battery-pros-and-cons
Media Contact
Company Name: TCS Battery
Email: Send Email
Phone: +86 19906048871
Address:19th Floor, Rongxinsheng Operation Center, Guanyinshan, Siming District
City: Xiamen City
Country: China
Website: https://www.songligroup.com/