Speak Up Talk Radio has declared "Friendship Matters" by Rona D Drinkard as "2021 Winner of the Firebird Book Award for Fiction."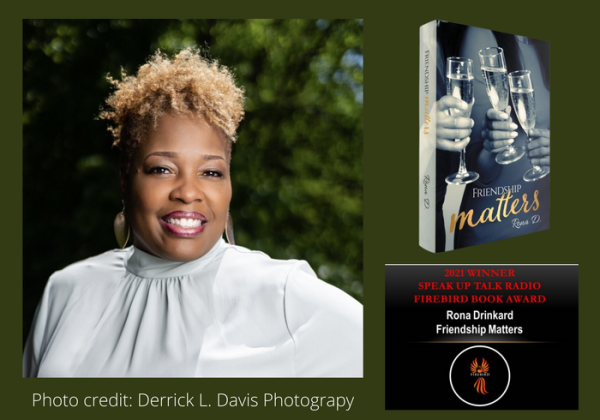 Drinkard, who has a Bachelor of Science in Psychology from Daemen College and a Master of Arts in Human Services Administration from the University of Buffalo State College, states, "Friendship Matters is a novel about three friends whose bond is so strong and their relationship so relatable, you'll think they are a part of your circle."
Morgan Justice of Indies Today writes, "Rona D. Drinkard has a relaxed writing style that is so casual that you may forget you're actively reading a book. This dramatic rom-com is refreshingly free of pretension, affectation and needless self-reflection. Instead, readers are dropped right into the non-stop locomotion of these busy women, becoming immediately absorbed in Saisha's newest boy-toy, Euniqé's story of heartbreak or the complete 180 degree turn in Kandace's life. It's so easy to get in the mind of each woman as the narration changes voices, almost like switching from comfy jeans to even comfier PJ's."
"Friendship Matters is a lively story that proves just how much friendship matters," raves Indies Today writer, Jordan Ehmann. She proceeds to praise the author as she states, "Rona D. Drinkard does an impressive job of capturing all the everyday moments in life, making them shine with excitement and constant movement. The cultural picture is painted vividly, with an endless sampling of rich food, pointed expressions, and moving musical tracks. As for the characters, well, these ladies have personality for miles!"
"I loved the settings and descriptions in the book and appreciated Rona's ability to breathe realistic life into the characters. The contemporary themes explored in the story make this literary work of fiction fit for this modern time as well. "Friendship Matters" by Rona D. is a story told with humor, empathy, joy, and warmth," Lily Andrews states in a Reader Views review.
Know more about the author, Rona D Drinkard, on her website on the following link: https://ronadwrites.com/
"Friendship Matters" has been featured in The Chrysalis BREW Project with an official publication date of 5 February 2022. View the book on Amazon via the following link: https://www.amazon.com/gp/product/B09PTCCS4S.
About The Chrysalis BREW Project
The Chrysalis BREW Project is all about books, reviews, and everything written (BREW). Nicknamed "BREW," it is primarily a community of readers and writers helping each other grow. In addition to author profiles, Kindle book and audiobook promotions, bookish articles, news, and other posts, BREW also hosts the monthly BREW Readers' Choice and the annual BREW Book Excellence Awards.
Media Contact
Company Name: The Chrysalis BREW Project
Contact Person: Esperanza Pretila
Email: Send Email
Phone: +61 (0) 421 593 696
Country: Australia
Website: https://thechrysalisbrewproject.com