5,000 Jalapeno Flavor potato chips will be available in all stores selling Exoticsnacksli products, online shopping, and in Canada. Ironman is regarded as one of the greatest Wu-Tang solo albums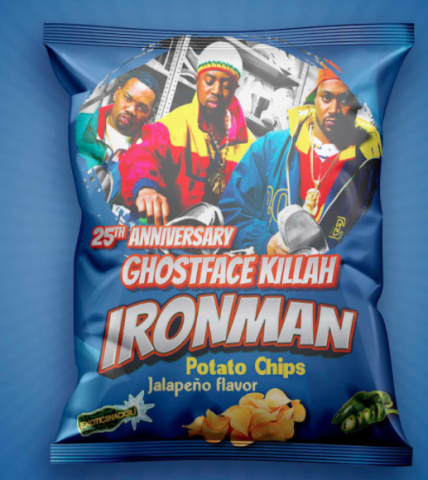 Long Island, New York – Exoticsnacksli announces they will be releasing 5,000 potato chips limited edition product into the market to celebrate the 25th anniversary of debut album Ironman by GHOSTFACE KILLAH OF THE WU-TANG CLAN. The potato chips will be in Jalapeno Flavor with a distinctive wrapper package adorning the album cover design parts.
Fans of hip hop and other consumers can purchase the potato chips at all exoticsnacksli Locations, online, and in Canada, at dank mart in Vancouver. The limited-edition product is an opportunity for hip hop fans and others to celebrate one of the most iconic albums and musical production in hip hop history.
Ironman was produced by RZA and released on October 29, 1996, by Epic Records with major performance by GHOSTFACE KILLAH and featuring other artists, mainly Raekwon and Cappadonna. After its release, Ironman peaked to number two on the Billboard 200 charts and was certified platinum by the Recording Industry Association of America (RIAA), one of the most influential stakeholders in the music industry in the United States and the world.
Several things make Ironman by GHOSTFACE KILLAH a historical, artistic work that profoundly influences the hip-hop world. The lyric which GHOSTFACE KILLAH mostly wrote is unique and imaginative, with many critics pointing out its creativity. Also, RZA's poured his heart and soul into the work with his creative production style and beat-making superiority.
Ironman was a creative and commercial success, having sold more than 150,000 copies in the first week of release and 1 million copies in the US. It also went on to sell over 40,000 copies in Canada. The UK version of top publications like Vox and The Wire named it albums of the year in 1996, while in the US, about.com added it to their list of 100 Greatest Hip-Hop Albums.
Exoticsnackskli is happy to be associated with this masterpiece work that has helped define hip hop worldwide. That's why they have partnered with the artist to release their limited edition potato chips so that their customers can also participate in this glorious celebration of authentic hip hop creativity and artistry.
For more information, please visit http://www.exoticsnacksli.com/.
About Exoticsnacksli
Exoticsnacksli started selling exotic snacks and soda from home, and today, they're serving customers with various products across many stores in Long Island, New York, and the US and its products can be purchased online.
Media Contact
Company Name: Exoticsnacksli
Contact Person: Rappy
Email: Send Email
Phone: 631-560-3007
State: New York
Country: United States
Website: www.exoticsnacksli.com