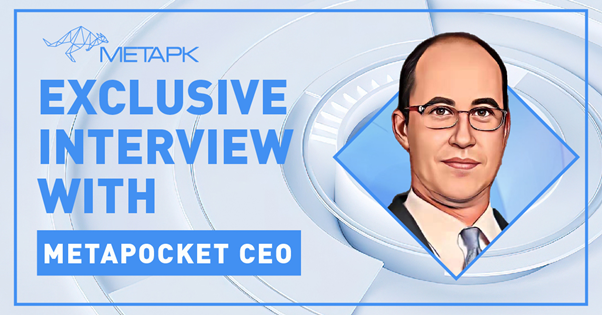 In case you haven't already heard of the MetaPocket Wallet, it's a revolutionary GameFi wallet that aims to be a one-stop digital wallet. Today, we interviewed MetaPocket CEO James McKennie to find out more about his motivations and dreams for this new wallet set to change up the GameFi industry.
Q1: Please tell us about yourself and what inspired you to create MetaPocket
JM: Hi, I'm James, CEO of MetaPocket. I've been really passionate about GameFi and the power of P2E gaming for a while now. Although GameFi is awesome because of the power to earn while playing games, combining DeFi and gaming, I think there are certain barriers that stop people from joining. This was actually something I gleaned from surveying some of my friends, that rampant scams and a difficult-to-navigate system within the crypto and GameFi space made it hard for them to choose to join. I believe that while P2E platforms provide chances to earn money, they must also be simple to use. That's why I decided to come up with MetaPocket!
Q2: What's so special about MetaPocket?
JM: You can say it's sort of an all-in-one wallet as it supports multi-currency, multi-layer, and cross-chain transactions. It makes your GameFi experience so much simpler and more streamlined!
There are three main features within the wallet. The first is the game discovery feature where you can explore all the possible GameFi games and discover your favorite blockchain games. Next we have the in-app game browser where you can interact with any decentralized games, which makes it much easier for users to play these games. Third is the yield farming feature where you can use the wallet to stake any supported GameFi token and start receiving yield, so you can easily earn from GameFi staking.
Q3: What's your vision for the MetaPocket Wallet?
JM: My vision for MetaPocket is that everyone will be able to easily start or improve their P2E gaming journey with GameFi with the MetaPocket digital wallet. I'm looking forward to the inevitable day when these barriers to entry into GameFi are knocked down because of MetaPocket and how it makes the user experience so much easier.
I'm also confident that someday, everyone in the GameFi industry will think of MetaPocket as their top wallet.
Q4: What are some of the Blockchain that will be compatible with MetaPocket?
JM: MetaPocket will be compatible with the top blockchains like Ethereum, Binance Smart Chain, Polkadot and Fantom.
Q5: I understand that MetaPocket has a utility token. Could you share more about it?
JM: Of course! The MetaPocket utility token is METAPK, and it allows users and developers to enjoy exclusive perks or functions within the MetaPocket wallet. It is a crucial link between wallets, users, and project developers. METAPK holders can receive airdrops, stand to receive loyalty rewards including NFTs, and get a discount on fees. In fact, METAPK helps to protect users as well and functions as security. Game developers also have to pay METAPK as a deposit and listing service fee.
Q6: Are there any safeguards in place to protect users?
JM: Apart from the METAPK deposit? Definitely! Being a wallet, security is of prime importance. There's 2FA with the wallet, where the user's password is stored locally and the encryption factor is linked to the user device and password set by the user. Both the password and private key are stored and isolated locally, and it's built with complete decentralization in mind, protecting wallet users with all the benefits of decentralization.
Q7: What's your outlook on the crypto, or more specifically, the GameFi industry?
JM: I think that we're going through a rough patch now, but I would advise to hold on to what you have and wait for the pump! The GameFi industry is just starting out honestly, and there are so many good games out there that we can all earn from. With MetaPocket I know that not only will there be more added to the GameFi community in terms of players, but in terms of developers and games too since there's a much wider base to work with now.
Thank you so much for your time Mr McKennie, we're looking forward to great things with MetaPocket!
JM: Thank you for this awesome interview!
Media Contact
Company Name: Metapocket
Contact Person: Media Relations
Email: Send Email
Country: United Kingdom
Website: Metapocket.games