A credit score is a number that is assigned to you based on how lending firms view your trustworthiness as a loan taker. If you have a poor payment history with multiple missed payments or defaults, you will need to seek a personal loan for bad credit.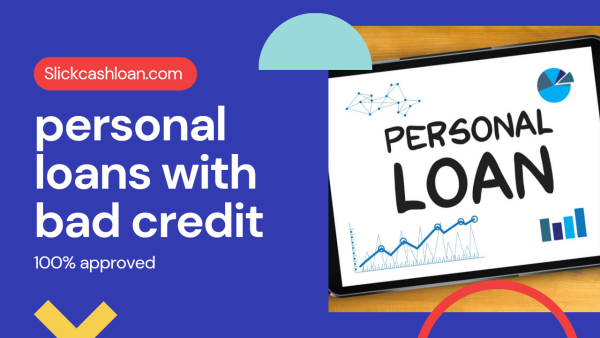 If your credit history and credit score are low, you will likely be unable to secure a loan from traditional lending institutions such as banks and credit unions. To get the credit and loan that you need for personal or business reasons, it is likely that you will have to seek a personal loan with a bad credit history or alternate lender.
What is a credit score/credit history?
A credit score is a number (the exact number is arbitrary) that is assigned to you based on how lending firms view your trustworthiness as a loan taker. The higher the credit score, the more trustworthy you are and the more likely it is that the creditor will give you are loan. Your loan interest rates and other terms, including collateral, will also be affected by your credit score. Not all financial institutions and lenders use the same credit agencies or credit history records to judge your credit score. Therefore, your score will likely differ depending on the agency and its duration since you last had financial issues or missed a payment. If you have a poor payment history with multiple missed payments or defaults, you will need to seek a personal loan for bad credit.
What is a personal loan?
A personal loan is a system where you borrow a set dollar value and pay it back over a set time interval. This will include the total amount, interest, as well as any fees. The payments that you make are called installments. Personal loans are usually used, as the name implies, for personal reasons such as renovating a home, buying a vehicle, gathering furniture, or consolidating your debt from other loans.
What you need to get a personal loan
You will more than likely be asked to prove that you have a regular income, a permanent address, and a bank account for your loan. If a permanent income is not available, some sort of collateral or proof of income availability is likely to be requested of you. In addition, most lenders will run a credit check on you, which will change your interest rate and the type of loan you can take. For example, personal loans for bad credit are likely to have a higher interest rate.
Getting your loan
You can usually take out loans in cash as a deposit in the bank account that you have specified. This way, you can have the payment made to you as an online transfer, have the payment given directly to another lender (Especially in the case of debt consolidation), or put the entire loan amount on a prepaid card. However, be aware that the card route is likely to include fees.
Paying back the loan
You have agreed to make regular payments, also known as installments, on loan. Usually, the lender will require your personal banking information so that the lender can take any needed amount directly out of your account. These types of loan systems are known as pre-authorized debits, and using such a system is likely to lower the interest rate or other fees you are subject to. Personal loans for bad credit are likely to include this stipulation.
Types of personal loans
There are secured loans and unsecured loans.
A secured personal loan means that you are giving an asset (like a house or car) up as collateral so that if you fail to pay back the entire loan, the lender can then take that asset to avoid losses or consider your loan payment fulfilled. For example, suppose you are seeking personal loans for bad credit. In that case, this is the likely loan situation that you will be finding yourself in. You may need to risk putting a significant asset of yours up for collateral to secure a decent interest rate or secure any loan at all.
In an unsecured loan, you do not need collateral. If you miss payments, the lender can take you to court.
Loan Insurance
If it seems that you may be unable to make back the entire loan payment due to fluctuations in income or other circumstances, your lender (or another party) may offer you loan insurance. For an additional fee, you will be given terms of insurance that cover the situations under which your loan payments may be otherwise paid or forgiven.
You must read and understand your loan agreement before signing.
To learn more about personal loans for bad credit from SlickCashLoan, visit https://slickcashloan.com/personal-loans/bad-credit-loans.php
About SlickCashLoan:
SlickCashLoan is the best resource for finding the right solution for quick and reliable loans. The loan experts can help borrowers find the best lenders and ensure fast and easy access to money when needed. SlickCashLoan has a wide network of partners across the USA. The company stands apart with its easy approval and quick funding of loans of all types.
Media Contact
Company Name: Slick Cash Loan
Contact Person: Mark Snow
Email: Send Email
Phone: (888) 200-7445
Address:1125 E Broadway #545
City: Glendale
State: California
Country: United States
Website: https://slickcashloan.com/