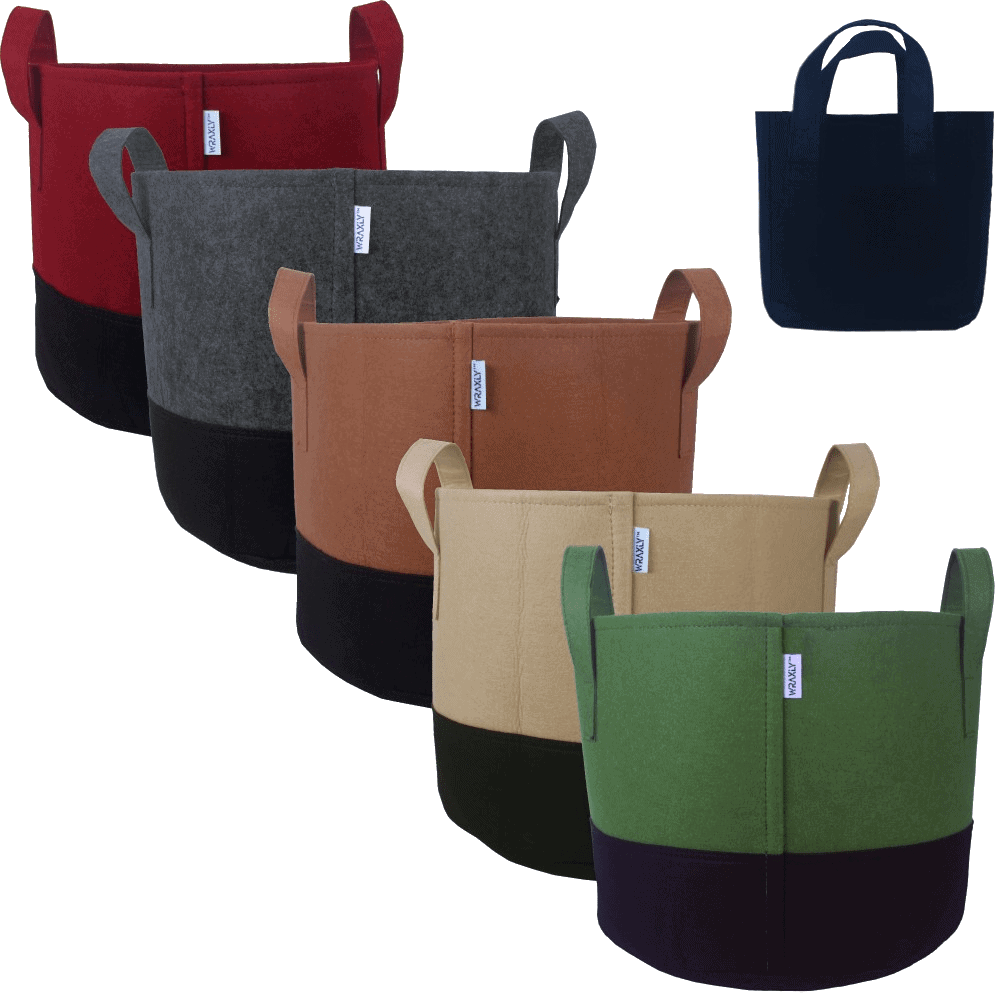 Top e-commerce seller, Duxbury Holdings LLC, is announcing the restocking and availability of its unique Wraxly brand fabric grow bags which was test-launched in November of last year and sold out within 6 weeks.
Grow bags have been a farmer's delight for a while. The ease with which you can create a fabulous garden with fabric grow bags makes them a viable and cost-effective option for many people. Even novice gardeners can create impressive vegetable gardens and displays filled with annual flowering plants when using Wraxly grow bags.
However, innovation that makes a difference is at the heart of what Duxbury Holdings LLC does. Wraxly fabric grow bags are not just the conventional, often black-colored grow bag. They have a unique, two-toned design which has proven to be its selling factor. The color portion is protected with a waterproof liner to reduce staining, while the black fabric allows for aeration, drainage, and root pruning—a perfect gift for plant lovers.
Built to be durable, the soft-to-the-touch, heavy-duty Wraxly grow bags were out of stock for the 1st quarter of 2021, due to the interruption of its supply chain by the coronavirus. However, the products have been restocked in the last 3 weeks. Currently, 2 sizes are available (5 and 7-gallon bags), with 3 and 10-gallon sizes to be added soon.
While Wraxly grow bags make great gardening gifts, you can do more than just grow things. They are versatile, multifunctional bags that can store things such as:
yoga mats & sports gear
blankets & towels
bedsheets
throw pillows
toilet paper
firewood
diapers
toys, stuffed animals & blocks
newspapers & magazines
arts & crafts
sewing fabric, and more!
Speaking about their product, Darrell Houghton, founder of Duxbury Holdings LLC said: "Why settle for black grow bags when you can add a splash of color to your garden with a multi-pack of Wraxly two-tone fabric grow bags. We are on a mission to offer well-designed, high-quality products that organize and beautify your world, one grow bag at a time."
Media Contact
Company Name: Wraxly.com
Contact Person: Darrell Houghton
Email: Send Email
Phone: 310-948-6321
Country: United States
Website: https://wraxly.com