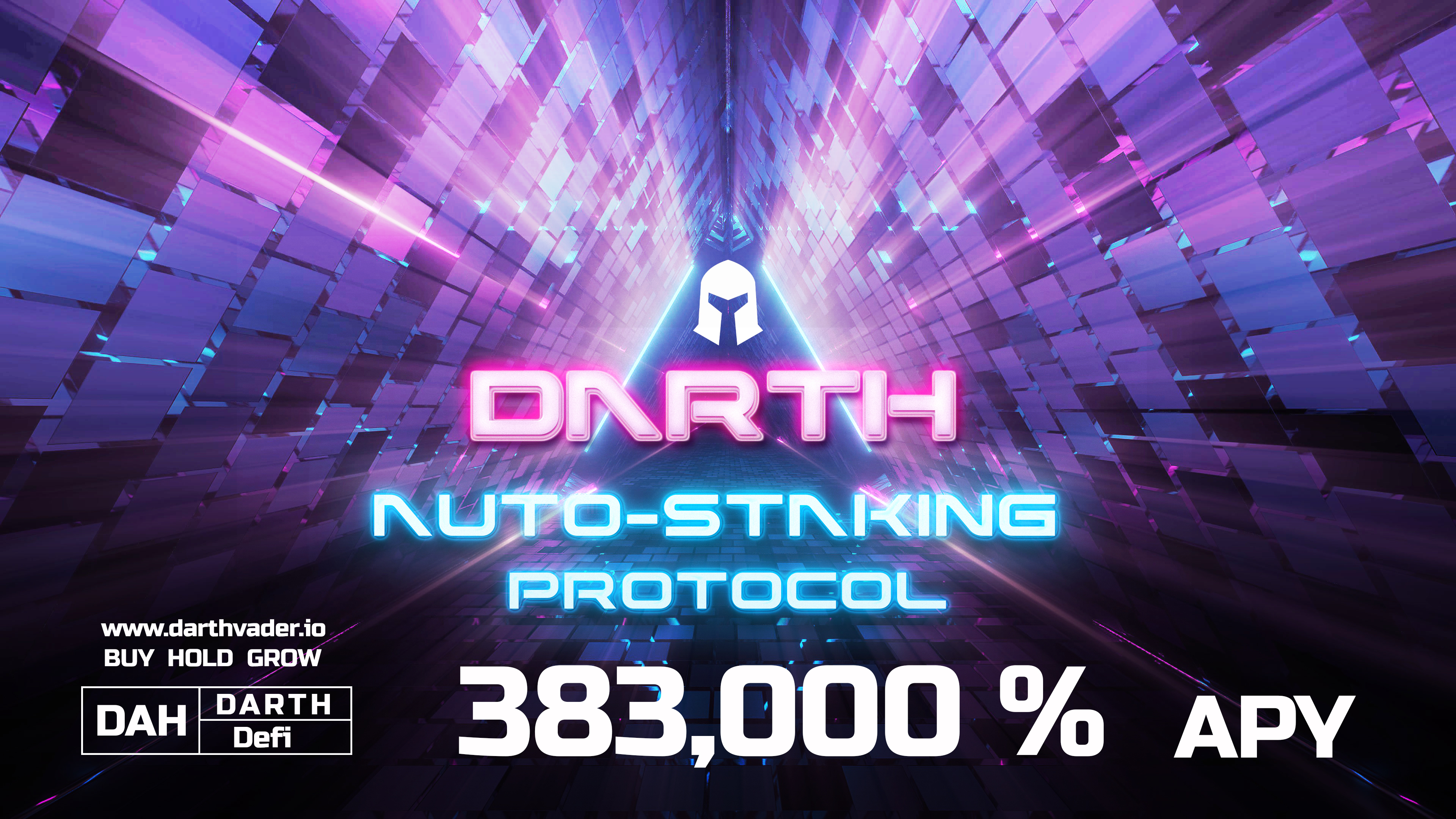 LONDON – April 05, 2022 – DARTH, a DeFi 2.0 protocol developer, is launching a revolutionary type of staking token with powerful fixed APY.
Decentralized finance or DeFi is causing a revolution in the finance industry. Crypto holders can lock or stake their tokens on a DeFi website and receive interest rates that most thought impossible. The tool that DeFi companies use to create these high returns are financial algorithms and token staking strategies called protocols.
Defi 1.0 introduced different versions of these protocols that now attract billions in capital, and have built many of crypto's top performers. DeFi 2.0 protocols promise token holders greater levels of simplicity and safety, and the best fixed returns from staking.
The developers of DARTH have introduced the DARTH Auto staking Protocol (DAP), a DeFi 2.0 protocol that offers perhaps the industry's best set of benefits for stakes.
DARTH Auto staking Protocol (DAP) – Safe, Fast, Highest Fixed APY
DAP provides token holders simplicity, security, and a consistently high yield return from their staking. It is used in the DARTH token, providing it with these industry first benefits:
Easy and Safe Staking – The DARTH token always stays in your wallet, and you automatically receive rewards. No more complicated staking processes on someone else's website.
Automatic Rebasing Gains – You never have to worry about re-staking your tokens. Gains are rebasing meaning they compound automatically, guaranteeing you never miss a payment.
Powerful Fixed APY – The DARTH auto-staking protocol pays out 383,000.00% annually, which is a consistent compounding interest rate that tops the DeFi industry.
Fastest Rebase Rewards – The DARTH auto-staking protocol pays every 15 minutes or 96 times every day, making it the fastest auto-compounding protocol in crypto.
How DARTH Delivers its Industry Best Fixed 383,000.00% APY:
The DARTH Autos taking Protocol uses a complex set of elements to deliver its industry leading APY. They include the DARTH treasury, the trading volume fees, and the Risk-Free Value (RFV). They all work in harmony to provide the high and fixed APY.
Media Contact
Company Name: DARTH
Contact Person: Support
Email: Send Email
City: London
Country: United Kingdom
Website: darthvader.io/