If you're a small business, cyber security can be terrifying—but it may just be the perfect time to RELAX. This is the message from Ken Fanger, a veteran of cyber protection for the last 30 years and the president of On Technology Partners, in his captivating new book about cyber security, RELAX: A Guide to True Cyber Security.
Fanger offers a fun and insightful journey into the often-confusing world of cyber security with the help of his vast expertise in the field, as well as his experience as an author. The book is geared toward small businesses looking to protect their digital presence, but it remains engaging and accessible to anyone who picks it up. RELAX is the epitome of taking an unfamiliar and seemingly complicated topic, and making it approachable, desirable, and even fun.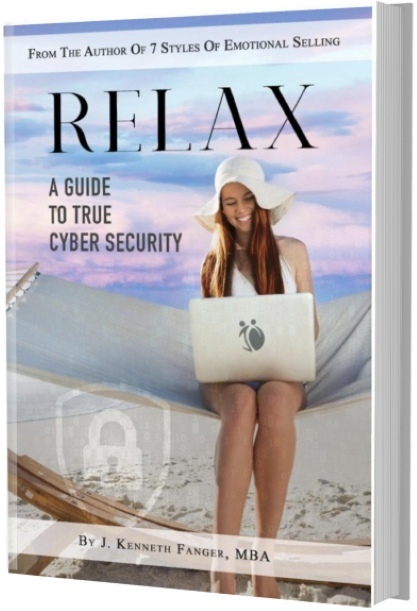 When asked why he wrote the book, Fanger notes, "It was time for there to be a cyber security book for the rest of us. I created this book with the idea that we all are tired of being scared and just need a better way to address cyber security."
The book's engaging approach combines entertaining, real-world experiences with practical tips that can be implemented immediately to help readers RELAX and address their cyber security needs. After reading RELAX, readers will leave equipped with the knowledge to further their cybersecurity journey and navigate the skills, understanding, and relaxed attitude that it takes to protect their data.
Dawn Kendrick, reporter and creator of The Good Stuff Family, describes RELAX as "easily digestible, practical and useful in its approach to safety in an increasingly scary world of questionable cyber security. As a reporter, I appreciate the familiar writing style Fanger uses in breaking down information in an area where he is, frankly, brilliant so we don't have to be."
Both On Technology Partners and Fanger are committed to helping small businesses reach their potential, especially when it comes to cyber security. In addition to programs such as offering 15 free hours of cyber security consultation to Ohio businesses, RELAX is another tool in the company's pages to support growing businesses and spread knowledge about the realm of cyber protection.
RELAX: A Guide to True Cyber Security is available for purchase in eBook and print versions at Amazon.com.
About On Technology Partners
On Technology Partners (OTP) is a woman-owned technology company based in Cleveland, OH, that was established in 1994 by Lucy and Ken Fanger. Lucy and Ken founded OTP on the belief that the needs of clients should come first. Over the past 28 years, OTP has successfully provided IT and network support and cyber security and consulting services for manufacturers, governments, nonprofits, pharmaceuticals, warehousing, and small businesses. More about OTP can be found at ontechnologypartners.com.
###
Media Contact
OnTechnology Partners
Ken Fanger
216-920-3100
https://ontechnologypartners.com
newsroom: news.38digitalmarket.com
Release ID: 315016