A highly sought-after condominium within the exclusive Sentosa Cove residential area
Cape Royale has introduced its top-class seafront luxury condominium situated in Cove Way, Sentosa, in Prime District 4 of Singapore. The cleverly built residential development prides itself as the tallest residential towers in the Sentosa Cove, endowed with pristine beauty and outstanding quality. It is in close proximity to top-notch entertainment centers and premium lifestyle destination resorts like Resorts World Sentosa and ONE°15 Marina Sentosa Cove. What sets the condominium apart is its top-class quality in the fittings provision and the beautiful sea views for anyone who desires to live a luxurious life.
This tastefully furnished condominium provides safety and security to all residents as it provides round-the-clock surveillance systems, high-quality alarms, locked entry doors, and gated entry points. Residents of Cape Royale are guaranteed a luxurious space with enthralling sea views. This will help them live relaxed and feel safe in an exclusive and serene environment. The Cape Royale price for condominiums is attractively priced, and the complex comprises 302 residential units of 3 bedroom and 4 bedroom layouts from 1680sqft to 3111sqft with tight security. At Cape Royale, the comfort and pride of residents are well nurtured.
Cape Royale condominium is equally equipped with state-of-the-art living amenities, luxury furniture, a gym, a waterplay area for kids, a Club House for weekend or midweek holidays, swimming pools for relaxation in hot weather, kitchen and room wares, and so on. Residents also have the advantage of accessing state-of-the-art amenities like swimming pools, gyms, schools, tourist attractions, shopping malls, tennis courts, bars, gardens, etc. Each complex is uniquely built with a well-structured Cape Royale floor plan for the comfort and convenience of residents, as maintenance of the property is solely on the management of Cape Royale.
Developed by HO Bee Group with over 40 years of experience in the real estate business, Cape Royale is close to VivoCity and HarbourFront MRT station. Additionally, residents of the property will be able to reach the town area and CBD at their convenience in the future. In the iconic waterfront condominium, residents also have the option to purchase the penthouses and enjoy the glamour that accompanies them. Cape Royale is just the perfect location for homeowners who want to enjoy freedom, tranquility, and luxury.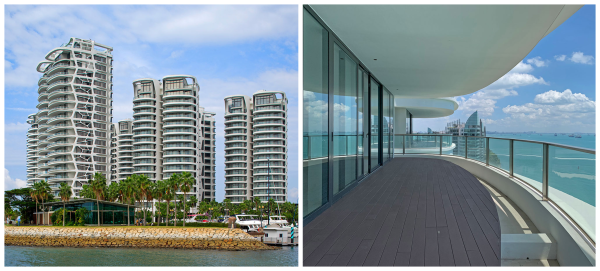 "Cape Royale is a seafront condominium development located in Sentosa Cove in Singapore and is the perfect place for you to lead a luxurious lifestyle," said the company's spokesperson.
For more information, visit https://www.thecape-royale.com/.
Media Contact
Company Name: Cape Royale
Contact Person: Cape Royale
Email: Send Email
Address:25 Cove Way
City: Singapore 098209
Country: Singapore
Website: https://www.thecape-royale.com/