BustNMoves Moving Company, Idaho's most trusted packing and moving company, is expanding its top-notch services across the western region to benefit a wider clientele.
The professional packing and moving company came into being with the aim of raising the bar for relocation services in the region. BustNMoves Meridian has stayed true to that mission by delivering exceptional quality moving services that are suited to clients' specific needs. It can do that because it goes the distance to understand exactly what they are looking for.
The company's experience in the field has offered it insights into knowing that no two moves are identical. It has a friendly and well-trained customer support team that answers clients' queries at the onset and offers the best packing and moving solutions that keep up with their needs and budgets. It has resulted in hassle-free moves for clients, and their customer reviews are a testament to the quality of services BustNMoves Movers provide.
The leading name in the business also works with an experienced team of professionals that can handle any moving task big or small. They are well trained and reliable, which means they take care of clients' precious belongings like their own. They also stick to the pre-determined moving plans and ensure that packing and moving responsibilities are handled without causing any inconvenience to clients.
BustNMoves Moving Company has access to state-of-the-art equipment, top-quality packing materials, etc., resulting in safe and secure moves every time. Those interested in hiring the company's services can benefit from a seamless and safe online booking process. They can also get a free estimate for the services they need, which maintains complete transparency every step of the way.
The company has become the one-stop trusted service for all packing and moving needs of clients. From moving locally to anywhere else in the state, the company can take care of clients' needs without any difficulty. It can move everything from small studio flats to large family homes, small offices to big warehouses with effortless ease. Clients can also choose professional loading and unloading services for their needs.
It has become a reliable choice for professional packing and unpacking services that can make things convenient for clients. And now by expanding its services with BustNMoves Boise and other parts of the western region, the company is set to make packing and moving stress-free for a wider client base. For more information about the impeccable services offered by the company and make bookings for their requirements, one can visit https://www.bustnmoves.com/movers/meridian-id/.
About BustNMoves Moving Company
The professional packing and moving company has become the go-to name for the people of Idaho on the back of its versatile solutions that spell quality at affordable rates.
###
Media Contact
BustNMoves Moving Company
URL: https://www.bustnmoves.com/movers/meridian-id/
Email: [email protected]
Phone: 208-505-0577
Address: 3919 East Overland Road Meridian Idaho 83642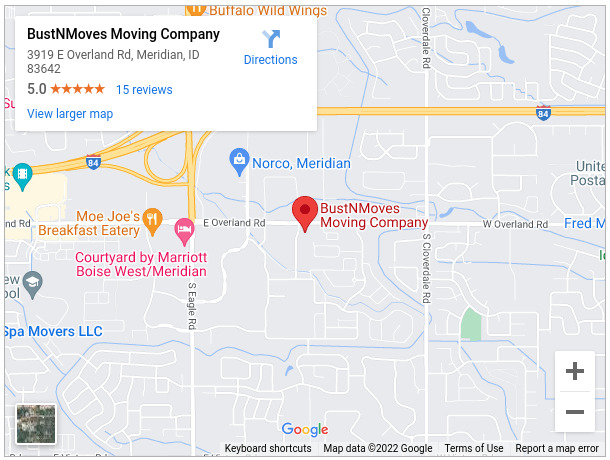 newsroom: news.38digitalmarket.com
Release ID: 314544