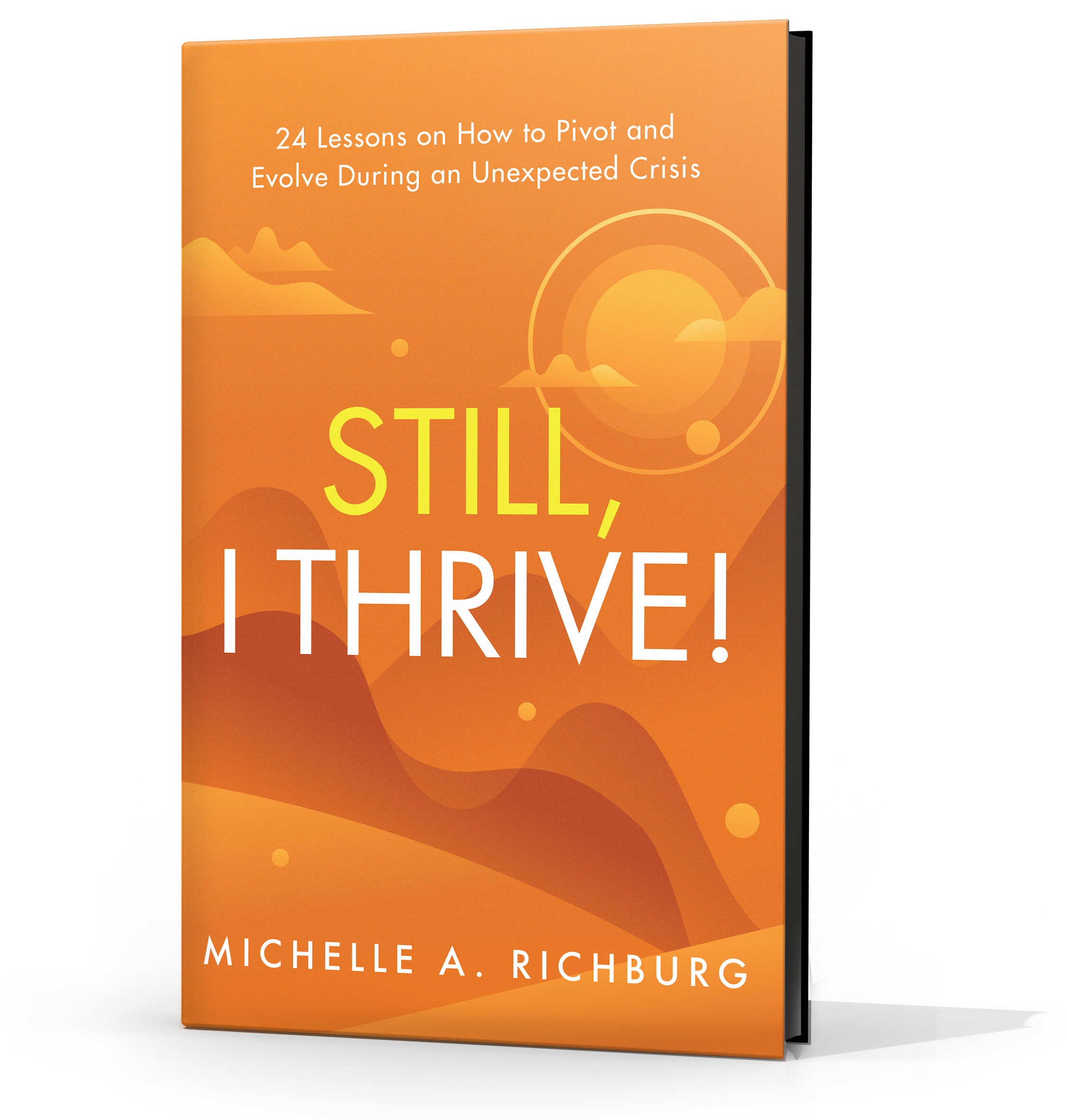 Far too often, the assumption is that the future will offer something better than what is presently being experienced. That line of thinking frequently keeps people from making the necessary changes or adjustments that can indeed better their future. To help eradicate that self-sabotaging cycle, Michelle Richburg has released Still, I Thrive! Lessons on How to Pivot and Evolve During an Unexpected Crisis.
BALTIMORE, MD – September 7, 2021 – In Still, I Thrive! bestselling author, Michelle Richburg, along with twenty-three co-authors share reflective and insightful stories about not only making it through the unprecedented pandemic of 2020 but coming out victorious. Readers will be stirred and motivated to shift their mindset, boldly face their challenges head-on, stop waiting for tomorrow, pursue their dreams and goals, and start living their lives to the fullest today.
"We have a habit of pushing things off to the future or selling ourselves short because we believe we aren't worthy or qualified. When we do, we disqualify ourselves from so many of God's blessings and favor," says Visionary Kersey.
The topics addressed in Still, I Thrive! such as grief, fear, healing, faith, strength, and growth will equip readers with the necessary insight on how to not only survive a global pandemic, or any other personal disaster, but how to emerge prosperous—mind, body, and spirit. Filled with accounts of defeat, resilience, and ultimately victory, readers will be inspired and empowered to view their adversities as opportunities to rise to higher heights.
Still, I Thrive! gives readers real-life examples of men and women who decided to push forward in the face of seemingly insurmountable odds to overcome an array of obstacles and seize the day. "Nothing is promised. We aren't owed anything. But while we are here, we owe it to ourselves and our families to live life to its fullest."
Michelle Richburg has developed a specialized niche in the financial services industry as a "Banker for the Stars" with a strong reputation for competence, efficiency, and creativity. Over the span of nearly 30 years, her client list has included high-profile professional athletes, entertainers, and business leaders.
As owner, president, and CEO of Richburg Enterprises, Michelle shares her special skills with the world and provides services that did not exist in the market.
Published by Publish Your Gift®, Still, I Thrive! Lessons on How to Pivot and Evolve During an Unexpected Crisis is now available for purchase.
Media Contact
Company Name: Purposely Created Publishing Group
Contact Person: Shani McIlwain
Email: Send Email
Phone: (888) 949-6228
Country: United States
Website: www.publishyourgift.com