Gourmet Easy has proved once again why they're considered one of the best premium kitchenware companies with its innovative, multi-functional stainless steel rolling pin and meat tenderizer. Visit www.gourmeteasyonline.com for more information!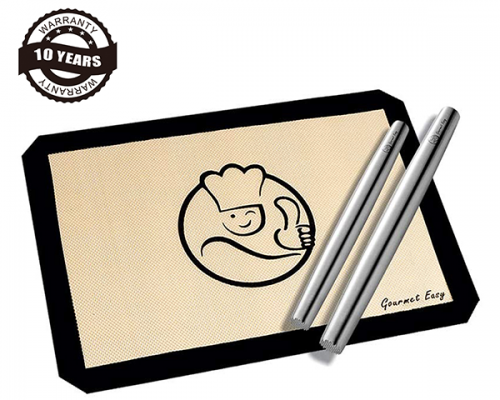 Boca Raton, United States – October 13, 2021 —
Since the business launched in early 2021, chefs, bakers and home cooks alike have been raving about the premium, lightweight multi-functional rolling pin designed by leading kitchenware company, Gourmet Easy.
This remarkable rolling pin has a tapered stainless steel design and is not only great for baking, it also has a hammer edge on one side for pounding meat fillets, nuts and crushing ice, whilst conveniently having another textured edge to tenderize meat fillets.
The stainless steel finish allows the rolling pin to not stick, collect dough or dry out when baking, compared with wooden rolling pins. It is also dishwasher safe, and fridge and freezer friendly, and even comes with a 10 year warranty. Now that's a lot of baking!
To get your hands (or oven mitts) on your very own rolling pin, go to www.gourmeteasyonline.com.
The rolling pins come in a small 10 inch size, large 12.8 inch size and you can buy a combination of both sizes for more variety and uses in the kitchen. The small size is perfectly designed for children, so you can get the whole family having fun in the kitchen!
Gourmet Easy also includes a free non-stick, FBA free silicone baking mat with every purchase, which adds to the value of this market-leading product.
One very happy customer recently stated: "Quality stainless steel, lightweight and easy to clean are the hallmarks of this product. It follows the expected French rolling pin form factor, and is exactly as expected. Using this makes one feel like a professional, waiting for the call from the Food Network, hehe.
Examination of the rolling pin found no scratches, nicks or burrs. It's machined very well. The product matches the description and pictures in the product details. It definitely met expectations. Accordingly, it earns a 5 star rating, with a very high level recommendation."
Whilst another Gourmet Easy customer left the following review:
"I require a short pin for rolling small breads such as Pita, other small baked goods and as soon as I saw this one, I ordered it, although I haven't used a steel one for these tasks before now.
It is absolutely perfect! Very little dough sticks to it and it is very easy to hold and nimble to use, mostly with one hand while I turn the dough piece with the other – can't do that with a longer, heavier pin.
I even used it on puff pastry, using it to pound the very cold dough right out of the fridge and again, I used it with only one hand while rotating the dough block with the other. And, instead of finding a place where it won't roll off the bench, between usage, I can stick it in my apron pocket to keep it out of the way but handy. And the price is fantastic! I can't say enough about this very well-designed baker's aid!"
To find out more about Gourmet Easy's full range of products and why they're currently all the rage in the kitchenware space, visit www.gourmeteasyonline.com.
Contact Info:
Name: Gourmet Easy
Email: Send Email
Organization: Gourmet Easy
Address: 7015 Beracasa Way Suite 208, Boca Raton, FL 33433, United States
Website: https://gourmeteasyonline.com
Release ID: 89049051
COMTEX_395147109/2773/2021-10-13T22:29:58