Custom footwear and accessories brand, Robert August Apparel, announces the launch of its 360 Design Studio, a feature that allows customers to create their unique shoes from over 1,500 different designs
Robert August Apparel has today launched its 360 Design Studio, a never-before-seen shoe platform that allows people to make their own custom shoes from the ground up. The new studio is expected to disrupt the fashion industry immensely as consumer satisfaction is expected to go through the roof.
By using the brand's 360 Design Studio, customers can now have a say in the process of custom shoemaking, allowing them to either customize any of the designs offered by the company or create their own from the sole up.
The global shoemaking industry has grown over the years to become a multi-billion-dollar market with thousands of brands delivering a wide range of products to meet the diverse needs of customers. The custom shoes market has become increasingly popular in recent times as more people look to create unique shoes based on their taste and style. Unfortunately, many of the custom footwear brands do not bring customers into the shoemaking process. However, Robert August Apparel looks to change this narrative with the launch of the 360 Design Studio.
The studio has tons of different shoe designs, allowing customers to choose any of the 1,500 designs from the brand and customize them based on their preference or design their own unique shoes from the sole up. Robert August Apparel has built a reputation for delivering amazing footwear, taking the art of creating men's custom shoes to another level with the unprecedented fusion of 21st century technology with old world European craftsmanship.
The brand's unique blend of exclusivity and outstanding craftsmanship, with all products handmade in Spain and shipped worldwide for free has endeared Robert August Apparel to shoe lovers worldwide with accolades from different quarters. "Beautiful Custom shoes, style plate and the highest quality. The loafers I have purchased were timeless and comfortable and sized perfect. The colors and leather trim was amazing!" said Wayne Black.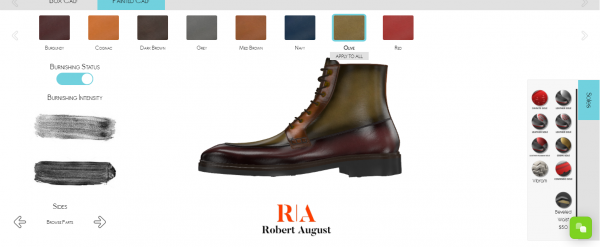 For more information about the recently launched 360 Design Studio and other innovative solutions from Robert August Apparel, please visit – https://augustapparel.com/. Robert August Apparel can also be found across social media, including Facebook and Instagram.
Media Contact
Company Name: Robert August Apparel
Contact Person: Robert Baum – President
Email: Send Email
Address:187 E Warm Springs Rd Suite B230
City: Las Vegas
State: NV 89119
Country: United States
Website: https://augustapparel.com/