Tina Iaquinta Founder & CEO of Modern Concierge was recently selected as Top Executive Concierge of the Year by the International Association of Top Professionals (IAOTP)
(PRUnderground) March 1st, 2021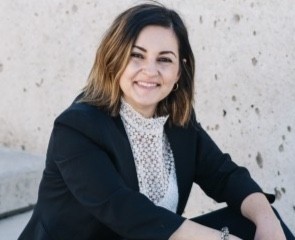 Tina Iaquinta Founder & CEO of Modern Concierge was recently selected as Top Executive Concierge of the Year by the International Association of Top Professionals (IAOTP) for her outstanding leadership and commitment to the industry.
With over a decade of professional experience within the Concierge services industry, Tina has established herself as an accomplished professional, results-driven leader and expert within her field. Currently, she is the Founder & CEO of Modern Concierge, a trusted partner in Lifestyle Management, located in Toronto, Ontario, Canada.
Inclusion with the International Association of Top Professionals is an honor in itself, only a few members in each discipline are chosen for this distinction. These special honorees are distinguished based on their professional accomplishments, academic achievements, leadership abilities, longevity in the field, other affiliations and contributions to their communities. All honorees are invited to attend IAOTP's Annual Award Gala at the end of this year for a night to honor their achievements. www.iaotp.com/award-gala
Tina's impressive repertoire of prior roles has included; Manager of Program Delivery at the Covenant Group, and Sales and Marketing roles at IA Clarington and Spectrum Investments.
Modern Concierge is an innovative, preferred service for entrepreneurs and executives.Tina and her team offer a variety of services such as Lifestyle Management,  Experience Curation, Travel Planning, Corporate and Special Occasion Event Planning, Home Services, Personal Assistance, Errand Running, Helping New Moms, Home and Office Organization, Personal/Grocery Shopping, Relocation Services, Calendar Management, Wait Services and Access to tickets, private suite/boxes globally.
"If its legal and ethical, we will find a way to make just about anything happen for you," said Iaquinta.
"Choosing Tina for this award was an easy decision for our panel to make," said Stephanie Cirami, President of IAOTP. "She is resourceful, humble and gracious. We felt she would be an amazing asset to our network of professionals. We hope to meet her at the Annual Awards Gala."
Throughout her illustrious career, Tina has received awards, accolades and has been recognized for her dedication to her profession. This year she is being considered for a feature article in TIP (Top Industry Professionals) Magazine and also for the Empowered Woman of the Year Award given by the International Association of Top Professionals (IAOTP). Tina will receive her award while in attendance of IAOTP's 2021 Annual Awards Gala being held at the magnificent Plaza Hotel in New York City this December. In addition to her thriving career, Tina has a blog and was interviewed several times where she speaks about her entrepreneurial path and her success in business.
Looking back, Tina attributes her success to her resourcefulness, her extraordinary organizational skills and her passion of helping individuals with their personal, business and life goals. When not working, she enjoys spending time with her family and traveling. For the future, Tina hopes to continue helping her clientele reduce stress, give them more free time and enhance their happiness and wellbeing.
For more information on Tina Iaquinta please visit: www.modernconcierge.com
About IAOTP
The International Association of Top Professionals (IAOTP) is an international boutique networking organization that handpicks the world's finest, most prestigious top professionals from different industries.  These top professionals are given an opportunity to collaborate, share their ideas, be keynote speakers, and to help influence others in their fields. This organization is not a membership that anyone can join.  You have to be asked by the President or be nominated by a distinguished honorary member after a brief interview.
IAOTP's experts have given thousands of top prestigious professionals around the world, the recognition and credibility that they deserve and have helped in building their branding empires.  IAOTP prides itself to be a one of a kind boutique networking organization that hand picks only the best of the best and creates a networking platform that connects and brings these top professionals to one place.
For More information on IAOTP please visit:   www.iaotp.com
The post Tina Iaquinta selected as Top Executive Concierge of the Year by IAOTP first appeared on PRUnderground.
Original Press Release.