(PRUnderground) August 22nd, 2020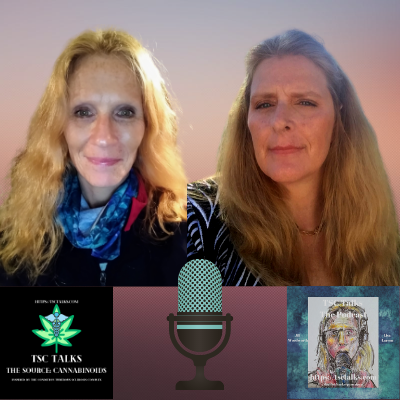 For generations, women have been known for their dominance in professions that provide care and nurturing for the sick, the needy, and the hungry. Lately, however, women are making a name for themselves in careers that tend to our hungry minds. Women are on the rise in podcasting! When you put these two professions together you have TSC Talks, the Internet's voice for marginalized and special needs communities. Jill Woodworth and Lisa Larson are the co-owners of TSC Talks, a podcast that launched in 2016 when host Jill Woodworth conducted the first interview about her own family, including her oldest daughter that has Tuberous Sclerosis Complex. She realized that it would be more educating for herself and the public if she engaged with other individuals other than her family members while highlighting the systemic issues and struggles of living with TSC. Their platform focuses on guests who can share their stories about developmental conditions, their personal experiences, and tools that can help them manage their lives.
What are Jill's expectations for TSC Talks? "I'd like to develop this platform into a place where people can listen to people talking honestly about their struggles with the broken systems and how their circumstances and particular 'diagnoses' or situations made it impossible to work within the confines of the systems/therefore were inspired, led, driven to think outside the box and find ways to integrate tools to improve quality of life. We are trained to follow rules, routines and cling to structure but often it is by letting go of all of it through some sort of personal tragedy, we often find our own voices and knowledge have been muted and must be heard in order to go forward in any purposeful, meaningful sense without succumbing to living a life circling the drain of despair and never getting the chance to step out of trauma, generational trauma and connect with love."
TSC Talks is approaching a new milestone. Instead of focusing on conditions and the disabilities they bring, they are shifting their focus to techniques that improve the quality of life. Unlike a lot of other podcasts, TSC talks does more than just talk. They listen. They have heard from their guests that cannabis can help with a  variety of conditions. It can help individuals with TSC- Tuberous Sclerosis Complex, and it can help with the anxiety and exhaustion that we all experience at one time or another. That's why they launched a new website, TSC- The Source: Cannabinoids.
Jill's vision is to, "Change the world! To expose the cracks in the systems of care upon which we must depend, highlight the very uneven playing field and burden on the system by NOT using tools and resources that are available b/c of old ways of thinking, clinging to bureaucracy and rigid, dated institutions and share how we can take charge of our own physical and mental health in many ways and empower ourselves, our loved ones and dare to question the status quo and mainstream narrative with sound science AND anecdotal evidence."
Woodworth and Larson are celebrating Women's Equality by sharing their experiences. How they worked through the obstacles presented to women, mothers, partners, and podcasters. They know personally how their voices can be shut down when their condition or view is not quite mainstream. When the family's primary caretaker finds that mainstream medicine doesn't work, and if an alternative offers some hope, they need friends and family to support them. Yet they often find that their own families are quick to ignore not just new ideas, but the evidence and research they present. Yet, resistance from the family is just the first barrier.
Larson states, "Since entering the CBD business we have had multiple accounts closed, Indiegogo shut down and lack of testing obstacle.  We are finding workarounds so far but it is much harder than it should be." With the obstacles that the stigmas of cannabis bring, they have been shut down in various ways while trying to help people get closer to holistic products. But they are sure to keep on soaring and developing their platform for a call to action for those who need more information on holistic methods, especially after interviewing so many guests with credible researches and experiences that demonstrate a great deal of improvement in various conditions.
TSC Talks gained quite a bit of attention for their transparency and the opportunity to dive into researching cannabinoid medicine and improving the quality of life for those suffering from seizures, chronic pain, mental and physical disabilities. Along the way, Woodworth and Larson found Mike Robinson, the founder of the Global Cannabinoid Research Center. Mike formulated various topicals, including the Forest Bathing line which is in The Source Cannabinoids virtual store. With new knowledge and a new platform, Woodworth and Larson are entering an exciting stage in their podcasters' journey. They talked, they listened and now they are acting to ensure that people can have access to a new generation of healing products.
Soon they will announce the details of their launch of an art program/contest highlighting the self-expression of artists within TSC Talk's growing audience, which are special needs individuals, caregivers, and other professionals. They are also developing new story Arcs, such as the story of the "Green Nurses". And they are adding two new Forests to their line of Forest Bathing products. TSC Talks will also be hosting a Women's Equality Day Facebook live event and share their personal stories of challenges on August 26th, at 7 pm EST.
About TSC Talks
The Source: Cannabinoids. Inspired by the condition Tuberous Sclerosis Complex. Providing digital audio & video content and products designed to educate, illuminate, support, and advocate "off the grid" alternative and cannabinoid medicine options for marginalized populations. Providing a forum for communication, collaboration, resources, and opportunity. Drawing from lived and learned experience All with the goal of coming together to affect change, bridge gaps, and empower as we come together to better understand each other's predicament and validate the need for access, affordability that often keep those with chronic, life-threatening conditions from exploring options. Options that CAN open the doors of perception to understanding our exceptional variability as human beings and the "one size fits all" aspects of traditional medicine that are not conducive to bio-psycho-social health, stability, and longevity. Come join us as we dig deep into issues and concepts that need to be given some thought and discussion in order to truly "walk a mile" in another's shoes!
Original Press Release.