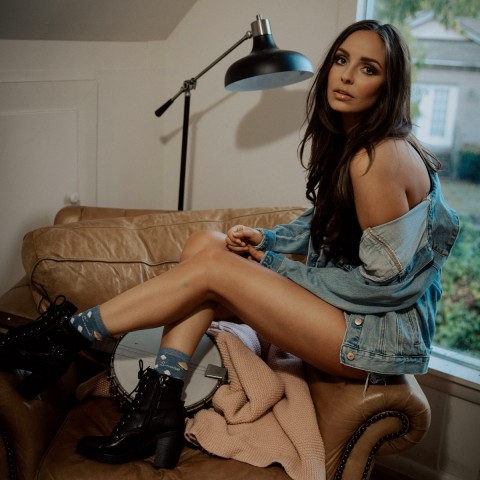 Kate Vogel's music is for anyone who has ever experienced deep emotions, a heart-wrenching incident and a moment where you have been afraid of being vulnerable yet wanted someone to truly understand your feelings. With her soulful, heartwarming music, Kate Vogel hopes to do just that, to connect with her listeners and allow them to explore their deepest emotions, and to tell them they're not alone in feeling what they feel. She proved her talent with the release of her debut single "Reasons to Stay" that came after 9 years of when she fell prey to a predator in the industry and thought she could never sing again. Thanks to the #MeToo movement, she gathered the courage to confront and process the buried emotions and decided to let go of it with her debut single, which received great reviews from popular media houses and her fans alike.
"I believe that you have to get those life scars to be able to deliver emotion in that special fashion, making the listener feel helpless", – KMS Reviews, on Kate Vogel's "Reasons to stay".
Having experienced a lot of turmoil in life and incidents that allowed her to feel extreme emotions to eventually find unmatched strength, Kate knows how to channel those feelings into music. With her every song, the listeners can't help but connect to the artist's soulful voice, as she paints a vivid picture of her imagination through her lyrical prowess.
"For me, writing music has always been about processing deep pain and expressing my emotions about it. I hope to just tell my story through music and connect with other people who have been through the same experiences, and make them feel less alone, more understood. It is crazy to me how many people have messaged me saying they relate to songs I've written", says Kate.
She wrote her first song at the age of 15 after her friend killed herself. This incident opened a Pandora of emotions inside her and most of her songs at this time were addressing dark topics like death, suicide, abuse, sexual assault, and other topics that people feel uncomfortable talking about. As she evolved with her feelings, she decided to write music with a more positive perspective, for instance, her upcoming single "New Mexico Sunrise" is a tribute to her best friend who died at 21 in a tragic car crash.
Some of Kate's notable projects include Rain, The Cycle and The Grave. One of the reviews about the song 'The Grave' says, "In a way, the work of Vogel feels like this tiny voice inside our heads that most of us are trying to keep in the shadows, trying to ignore it because it hurts dealing with our own vulnerability".
Kate's songs have received over 800k streams on Spotify and over 4 Million views on Youtube so far.
Listen to all music by Kate Vogel through this LINK.
Media Contact
Company Name: Kate Vogel Music
Contact Person: Kate Vogel
Email: Send Email
Country: United States
Website: katelvogel.com